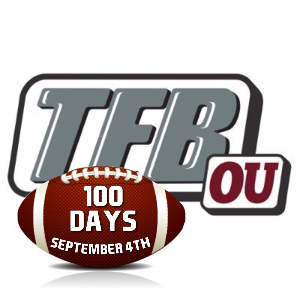 100 Days to Football Time in Oklahoma: #86 Colt Atkinson
Posted on: June 10, 2021
The Path to Norman
Colt Atkinson, a native of Denton, Texas, took the JUCO route to OU. After two seasons at Trinity Valley CC, Atkinson decided to head to Norman.
Thankful to announce that I will be continuing my education and football career at The University of Oklahoma pic.twitter.com/A3TfVZ4Utx

— Colt Atkinson (@ColtonAtkinson) December 27, 2018
Career so Far
Atkinson took a redshirt season in 2019 and played against Oklahoma State in 2020. This spring, Atkinson earned a scholarship.
Current Profile
Position: Wide Receiver
Height: 6'0"
Weight: 170
Year: Redshirt Senior
Stats
2020: 1 GP
Highlights
This Season
Colt has played both quarterback and receiver at Oklahoma. This season, he will look to contribute at receiver as a scholarship player. After last season's receiver play, which left the staff less than thrilled, there are minutes to earn. Hopefully Atkinson can see more minutes in his last season in crimson and cream.