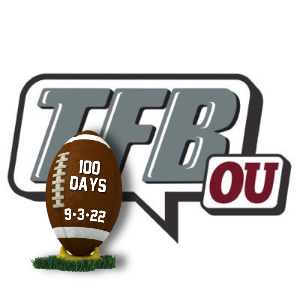 100 Days to Football Time in Oklahoma: #0 Woodi Washington
Posted on: September 3, 2022
Player Profile
Position: Cornerback
Height: 5'11"
Weight: 196
Class: Redshirt Junior
Seasons at OU: 3
Hometown: Murfreesboro, TN
The Path to Norman
Woodi Washington, out of Tennessee, was a highly-ranked corner in the 2019 class. With offers from basically every top program in the country, he took visits to the likes of Notre Dame, Ohio State, Florida State, and Alabama in the summer of 2018. After all of them, however, he committed to the Sooners, without even having visited.
100% Committed to The University of Oklahoma pic.twitter.com/ZhKmztUb7v

— Woodi Washington™️ C❌C (@WashingtonWoodi) July 6, 2018
Career so Far
Washington took advantage of the redshirt rule in 2019, playing in his maximum four games without losing a year of eligibility. He certainly showed promise as a freshman, even contributing in the Peach Bowl at strong safety when Delarrin Turner-Yell was injured.
In 2020, Woodi had a big year. He played in ten games, starting in the final five. Washington finished fourth on the team with 45 tackles and third in PBU. The corners saw a lot of rotation in 2020, but Washington was one of the brightest by year's end.
2021 was an up and down year for the corner. He began the season as a starter, but missed seven games with an injury. Washington returned for the end of the season and was a starter in the final three games. Despite only playing in six games, Washington was 12th on the team in tackles; more telling is that he was fifth on the team in tackles per game played.
Stats
Years: 2021 | 2020 | 2019 | Career
Games Played: 6 | 10 | 4 | 20
Tackles: 27 | 45 | 15 | 87
Interceptions: 2 | 2 | 0 | 4
PBU: 2 | 4 | 0 | 6
Stats via Soonersports.com
Highlights
This Season
There are a lot of players fighting for time at corner and all have worked hard over the offseason to earn a spot; however, Washington's spot always seemed quite secure. He will start opposite Jaden Davis for game one. Despite a host of options behind him, Washington looks ready to be a big factor in the secondary in 2022.