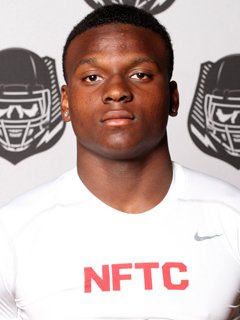 2016 DE/OLB Erick Fowler Eval
Posted on: April 20, 2014
Image via 247 Sports
Erick Fowler | Defensive End/Outside Linebacker | Class of 2016 | Manor, TX | VIDEO
Fowler is only a 2016 graduate, but could be growing into one of the most sought after prospects in the state of Texas. He's listed at 6'3″ 215 pounds which is pretty good size for a kid his age, but he is still working on his ability to drive. Depending on how big he actually gets by the time he graduates will determine where he'll play at the next level. But as of today, I see him as a candidate to be an All-Conference Jack type of player. I like him in the stand up position, though he is still in need of some refining to that part of his game. His stance is too upright and he also needs to work on hand placement. A West Virginia coach once told me, "always have the hands up at the snap, they're your guns and knifes out there."
He is such a good athlete that most of his sacks are coming from just overall speed and his ability to turn the corner. There are times when he'll get too far upfield, which causes a vertical gap that can be just as scary as your horizontal gaps, but his closing speed and lateral quickness usually can compensate for such mistakes at this level.
The play that sticks out to me when watching Fowler's film is one against Hutto (you can see it here at the 0:37 mark). He is lined up against the RT with the RB also on his side. He uses a side step and swipe move which allows his hips to get a little parallel, what we would call 'getting skinny', and the tackle doesn't even get a hand on him. At which point, the RB tries to cut him but his hips and good hand placement allow Fowler to easily get past the attempted cut-block and record the sack. If I would've seen that play first, I probably would have already decided this kid is most likely worth of an offer. He has another move where he counters with one step upfield, then drives inside the B-gap, easily getting the sack. These types of plays, at this age, tell me he will likely have scholarship offers from coast-to-coast.
Right now as a pass rusher, like most high school sophomores, he remains pretty raw. But he is so strong and explosive, that he can still utilize a classic "bull rush" on some of the lighter offensive tackles. In fact, he seems to really like that move as a counter to when he uses his speed rush off the edge. Against Cedar Creek, he used his bull rush against their LT who was no match for Fowler's incredible overall strength and leverage. He also has longer arms, which allows him to set him leverage easily and creates a lot of space in doing so. Everyone wants to get caught up with height and weight, but having long arms is equally important for pass rushing ability.
Overall, in my opinion, Fowler is a can't miss type of prospect. I think right now for OU's defense, he would be considered more of a "Jack" prospect because of how versatile he is on the field. If he keeps growing, I would have zero problem offering him as a 4-tech and really believing he would be a guy similar to Charles Tapper. Either way, Fowler is an incredible specimen to watch and I believe he will be all-conference type performer.