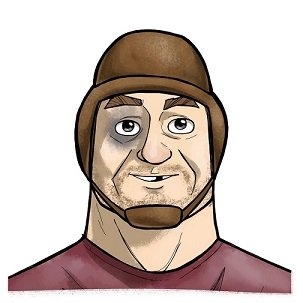 Trench Warfare | Sugar Bowl (2nd Quarter)
Posted on: January 16, 2014
1. After giving up the big TD to white, getting Sterling drilled on an option, and an illegal formation penalty, it's 2nd and 19.  We flip it out to Clay on a screen.  Ikard, ever the technician has turned back inside and is blocking that flow player to create a wall for Clay.  Nila to our far left takes the blocking path illustrated in red.  I'd like to see him flatten out and take the path in blue…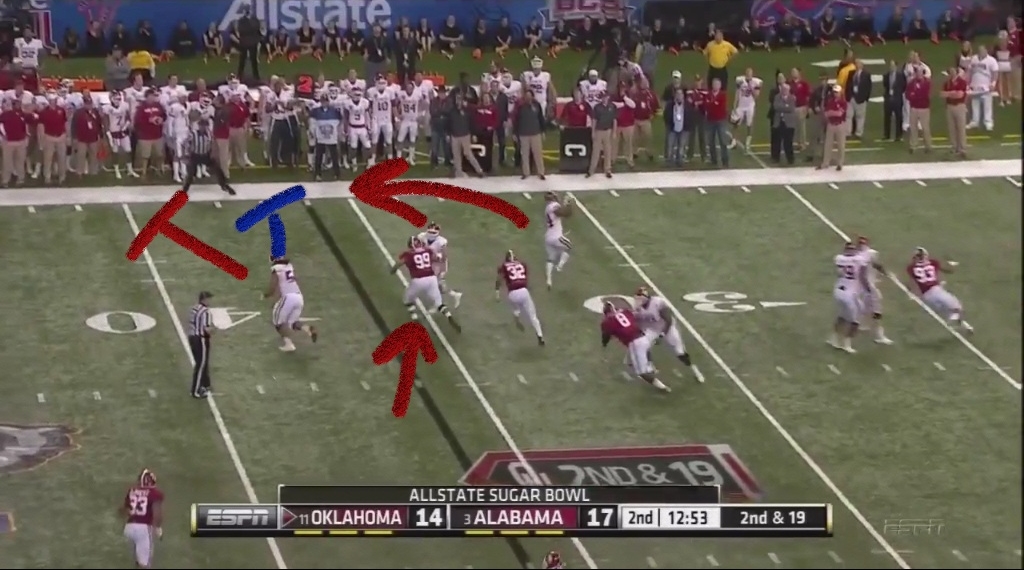 1. (cont.) You see here, that Nila's flattened out, but since Clinton-Dix is so fast, he's already closed the distance.  If Nila's a yard closer, he's a step away from ear holing him.  Clay takes on both Mosley and Clinton-Dix and comes away falling forward.  Brennan played very, very physical.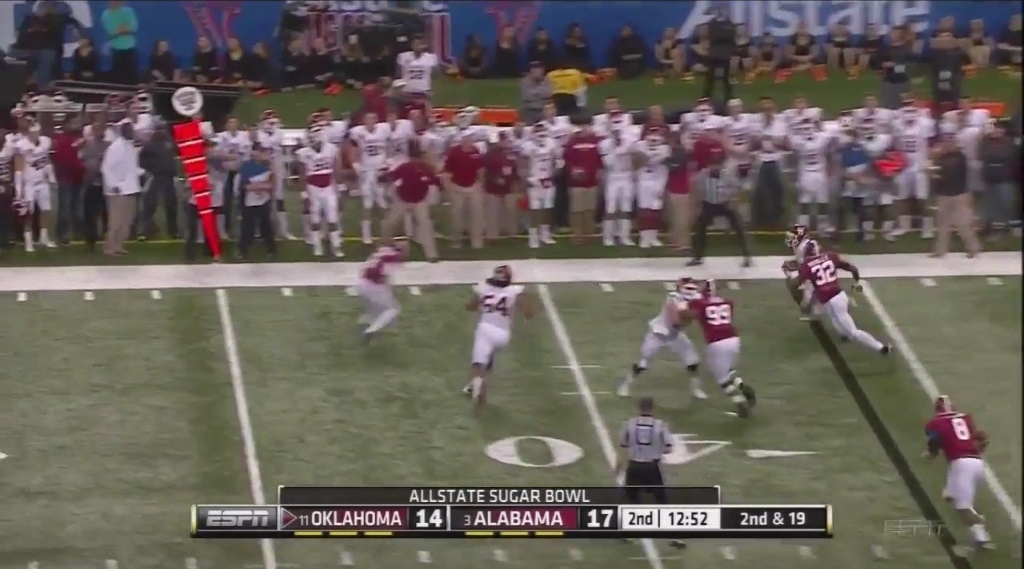 2. It's 3rd and 12 after the Clay catch and run.  Trevor drops back and hits Derrick Woods for a gain of 20.  This was essentially a 3 point play.  It was huge because with Derrick hanging onto the ball after getting drilled in the back sent another message that we weren't going anywhere.  Watching it full speed you can't really appreciate how hard that Derrick got hit by Collins.  Heck of a play.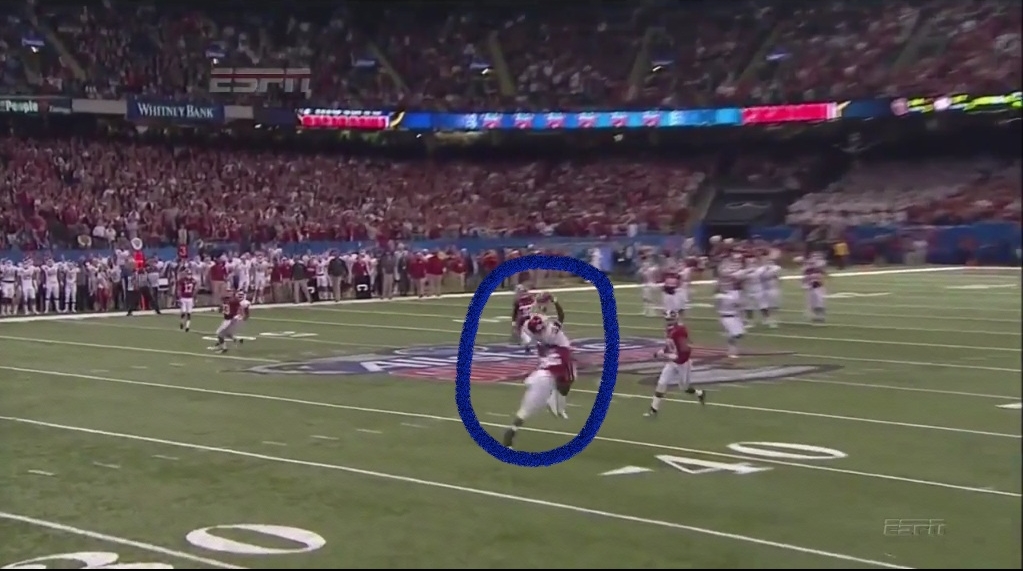 3. After Jaz's catch we're at 3rd and three.  The coaches and everyone in the superdome knew that Belue couldn't cover Saunders one on one.  So when Trevor drops back, he's thinking:  Throw the ball on time.  He doesn't see Hubbard(42), and he ends up knocking it down.  Had Trevor seen him, he can check back to the middle and he's got McNamara standing a yard beyond the 1st down marker wide open, or Brennan running all alone on the swing pass to the outside.  We were in that bunch formation, so there's no one home outside.  Also Bama wasn't paying any attention to McNamara.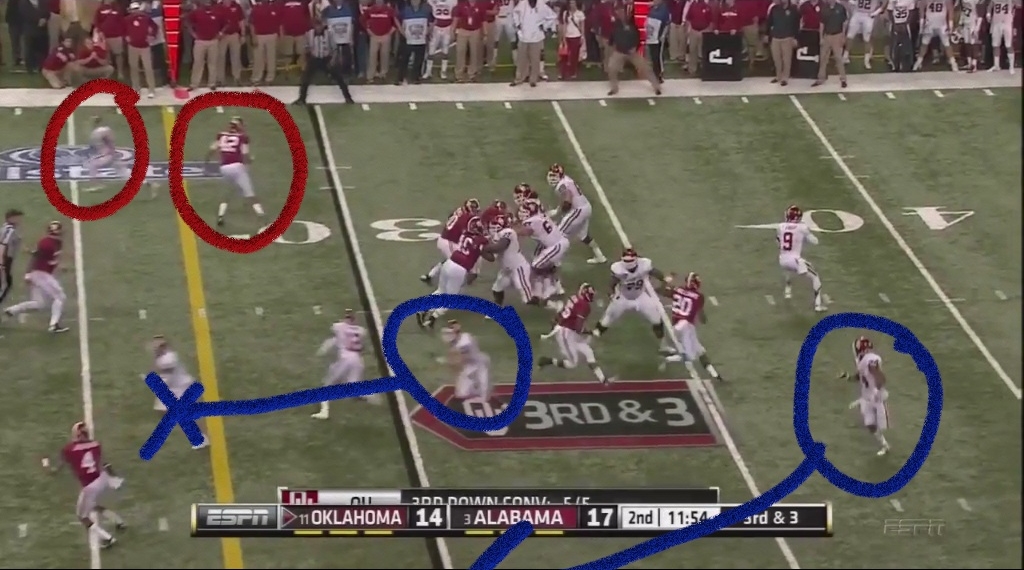 4. Moneycutt…ended the year 24 of 27.  Have we had a better kicker in recent memory?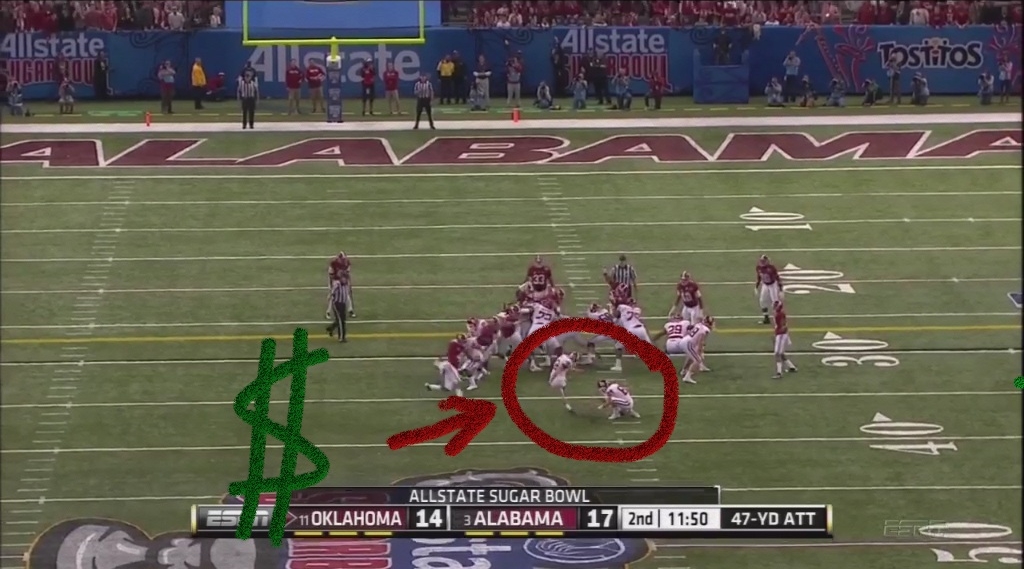 5. I really thought that Heupel and Norvell game-planned to Trevor's strengths really really well.  Another bootleg to the left, and the protection is impeccable.  Trevor is very comfortable throwing on the run.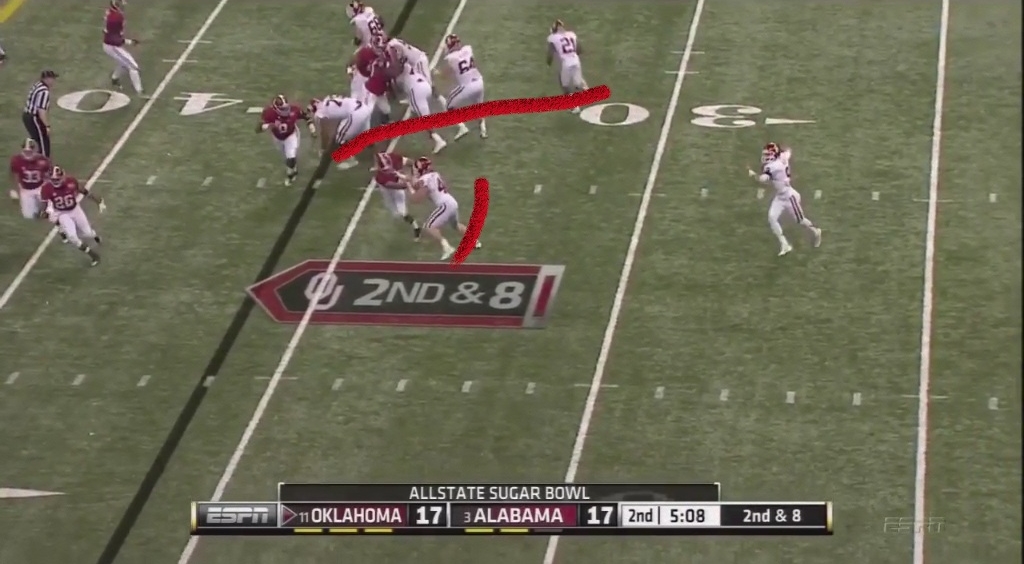 5. (cont.) Trevor getting the ball out to Bester on time really helped make this play.  Look at the Bama defender's feet.  He's bitten on Bester's headfake back to the inside…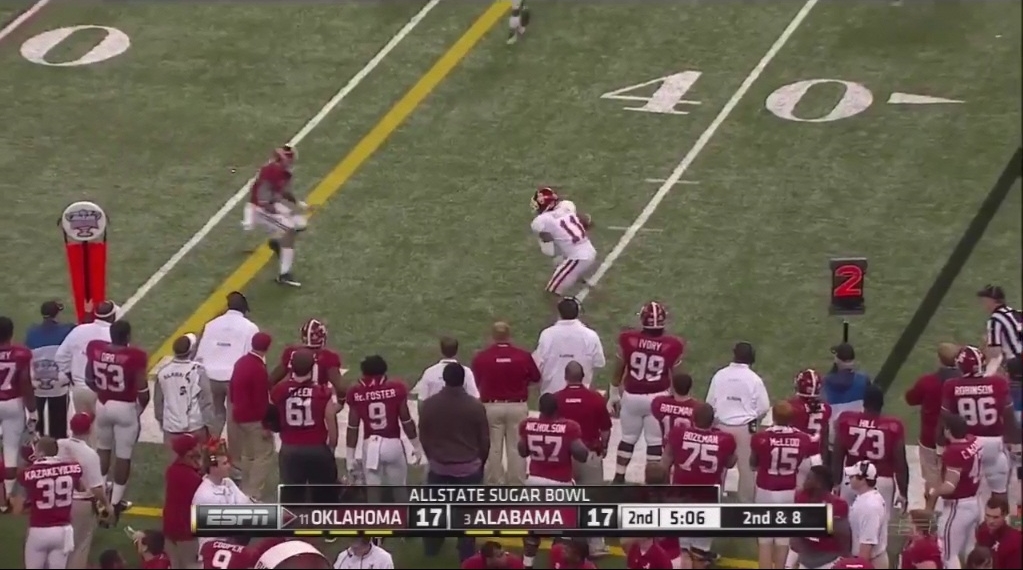 5. (cont.) La'Colton gets 10 on 2nd and 8.  The Bama defender he shook has the blue arrow.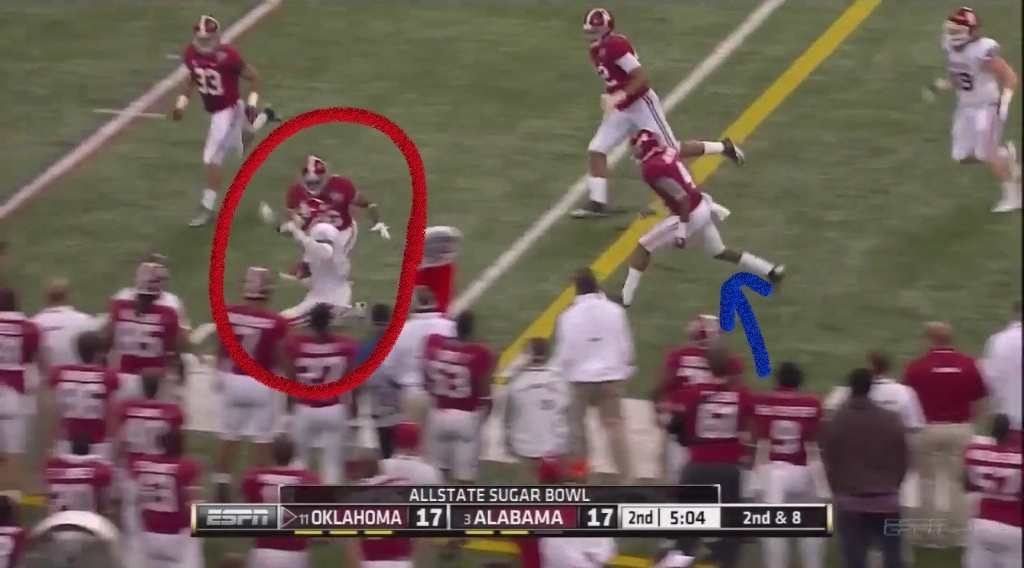 6. Brennan catches the swing pass and immediately gets his shoulders square.  He makes the decision to get down and dirty right here…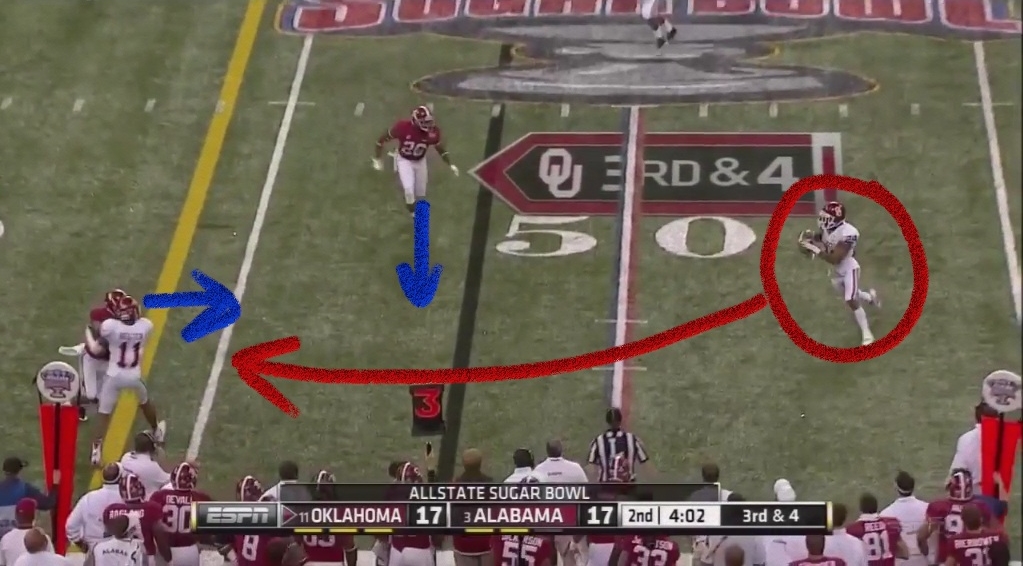 6. (cont.) Brennan ends up outrunning Collins (right blue arrow), and if Colt could have gotten a better block on his man, Brennan may have scored.  Nevertheless, Brennan was simply more physical than Alabama.  He ran over player after player after player.  His physicality on this play got us to fourth and short.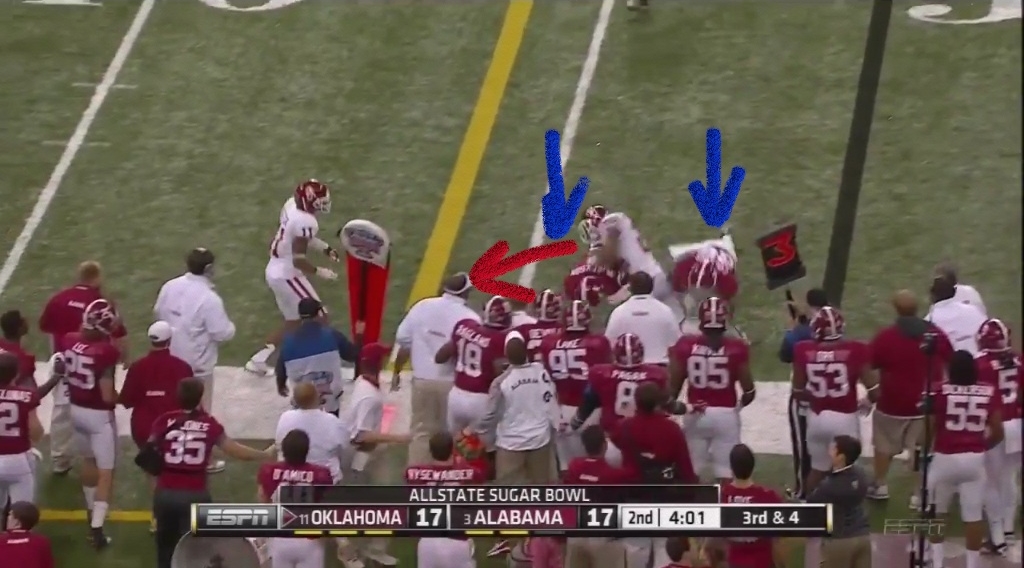 7. Just like on the 3rd and 1 in the 1st quarter, we started out in the diamond formation…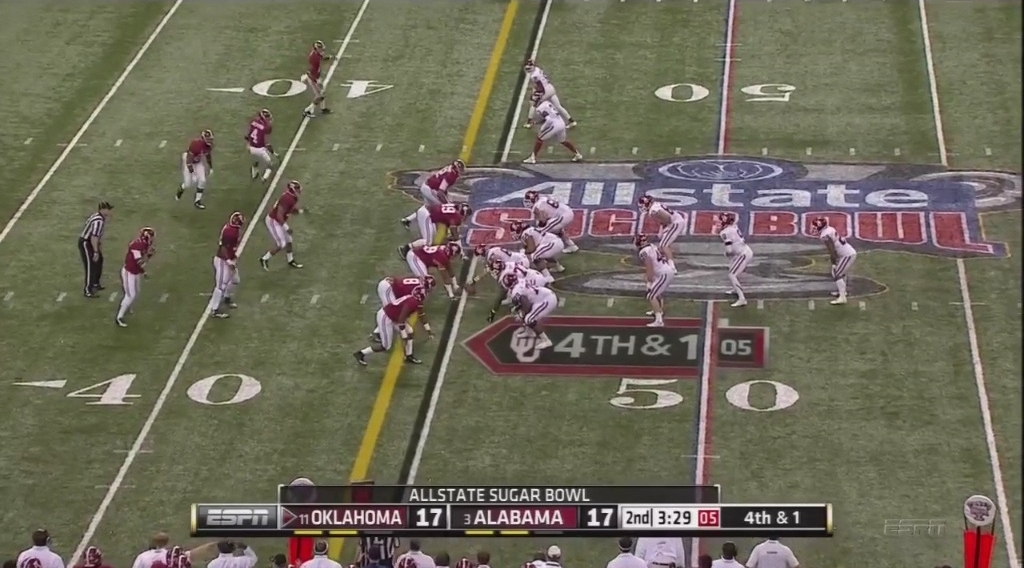 7. (cont.) Then we shift putting Brannon Green and Ripkowski in motion to the right, basically giving us a double tight end look or a tight end with a wing.  The wrinkle on this was that in the first quarter when we shifted we did it to the left.  Just a small nuance that probably no one noticed for Alabama.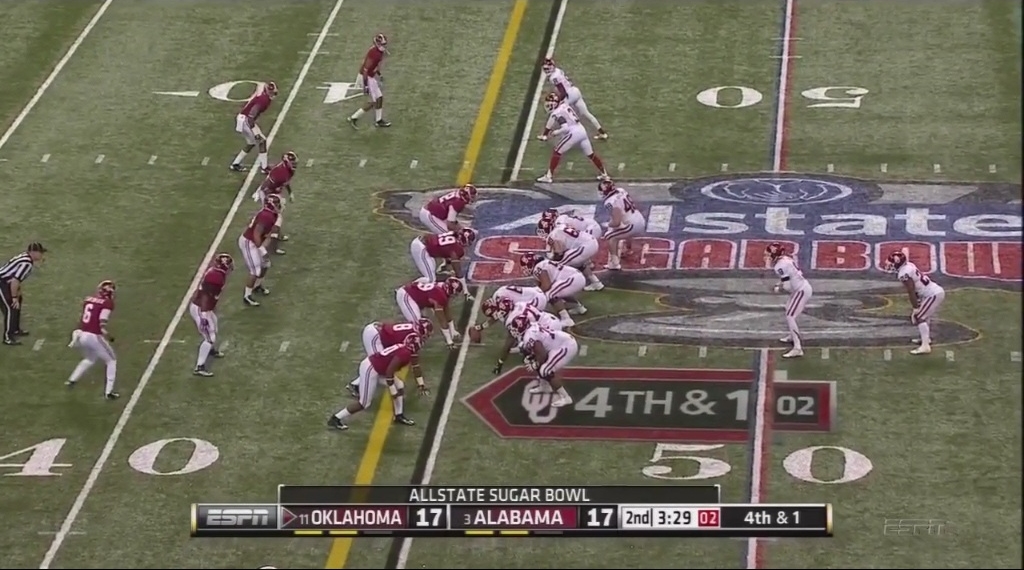 7. (cont.) We had a four on four matchup to the right, and you like having your back one on one with the safety.  What stood out to me the whole game is how good our kids are as people.  I circled Rip, Bronson and Brannon's blocks with Clay running the ball.  Just blue collar tough guys.  You can't help but love them.
As that right side is getting caved down, Brennan goes to get off tackle.  Landon Collins (their safety) has to protect against Clay getting outside.  Brennan dips outside just a bit, and then gets vertical on that soft shoulder cut you always hear me talk about…
7. (cont.) Look at how different the formation looks now.  That whole right side is caved in, and Brennan gets the first down with relative ease.  This was the most satisfying play to me in the game, because after years of seeing us get stuffed in short yardage or on the goal line, we went against the nation's best and pushed them around.  God I love this team.
8. In pass protection sometimes you'll see me describe an offensive tackle "opening the gate" or "leaving the gate open".  I want you to look at the Bama defender, Landon Collins.  I pointed at his (our right) foot, and then the other blue arrow shows that if you pretended this was basketball, that foot would be like his pivot foot.  In not being square, his soft shoulder is right up in there where Brennan is going.  Basically Clay is "forcing his way through the gate."  All of Collins' power is to the outside and Brennan took advantage of it.  Looking like Marcus Allen on this play coming up huge in short yardage.
9. Any time you run a double move, stop and go, or basic long routes, you have to have great protection to give the play time to develop…Trevor had that and then some.
9. (cont.) After a sweet stop and go move, even "The Pride" knows it's a td!  BTW is there a better marching band in the country?  Look at the SEC speed there getting roasted.  Belue's new nickname is toast, cause he just got burnt!
9. (cont.) Jalen with amazing concentration making sure he gets his feet down and stays in bounds.  Kid was a big play machine down the stretch for us.
9. (cont.) Guess who the first player to greet Trevor on the sideline was?  Bell, with brother Connor close behind!
9. (cont.) Saunders is getting mobbed on the bench, and even former Sooner Great and all-pro offensive tackle Jammal Brown(in Khaki jacket) was getting in on it.  When we say we're family here we mean it!
9. (cont.) I knew we were in NOLA, but who knew Master P was a sooner fan?!  Make 'em say uhhhh….uhhhh na na na naaaa
10. There's a ton of stuff going on in this play.  We brought Saunders in motion to be the pitch man off of the triple option look back to the left.  The thing that made this work is Shepard's alignment tight to the left side of the formation.  Had he been split out wide and come a long way, it would have tipped the safeties off.
10. (cont.) By faking Clay up inside on the dive, it froze both linebackers and created just enough space outside.
10. (cont.) Since you have the triple option look going left, and Bama's so well coached, both the free and strong safeties as well as the corner to our left are playing assignment football.  As I watched this, I thought to myself, where's the safety?  We're on the short side of the field running to the boundary, and the safety's nowhere to be seen.  As you watch it again the masterful play design in formation and execution had that guy flying out to our left to give help on the option. Also, at this point in the play, it's three on three outside the hash.  Irwin, Rip and Shep.
10 (cont.) Shepard just outruns Hubbard, while Rip takes out two guys and Irwin yells "Dog Pile!".  The pride got a show on that side of the field with the bomb to Saunders, this play and the big interception.  We can see here too that the safety's nowhere to be seen.
10 (cont.) Doesn't look like a throat slash to me!
10. (cont.) How we all felt at halftime!  Boomer!