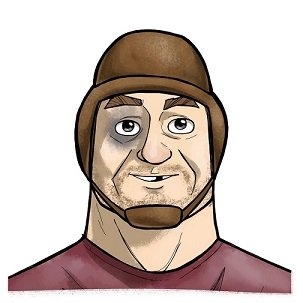 Trench Warfare | Sugar Bowl (1st Quarter) (UPDATED: 8:15 Tuesday)
Posted on: January 13, 2014
I'll be updating this later today but I wanted to start this off…
1. To start things off, regardless of what anyone says, Alabama did not come out flat.  They scored in four plays on their first offensive possession, and had a huge tackle on the kickoff.  They were bouncing and clowning and having fun.  Right away you could tell they had a very fast physical team.  However, our guys were prepared for the adversity and the challenge.  A group I really thought was prepared was our offensive line.  On the first play we see Savage "anchoring" to hold off the bull rush of the big nose tackle.  It was a very clean pocket, and Trevor stayed upright all night.  There were some good signs on this first drive.  I really like having that big tank in the middle like Savage.  The difference in this game was the fact that they couldn't squeeze the pocket on us, while they had no pocket for A.J. McCarron to step into.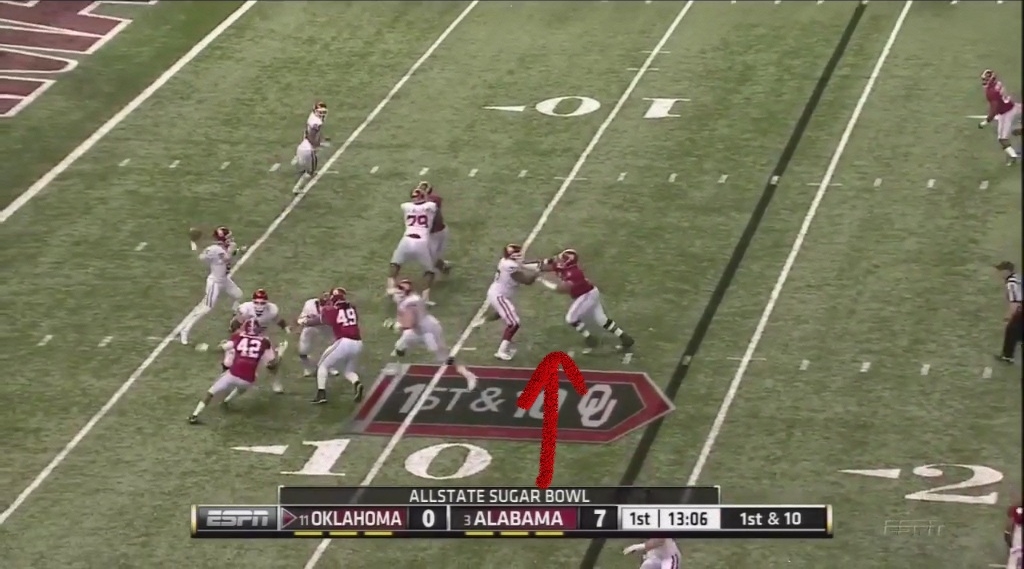 2. On the 3rd and 1, we went with motion.  Oddly it was the same formation we ran out of on the 4th down in the 2nd quarter.  We started in diamond, and quickly shifted to having Brannon at TE and Rip at Wing.  Kirby Smart has a huge check system where he tries to get in the perfect defense, so the new formations and motion played a big role for us.  By motioning left, we caught them slightly out of position.  We had numbers 5-4 on the left whereas it would have been 4-3 back right.  What I really liked was that we were playing on their side of the line of scrimmage.  This was so big showing that we could run the ball in short yardage on them early.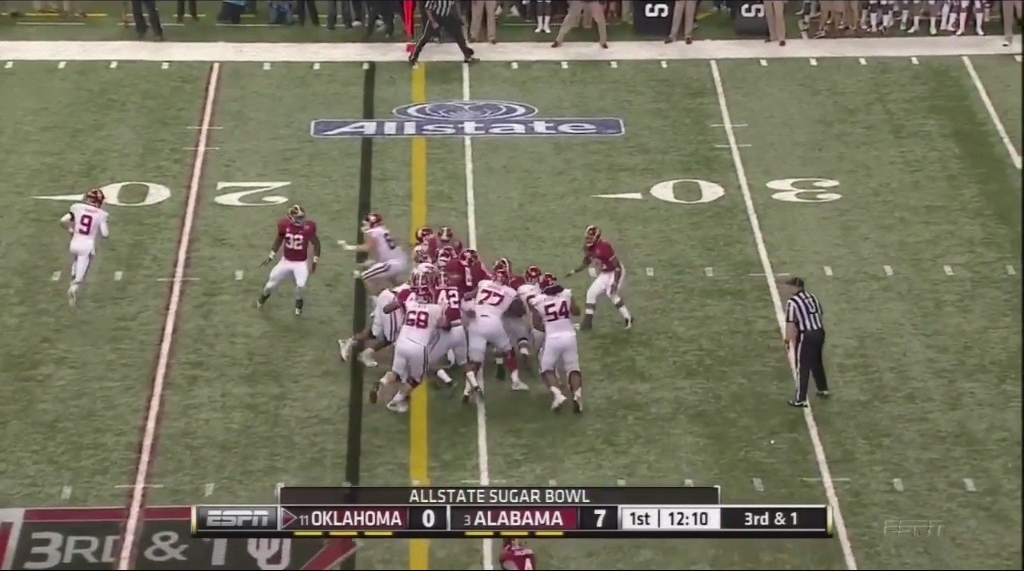 3. Brennan Clay didn't lose a matchup all night.  Right after the first down, we go with a little swing pass to Brennan who was lined up in the slot(another nice wrinkle).  He initiates contact after having only two yards, but turns it into a gain of three more.  The offense coming out and having early success was big for the overall confidence of the team.  In my redshirt year I'd hear the defense talking about how hard our offense was playing and it inspired them.  When you get a team playing at a team and not individual units, the sum of the parts far outweigh the whole.
4. Even though this was a play for no gain I want to point out what coaches sometimes see.  We fake the fly sweep to Finch, and come back with the qb counter to the left.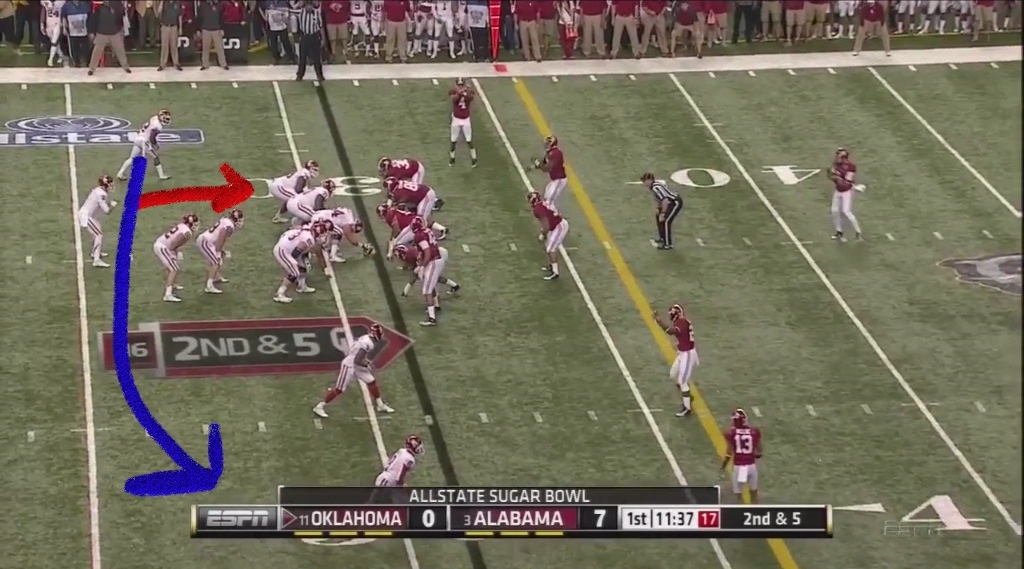 4. (cont.) You see Finch carrying out the fake, and look at all of the green grass he has to work with had we given it.  No doubt that seeing Hubbard(small blue arrow), crash so hard on the qb and not respect the contain at all played into the decision to go with the reverse in the 2nd quarter to Shepard.  Little in game adjustments and notes that Coach Heupel made, were gigantic.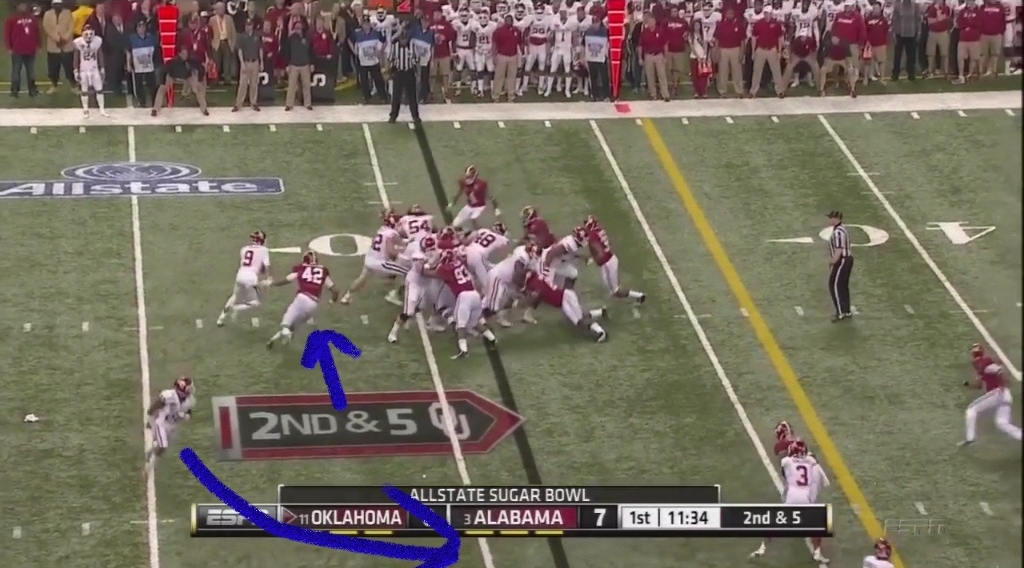 4. (cont.) Couple that with the physicality of our fullbacks, tight ends and o line, and it makes a oc's job easier.  From left to right Bronson got his tortilla maker early and planted this cat, and Ripkowski sent a message early that he was steamrolling folks all night.  That's the Butkus award winner C.J. Mosley he's blocking too.  Not bad for a no-star walk-on.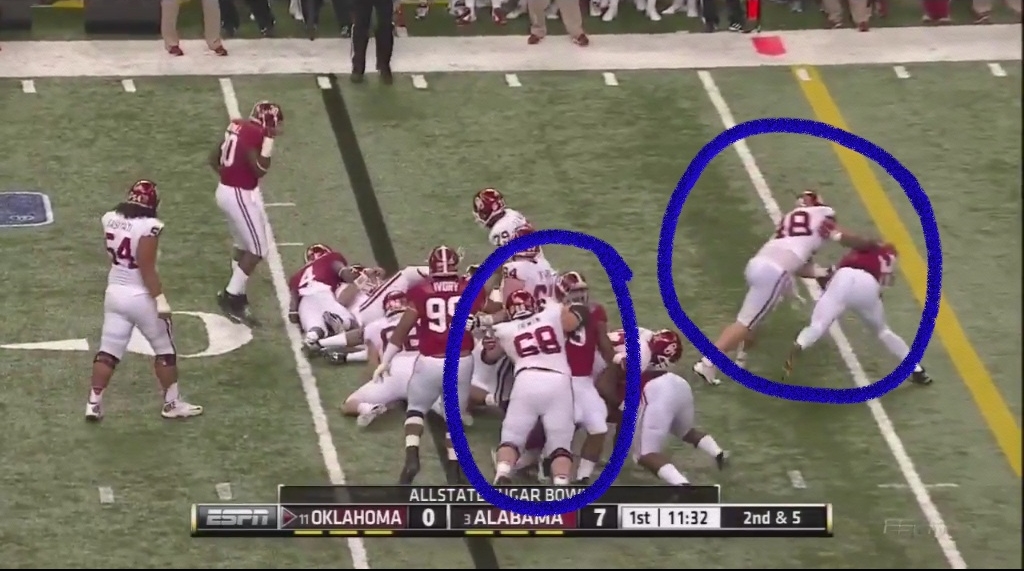 5. Another nice clean pocket on 3rd and 4.  Trevor steps up and hit's Jalen for the 1st down.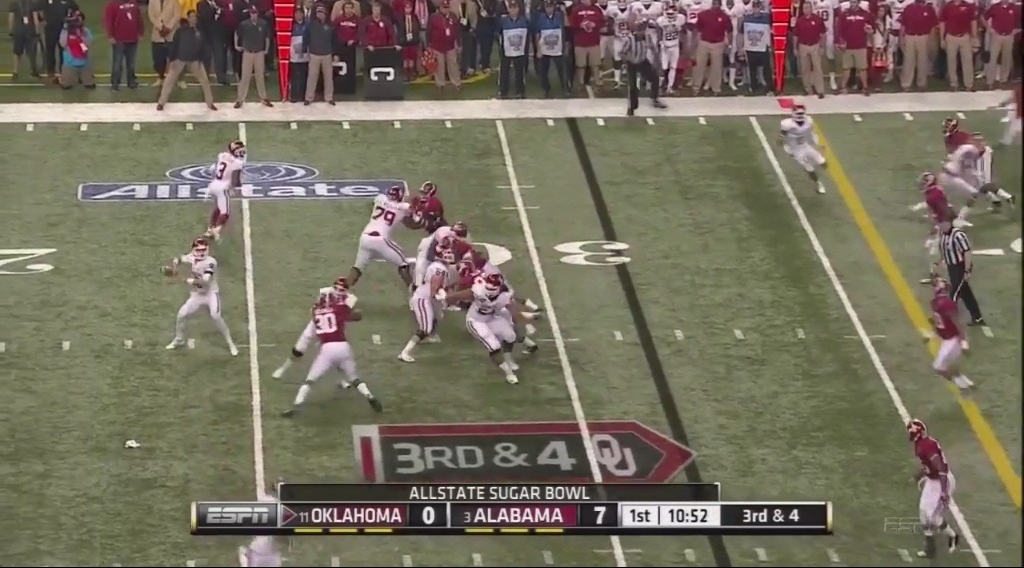 6. This was an Auburn wrinkle we added this game.  Really a triple option off of the zone read with the third option being to throw it out wide to Shepard.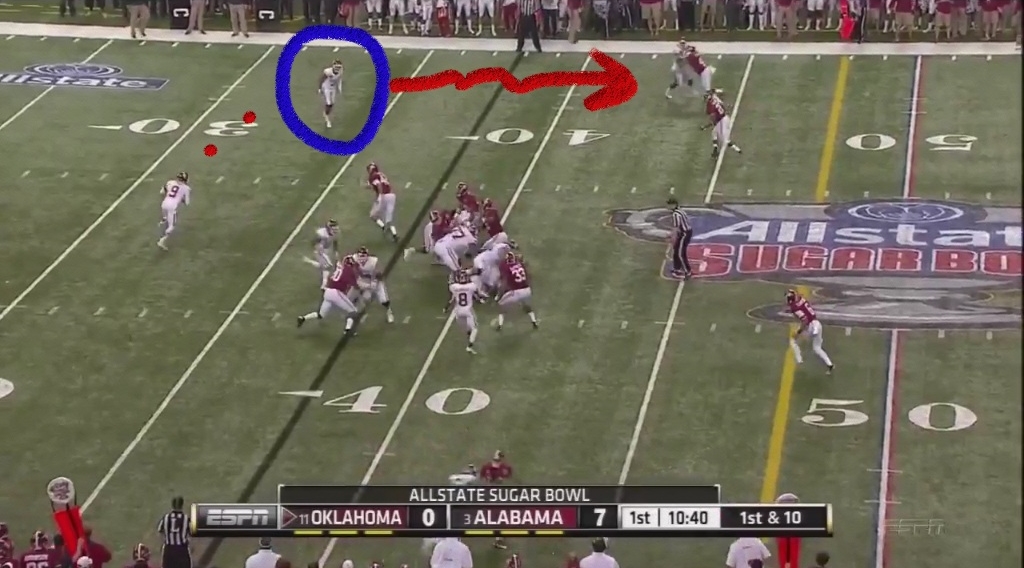 6. (cont.) Clinton-Dix commits a cardinal sin here in giving Shepard the sideline.  All of his help is working from the inside-out.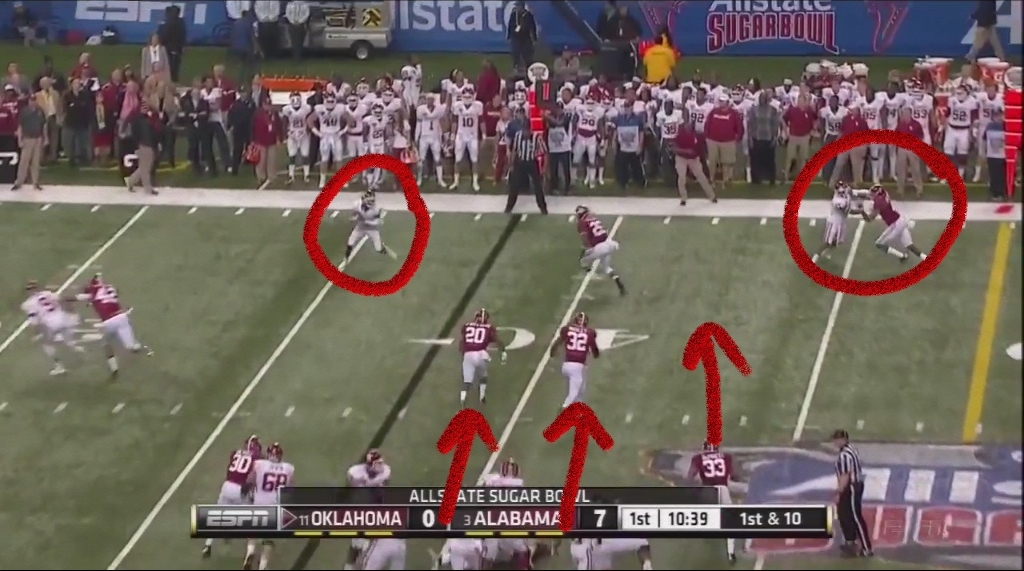 6. (cont.) Shep jukes him out of his shoes and gets nine yards.  Shepard had a huge game.  Alabama could not tackle him.  Oklahoma boy doin work.
7. After this play I started getting excited.  On 2nd and 1 we get five yards.  A good indicator early is whether or not you can run the ball.  Look at the push and that lane up inside there.  We just out-physicaled them up front on both sides.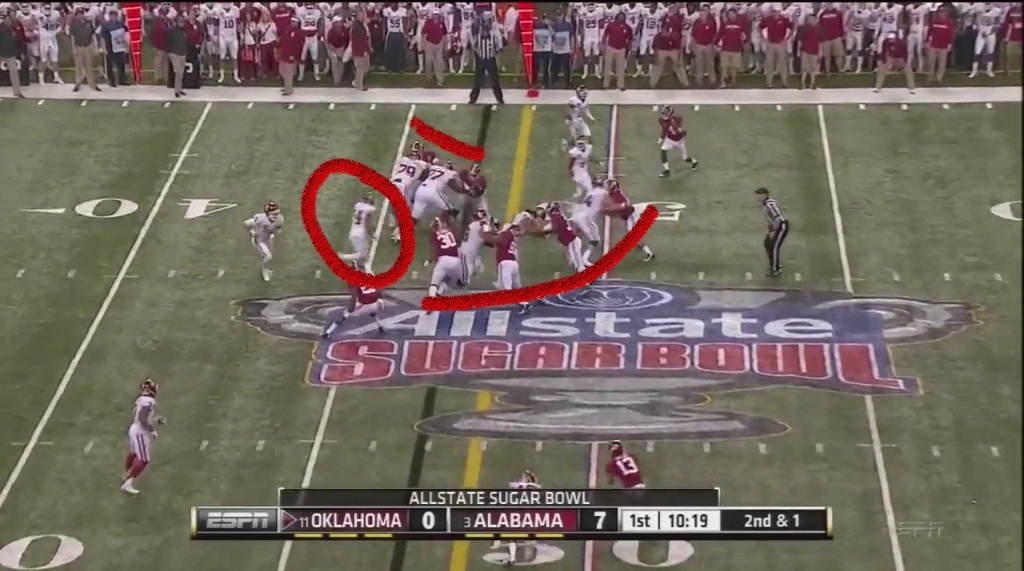 8. If the pass is an inch lower or Jalen makes this catch, he most likely scores.  #26 Landon Collins is the deep safety, and there's no one else.  He just made a great play on the ball after the deflection.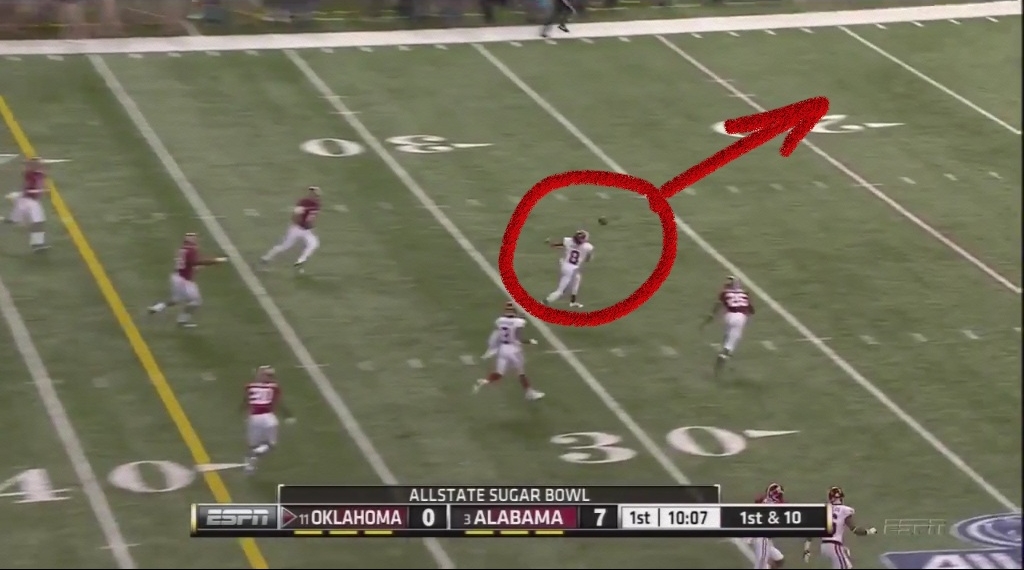 9. After Gabe Lynn's interception, we're across the 50 again.  Another really clean pocket, and Trevor came off of his initial read to Saunders.  The protection allowed Trevor to come off of the initial read and give Bester time to clear.  Without protection this clean, the play never happens.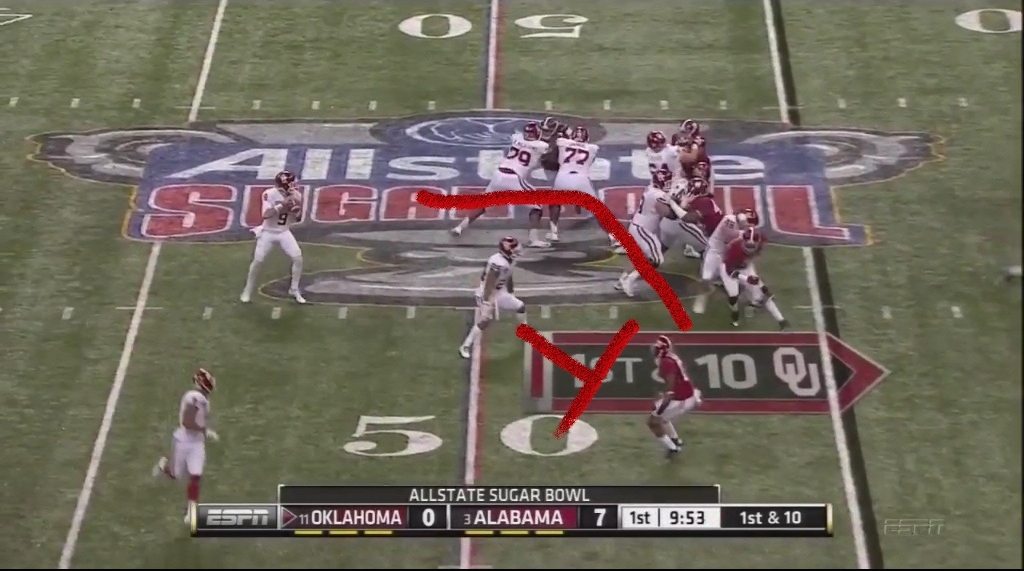 9. (cont.) Trevor zipped a pass in a very small window, and it was only by an inch or so that Collins missed it.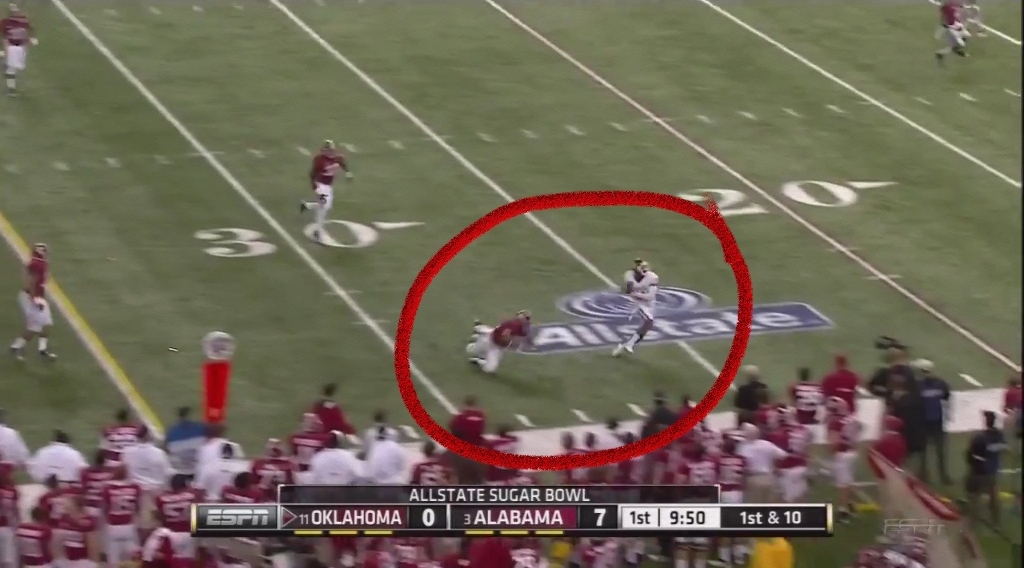 9. (cont.) Once Bester had the ball, this little head fake back inside allowed him to score.  You can see the safety's feet are frozen, and it gave LaColton just a split second and a little more space to get up the sideline.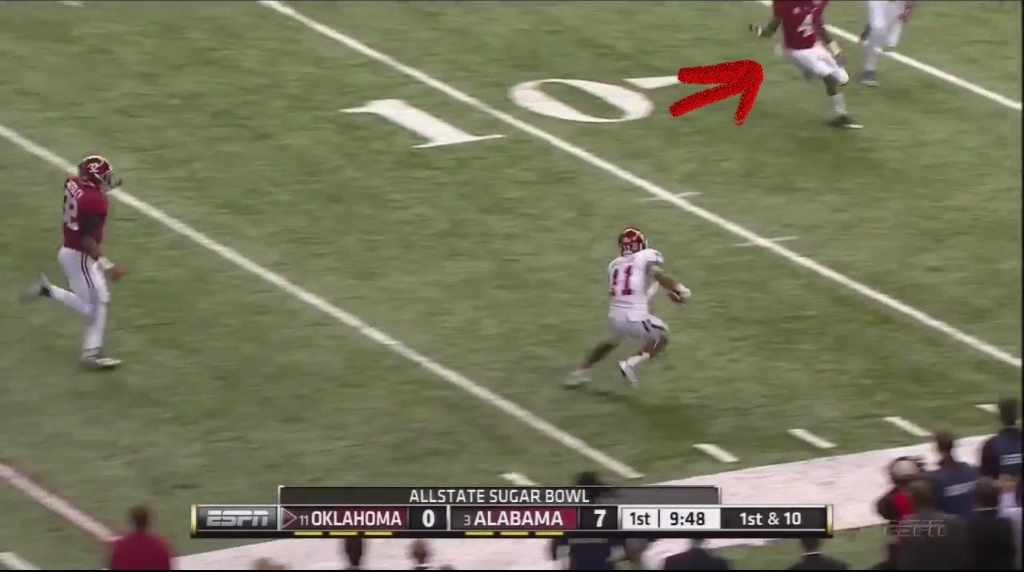 9. (cont.) And it paid off on a magnificent catch and run to tie the game early.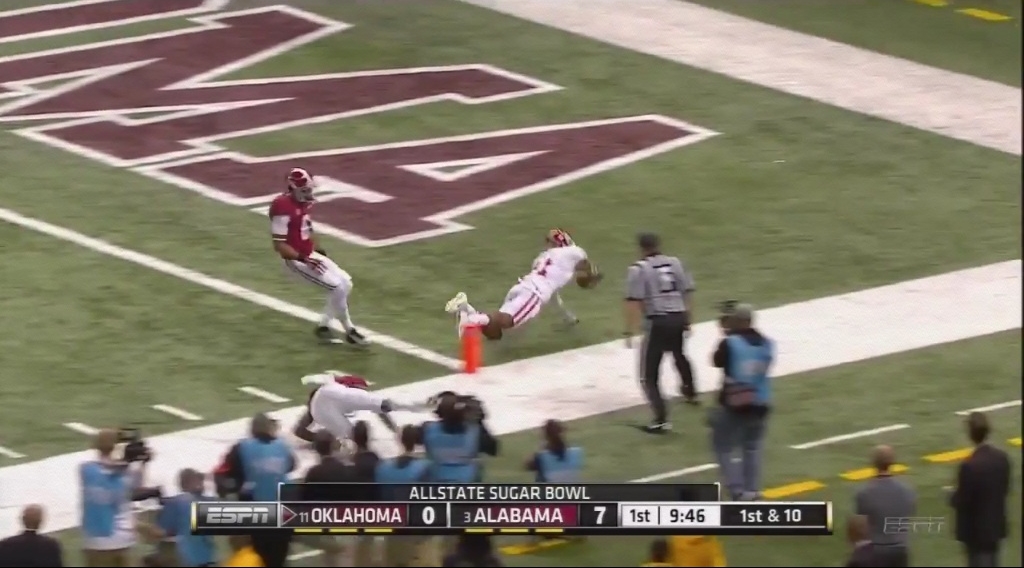 10. Another huge play by Sterling.  While a lot of people will point out the reverse run and Montana to Clark td in the fourth quarter, Sterling made plays like this all night.  Sometimes you just need your players to make plays.  Shep did with regularity.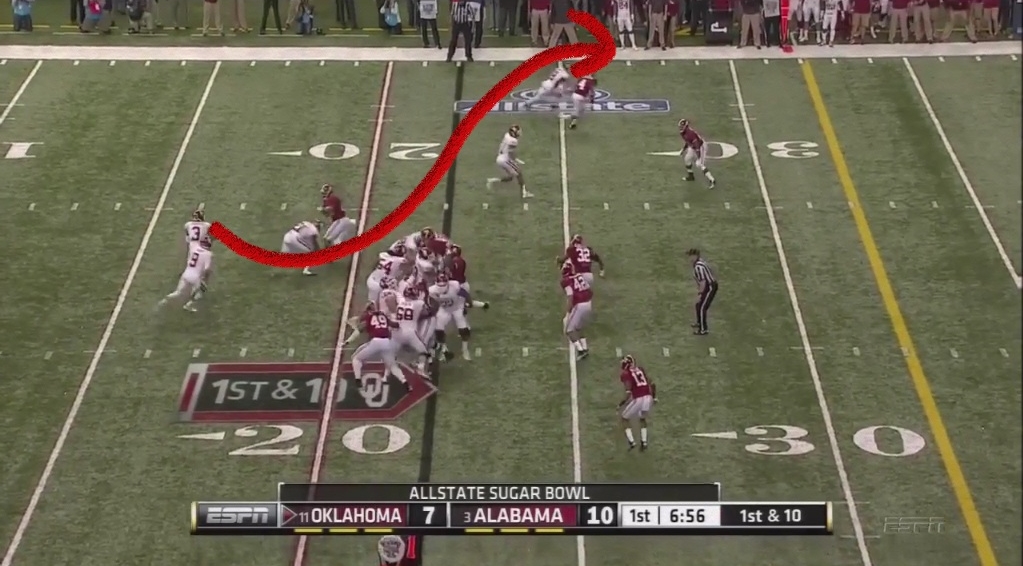 11. We mixed it up offensively more than I've seen in the past two years.  Nakeds, reverses, go routes, counters…this was just a masterful job by Heupel and the offensive staff.  Look at the clean pocket again on the roll out for Trevor.  Getting him going early with short quick passes was a big deal.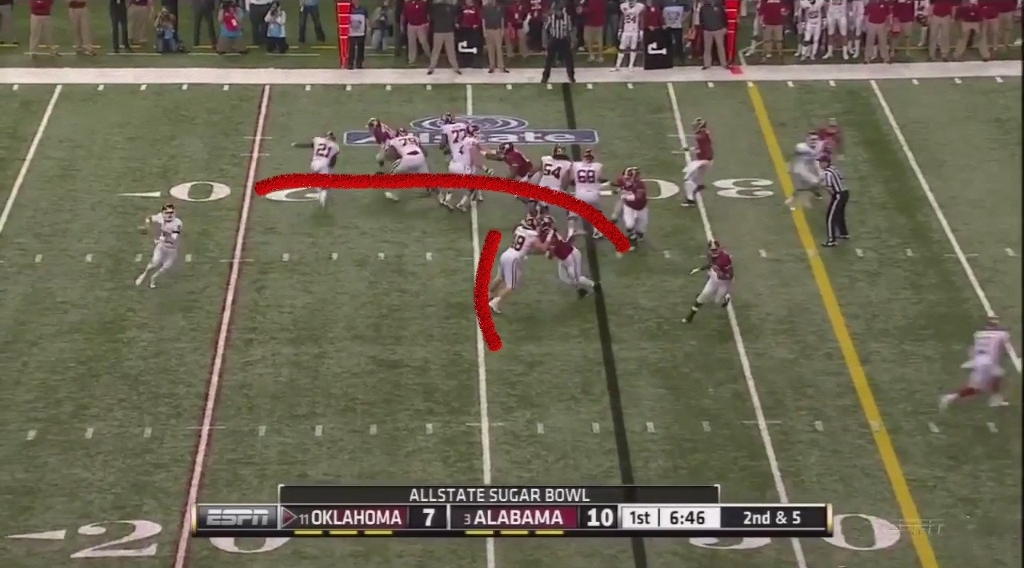 12. Alabama really struggled early keeping up with the tempo.  We're already lined up with trips(three wide) left, and they only have one defender outside of the hash.  It's an easy pitch and catch for Trevor and Bester for a gain of five.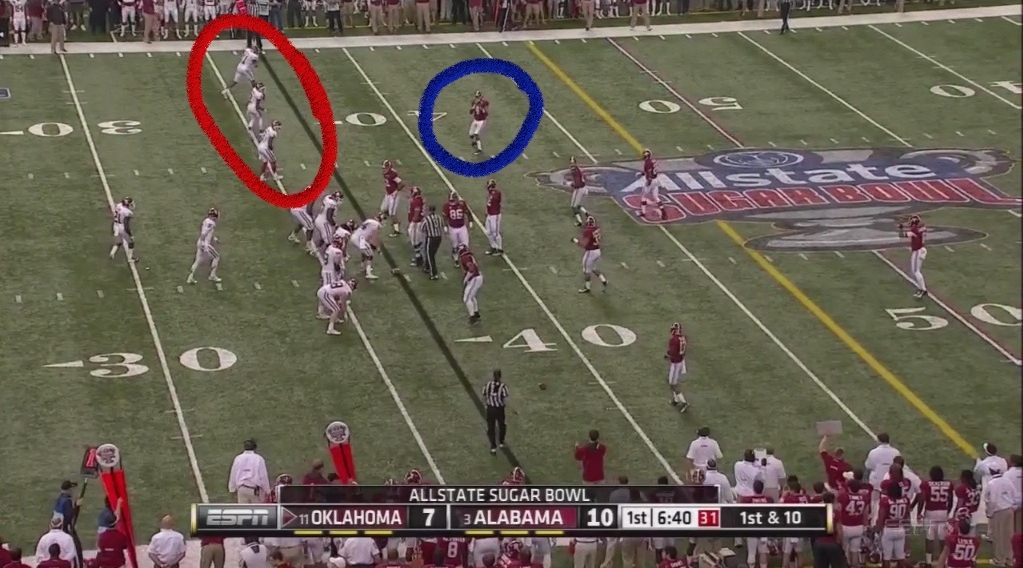 13. You can barely see the top of Keith ford's helmet, but look at the lane that's in between Bronson and Ripkowski.
13. (cont.) On 2nd and 5 Keith doesn't get contacted until he's got seven yards, and then he gets five more.  We definitely had them on their heels.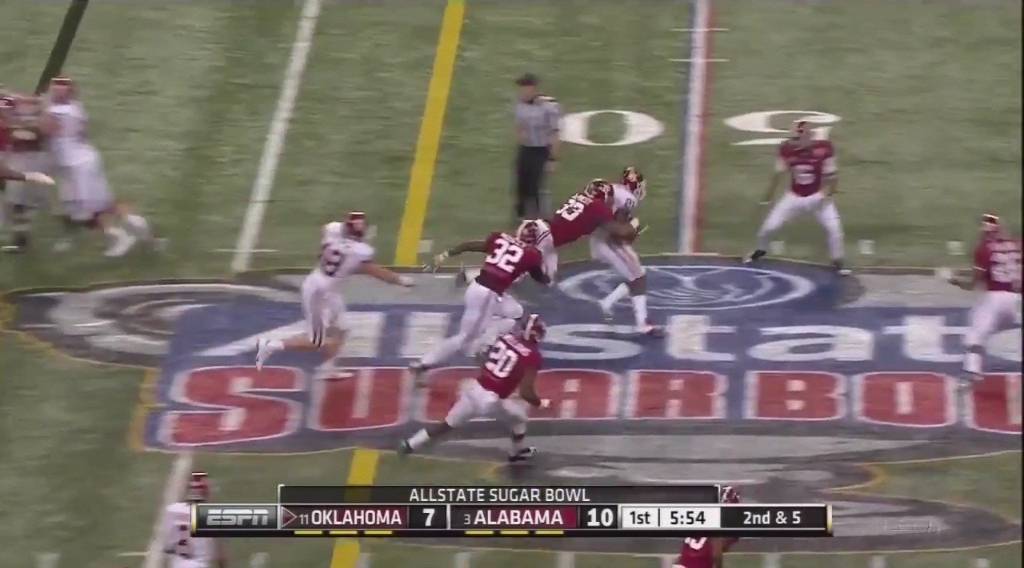 14. Tell me that ain't pretty.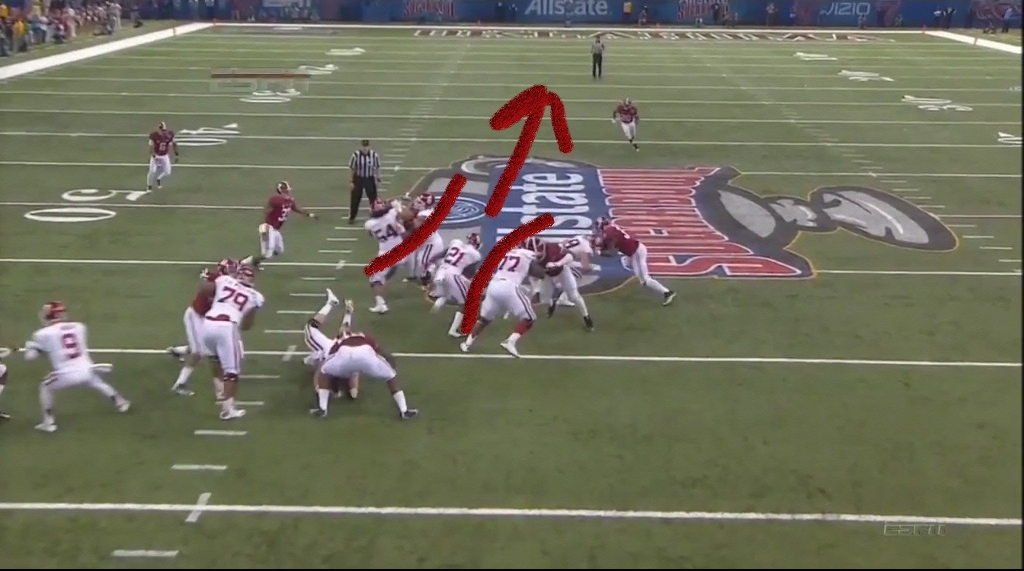 15. Going back to tempo again after Ford's big run, the linebackers for Alabama are more discombobulated than I've ever seen em.  Saunders is clearly in their zone, but they're both still dropping.  Another easy pitch and catch to Saunders and he goes for seven.
16. Is that a tight end?!  McNamara did a great job catching this thing, because it was on top of him as soon as he turned around.  Getting him involved will be huge for his offseason.  I wouldn't be shocked if he has a breakout year next year.  Remember he'll only be a sophomore next year.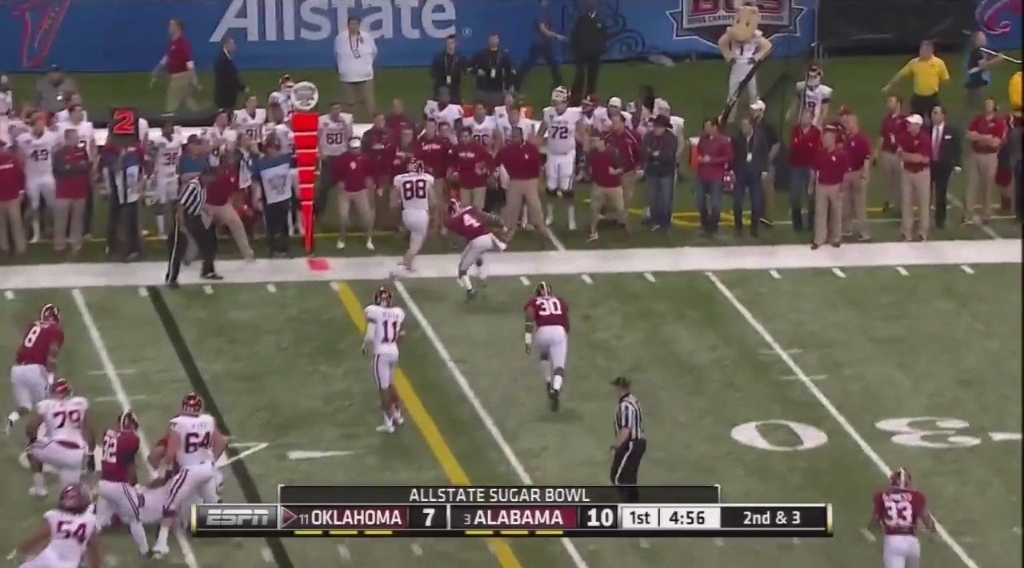 17. This was an extremely creative play.  We pull Bronson and Nila back to the left on an influence sweep.  Never seen anything like it.  #93 crashes hard after Trevor, and the middle linebacker is frozen because the action on the two o linemen pulling.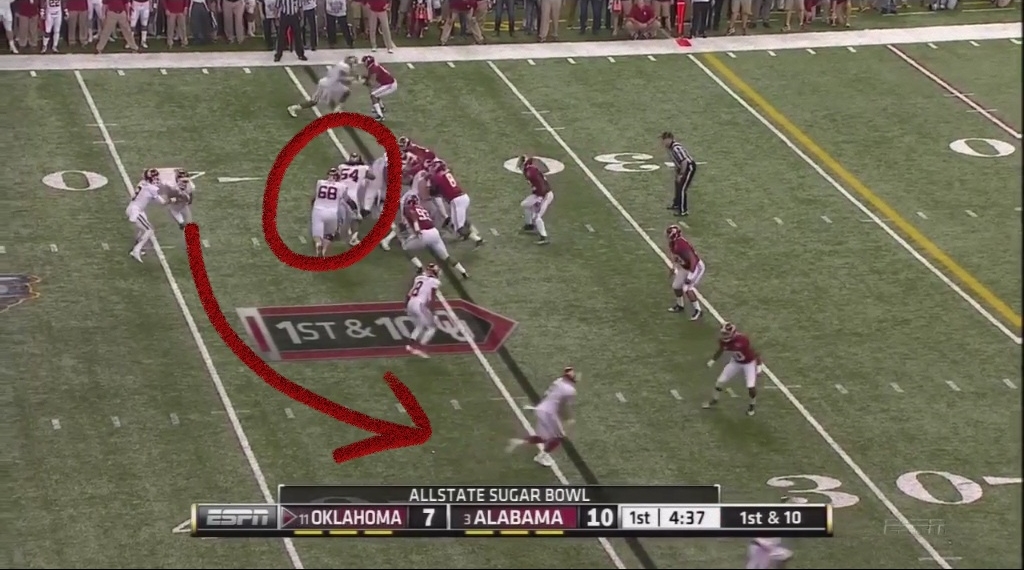 17. (cont.) Before you know it, Brennan's out on the edge for a gain of 12 and since the receivers are blocking so well, we made it look easy.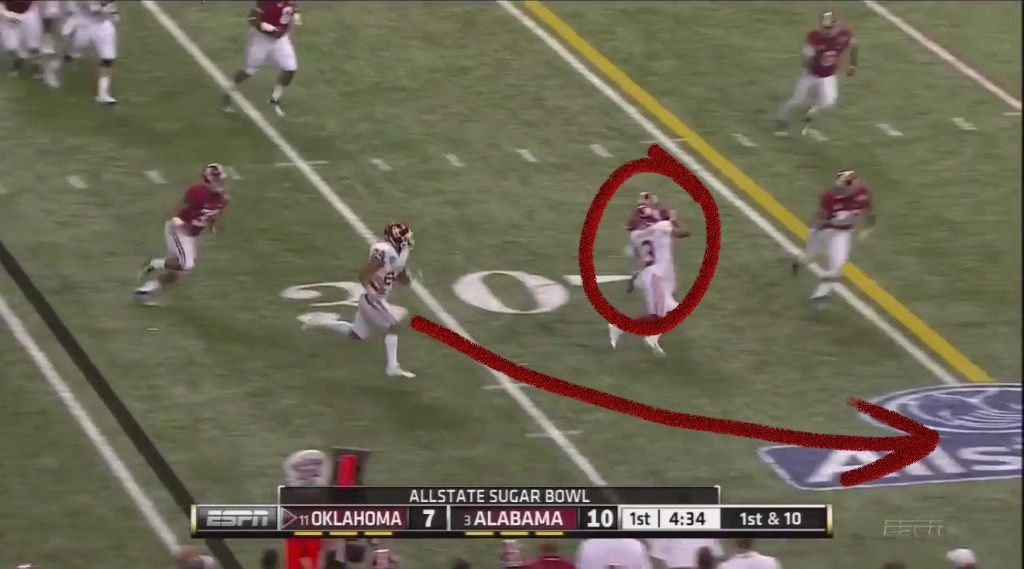 18. On 3rd and 10, the pass rush came so hard, that this almost looked like a qb draw.  The protection wasn't bad, it's just no one stayed in their lanes defensively.  All our guys had to do was run them upfield.  Trevor goes and gets the first down.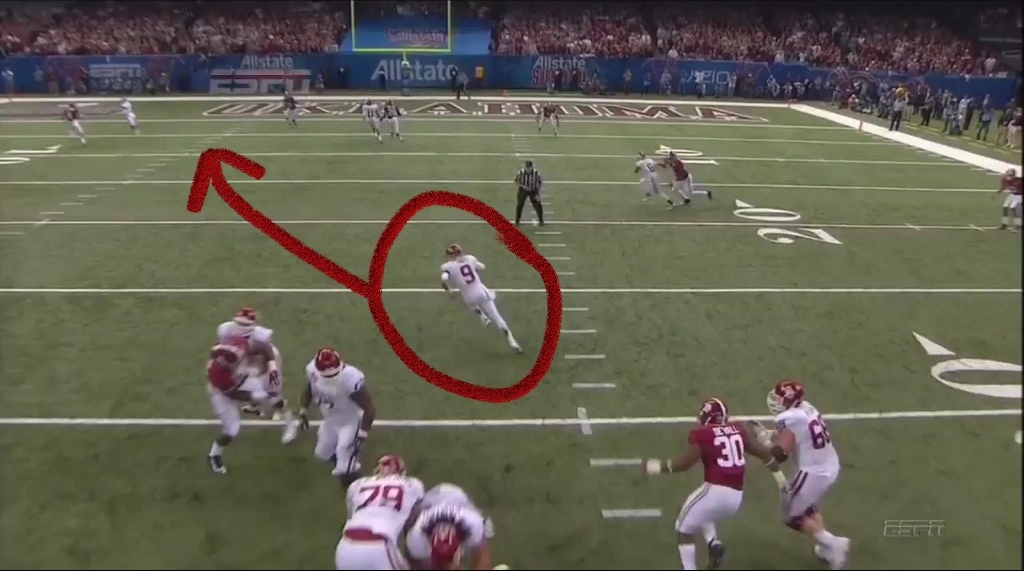 19.  As Saunders went in motion, I saw Collins going in motion with him.  The other safety(far right red circle) stayed, so I knew that it was man coverage to the left with no help…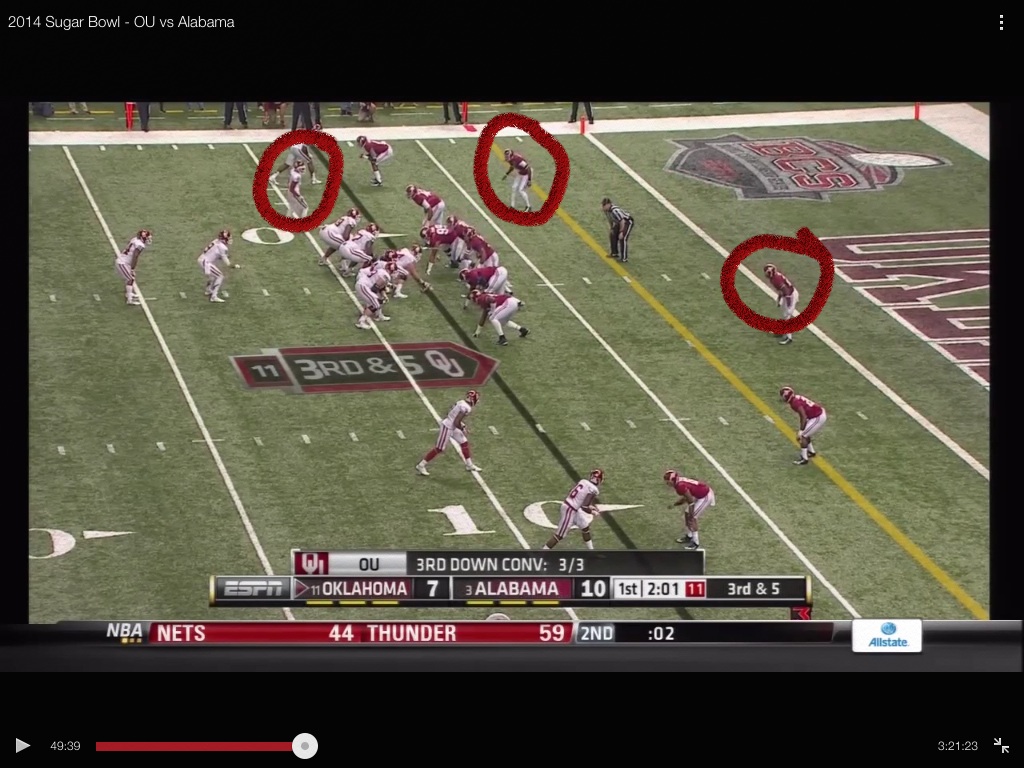 20.  …Trevor knew it too, and it's good that he did.  He had a rusher bearing down on him quickly.  He threw the ball to Jalen as soon as he was coming out of his break.  Here you can see that he doesn't even have his head turned.  It wasn't bad coverage, Trevor just put it in there.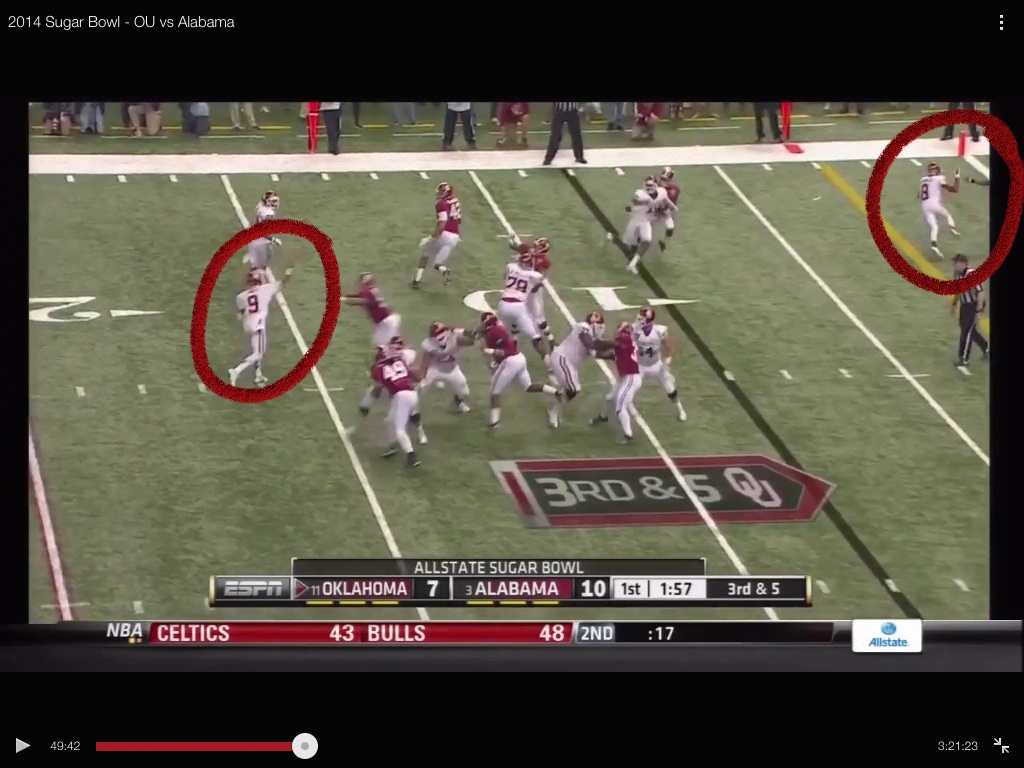 21.  And Jalen made a heck of a play.
22.  Touchdown good guys!