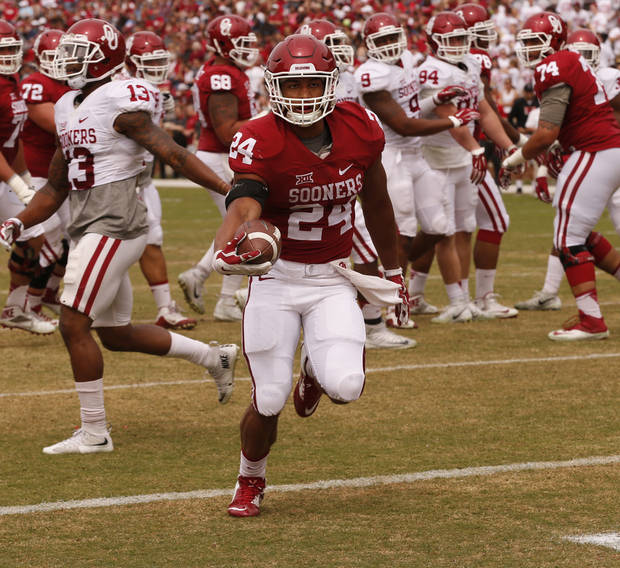 Spring Game | What I'll Be Watching
Posted on: April 12, 2018
Hey all, I'm stoked for Saturday.  I can't wait to see what happens on a few fronts.
– Who looks the best on the Offensive line?  With the teams being split up I doubt we'll see who the starters will be, and that actually will reveal the least if you think about it.  In years past Stoops didn't want to show anything, and from a personnel standpoint it'll be more about individual performance and how the offenses move up and down the field than anything.
– Are TJ Pledger and Kennedy Brooks as good as advertised?  Guys like TJ, as talented as they are expect to come in and play day one.  That's good, because it pushes the older guys like Anderson and Sermon.  It'll be hard to unseat those two, but I want to see if we have a four headed monster in the backfield.
– Is the D Line more active?  The mush rush is something that drives both K and I bat crap crazy when we've watched the Sooners the last few years.  The "light coming on" for guys like Gallimore and Overton is probably more about turning those guys loose a little more than they have.  Overton is a problem quickness wize if they just let him be.  Gallimore too is a 4.75 guy at 310.  Geez!
– I want to see Charleston Rambo and A.D. Miller step up.  Rambo is an issue for defenders athleticism wize.  A.D. Miller is that beastly Size/Speed combination we haven't seen since everyone's favorite lockerroom rapper Malcolm Kelly.  Can he be that guy?
– What happens in the defensive backfield?  Everyone's all about Bookie, and rightfully so.  I want to see him bring that attitude that we desperately need on the back end.  I want to see Tre Brown have a good day along with Parnell Motley & Tre Norwood.  Who steps up at Safety now that Parker is gone?
– The linebacker position is also something I want to see improve a great deal.  Youth, injuries and inexperience hampered the Sooners much of the year last year.  Now that health isn't really an issue, will that push guys like Murray to study more film and be in the right position knowing that there are a lot of guys beating down the door behind him?
– Finally, show me the edge rushers and whether or not the tackles can handle em!  Need to see Daley, Gumbs, Redmond and Jackson Show out.  I also want to see if Ronnie Perkins looks as good as everyone says.
A lot to watch, and a lot to see.  Show up and be loud!  Could be a banner weekend for recruiting