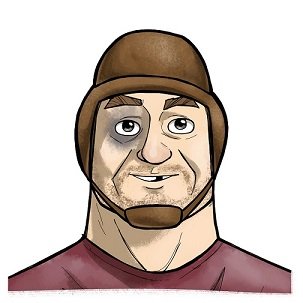 Spitballin…Thoughts on Oklahoma Vs. TCU
Posted on: November 9, 2017
I'm nervous.  Every year a high powered offense can lay an egg.  I don't think that TCU holds the Sooners under 30, but can the Sooners hold them under 30?
Was the egg of the year already laid against Iowa State?  I hope so.
TCU is top 10 defensively in almost every category.  They held Ok State to 31 points and West Virginia to 24.  Besides last week against Iowa State and week 1 against Va Tech, West Virginia has put up about 40-50 points a game.  We all know what Okie Lite can do offensively.
Surprisingly TCU doesn't create a lot of turnovers.  Still they're #1 in the country in rush defense.  If they do have a weakness it's pass defense, but I wouldn't call it a big weakness.  They rank 52nd nationally, but they're still only giving up 212 yards a game.
Quietly TCU defensively has put together a Juggernaut.  They've got veteran players at every level of the defense, and frankly it scares me a bit.
The Sooners have to be able to run the football.  Against Baylor in 2003, the Bears showed the world how to beat the Sooners even though they lost like 35-7.  They Blitzed Jason White all day long.  A few weeks later, K-State employed the same game plan and we all know what happened in the Big XII champ game that year when Darren Sproles went off.  Oklahoma State showed how edge pressure and namely Blitzes by Calvin Bundage off of the edge can disrupt the run game of the Sooners.  The good guys will need to create movement vertically while cutting off the backside in order to run.
I See TCU attacking the heck out of this offense.  I know they're going to load the box and make Baker beat them with out the play action which is so deadly.  It'll be interesting to see how Riley combats it.
Defensively I was hoping to see more Tre Brown, but I'm hearing he has a sprained Ankle.  After last week I have zero confidence in the secondary.  Still, I don't think that Kenny Hill is as good as Mason Rudolph or the Iowa State QB or, Shimonek from Tech.  Nevertheless, that hasn't mattered much against this secondary.
If there is a key to beating this TCU offense, I think it's creating 3rd and long, blitzing Hill and making him throw into tight windows.  I think the Sooners have the athletes and the capability to shut this team down but will they do it?  Not sure?