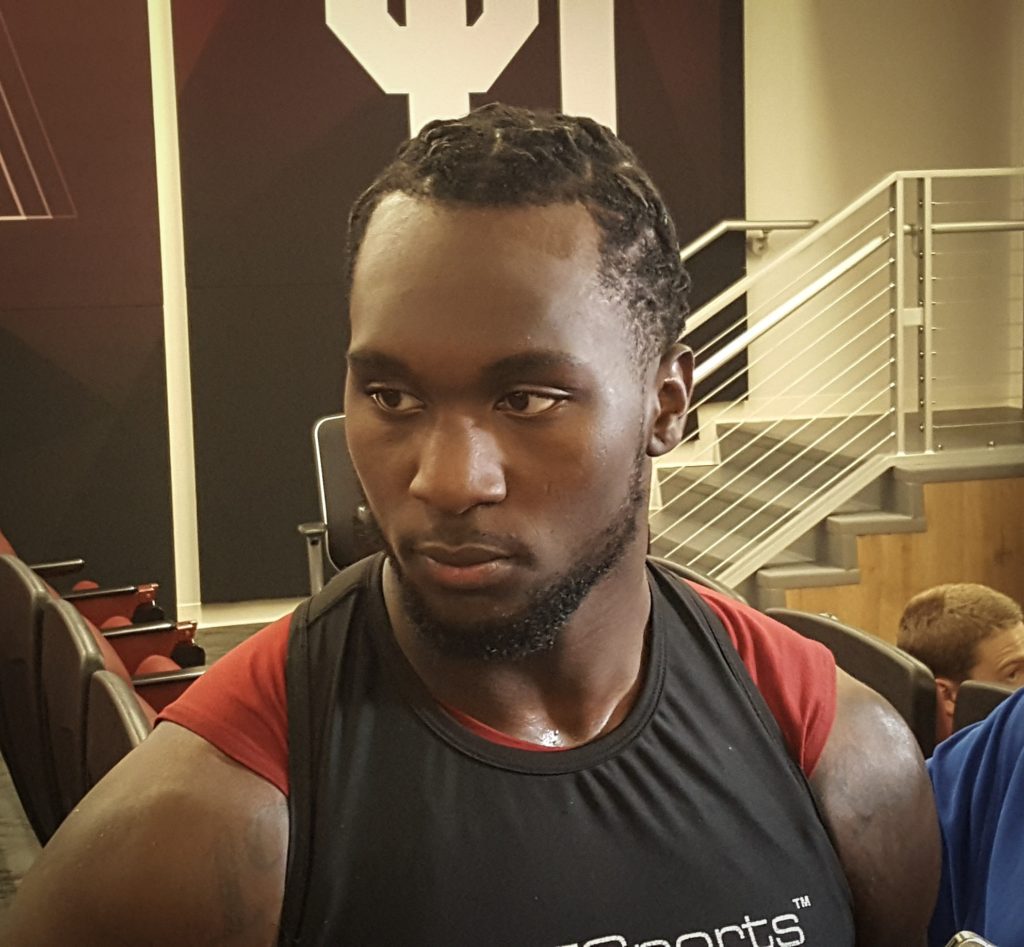 Post Practice Notebook | September 10th
Posted on: September 11, 2018
What's next at running back
With tailback Rodney Anderson out for the season, Oklahoma will have to rely on a committee of running backs until one separates from the pack. They include sophomore Tre Sermon, senior Marcelias Sutton, freshman T.J. Pledger, and redshirt freshman Kennedy Brooks.
"As the backs here go forward, it's going to be based on performance," OU coach Lincoln Riley said Monday. "Kind of like we were last year with a large part of the season. If all those guys are performing well, but nobody is totaling outplaying another, I'm sure we will play a bunch of those guys. If we get a guy that gets hot and really starts playing at a high level, we'll certainly feed him more reps and with that more opportunities. We feel good about those four."
Different styles
According to Sutton, each of the four tailbacks has something different to offer when they get into the game.
"We all have different run styles and I feel like that's something we all bring to the table," Sutton said. "I feel like it's going to be a good year for all of us. We all have opportunities ahead of us. No telling what's going to happen. My boy Tre do slow them down a little bit. They start reevaluating themselves a little bit. Then I come in and try to gash them real quick. To be honest, I just feel like I'm by any means. I don't even know my own running style. I'm just trying to get into the end zone."
Sermon used NFL players to describe the styles of him and Sutton
"(Sutton) is a very quick guy. He kind of reminds of DeVonte Freeman (Falcons). He runs very powerful, very smooth and is just real explosive," Sermon said. "Probably a combination of Le'Veon Bell (Steelers) and Todd Gurley (Rams). I try to be as patient as I can and also try to run with power and explosion."
The non-catch
More than 48 hours later, CeeDee Lamb is still being asked about his spectacular non-catch during Oklahoma's 49-21 win over UCLA. Even though the one-handed grab was ruled out of bounds, that has stopped Lamb's phone from blowing up.
"My social media froze every time I got on it," Lamb said. "I just don't know what to say to it. As the game progressed, I was like 'I caught this ball with one hand. It just blew up when I got back to social media."
Lamb said he even surprised himself when he went back to see the replay of it.
"I actually jumped higher than I thought," Lamb said. "I was pretty up there. I surprised myself, to be honest. I just jumped to see if I was able to get to it. The next thing you know I caught it."
Lamb said he doesn't know what his vertical jump is right now. But he believes it increases during games when the adrenalin is pumping and more people are watching him.
Teammate Marquise Brown is one of those who was watching Lamb as well.
"That was crazy," Brown said. "I was watching it and was like 'oh, he just caught that.' They should have just counted it for the effort."
Because the wide receiver room at Oklahoma is so competitive, Lamb knows Brown will be trying to outdo him this week at Iowa State.
"There is no telling what Jet has in his bag," Lamb said. "I will just wait till he pulls out something spectacular. He will probably pull out a helmet catch or something. I will just be prepared. We always compete, so I hope he gets it."
The Ford challenge
Offensive tackle Cody Ford said there is one thing that has been tougher than him learning to play the tackle position this year.
"Slimming down was pretty much harder," Ford said. "You can play guard, but you have to know what the tackle does. You can play center, but you have to know what the guards do. Soo assignment and technique is not that hard. But weight, for me, was probably my biggest challenge."
Getting the run game going
"It's pretty serious you start the run game early in any game," Ford said. "No matter who you're playing. We have to go into these games with the same mindset as FAU and UCLA. When you come to Oklahoma I think you take pride in run blocking. That's pretty much what we built ourselves on."
Sooners on the road
Oklahoma will face its first road test of the season when they travel to Ames, IA. Saturday. However, co-offensive coordinator Bill Bedenbaugh doesn't seem to care where the game is.
"What I try to do is not worry about where we're playing, when we're playing, who we're playing for the most part," Bedenbaugh said. "I told these guys winning games is all about your preparation Monday to Friday. That's how you win football games. It just doesn't happen on Saturday. To me, it really doesn't matter. Some places are louder than others, I understand that. To me, it's about the preparation you put in every day. It doesn't matter where you play or when you play."
Sutton bringing a physical side to his game
"I 've gained like five pounds and I got a lot of strength in my legs," Sutton said. "Last year, not being able to squat or anything like that before the season I felt a little bit weak going into the season. But I worked on my legs a lot. I got up to about between 530 and 545 pounds on the squat. Got my legs under me real good, been running a lot and feel a lot better throughout the season."
Jersey swap
In back to back weeks Brown has worn a pair of NFL jerseys to motivate himself heading into games. First, it was the Raiders Biletnikoff then the Steelers Antonio Brown, who he's related to.
Brown was asked what he has in store jersey wise coming up this weekend.
"Away games we wear team-issued gear," Brown said. "But next home game, I got something."