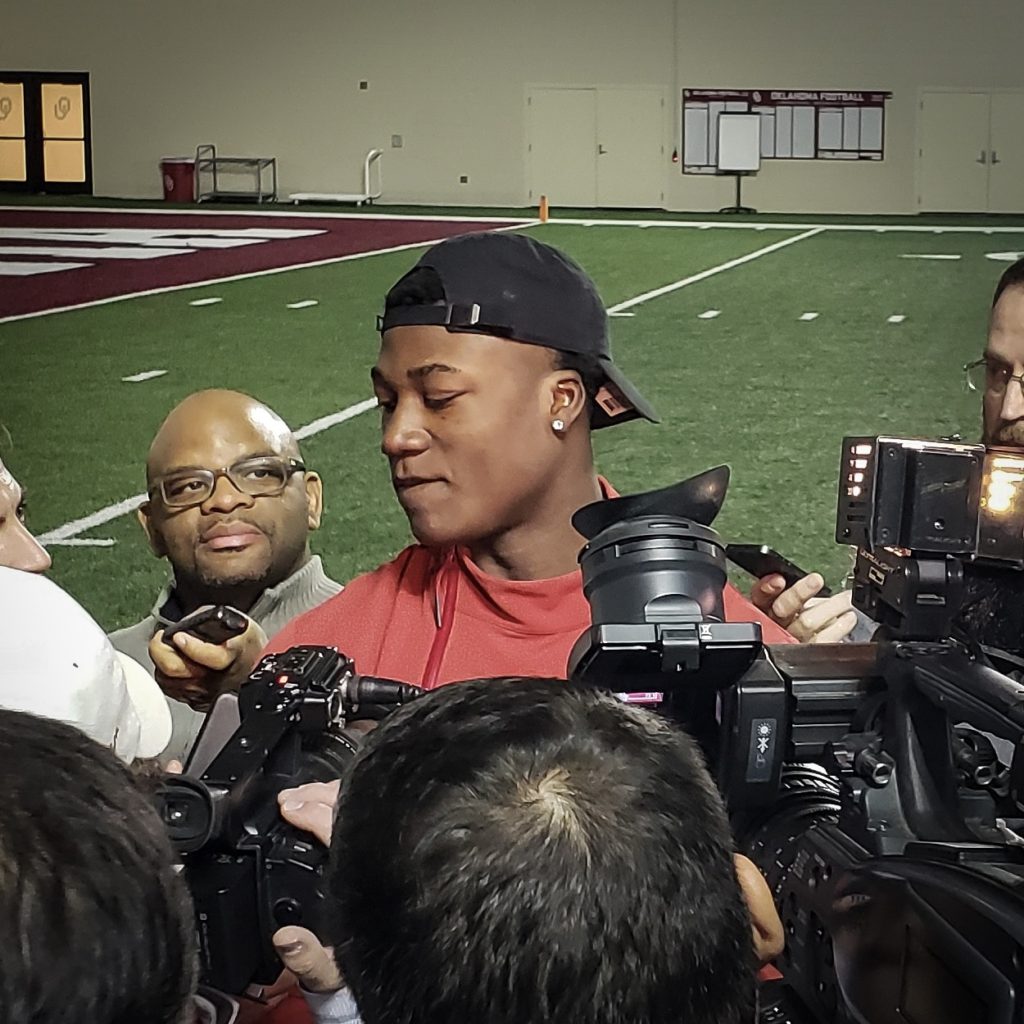 Post Big 12 Championship Notebook | Tuesday, December 4th
Posted on: December 4, 2018
Not overwhelmed
On the day that the nation officially found out quarterback Kyler Murray was one of three Heisman Trophy finalist, the Allen, Texas native treated it as a normal day at the office. He said he was getting a massage when he got the news Monday.
"I feel pretty normal, honestly," Murray said. "Obviously a great honor to go to New York and represent as one of the finalists for the Heisman. I wouldn't be here without my guys, my coaches, my family. Just thankful for all the work that's been done. But for me, the job is not done obviously. Hopefully, two more games left and that's really what my focus is on. It's a great honor, and yes, it's been a great day. I thought I found out last week. But today, I guess it's official. It was a good day, for sure."
Heisman competition
"Me and Dwayne (Haskins), we're friends," Murray said. "I really don't know Tua (Tagovailoa). Obviously, hearing about Bama all the time, everybody knows they've had a great season. Other than knowing what Dwayne's doing, I haven't really got to sit down and watch many games they've played. But obviously, they're doing something right."
No time to look back on accomplishments
"I really haven't had a lot of time to reflect. It went by quick," Murray said. "Obviously, it's not over. For me, going into it, you know, a one and done type deal, possibly, it's been everything I dreamed of and I put in the work for. The guys put in the work for. I'm thankful. It's been fun, hasn't been easy. To win the Big 12 Championship Saturday. Do something that has never been done before, put ourselves in the history books forever. I can't ask for much more."
What will Murray be wearing
Murray choice of attire each gameday always catches a lot of attention. So it was not a surprise he was asked if he knows what he will be wearing at the Heisman ceremony Saturday in New York City.
"I've got that stuff figured out already," Murray said. "(I've been into fashion) my whole life. Being color coordinated, matching and stuff like that, I've always done that. That's just been part of how I was raised."
Playoff announcement
The playoff announcement came Sunday afternoon with most of the players off doing their own thing.
"I was pretty nervous, you know. Driving back from lunch with some of the O-line guys and watching it on the way home," Cody Ford said. "I actually pulled over to make sure we saw the results. Once we found out, we were pretty excited and we enjoyed the rest of the ride home."
Kenneth Murray said he was in church
"I found out while I was at church," Kenneth Murray said. "It was a great place to find out. My pastor was actually watching it on his phone. He was like, 'Look, they're fixing to decide right now.' We were watching anxiously, then a commercial came up. They finally came back on and we found out we got in. Did a little celebration outside the church."
Outside noise made them nervous
"I was in the bed, I was watching it," Kyler Murray said. "The more they talked about it at the beginning, I kind of had a feeling we might get stabbed and Georgia might be in. But when it came down to it, it just kind of made sense."
Ford not about that Miami life
"Naw. Definitely not," Ford said after being asked is he a Miami guy. "That lifestyle is way too fast. I just tend to myself. I'd rather sit inside than go out there and do stuff."
Thoughts on Alabama
"Great challenge getting to go up against a great team. Tremendous players. I think it's a great opportunity for us. To be able to go out there and prove what we've been working for and let everyone know that we have been working for something. That on the big stage we can play."
Do the Sooners fit the underdog role?
Once the playoff matchups were set, most analysts outside of the state had quickly jumped on the Alabama bandwagon. That includes Las Vegas, which set the Tide as a 14-point favorite.
But according to Ford, that may work into the Sooners hands.
"I think we like when people doubt us," Ford said. "We like to prove people wrong. I think we're ready for the opportunity to go out there and prove ourselves."
Defense playing a role
The past two games, the defense has played a big role in helping the Sooners not only get to the Big 12 Championship but also win the title. That's an important stepping stone for Kenneth Murray.
"It just means everything," Murray said. "Adversity hits and we continue to fight. We continue to go at it and we never gave up. We came up with some big plays in that last game and end up getting that championship, which is what we set out to do at the beginning of the year. So it means everything to me."
Learning from the journey
"When you go through something, you always appreciate the ups and downs it takes to get there," Kenneth Murray said. "As a defense, I feel like the adversity that we've been through, it just molds us to be who we are. When we get in a game when something doesn't go our way, we're not just surprised by it. We get back together, we regroup."
2014 Sugar Bowl
The last time Oklahoma faced Alabama was in the 2014 Sugar Bowl. The Sooners blew out the Tide 45-31. Ford said that was an impactful game for him.
"That was right when I started getting recruited by OU," Ford said. "I think that was pretty much the turning point for OU. It let everyone know they are not being pushed around anymore. It shows that we've been here before and we know how to handle these things."
Blocking for a Heisman finalist
"I think he has a great chance to win. In my opinion, the best player in college football. For him to be named a finalist is pretty great for this university, good for him. I think it just goes to show, we produce athletes at Oklahoma. I've never seen anyone like him. He does things out of the ordinary. He's real humble about himself. He doesn't tend to get too confident or too cocky. So he knows what he is doing."