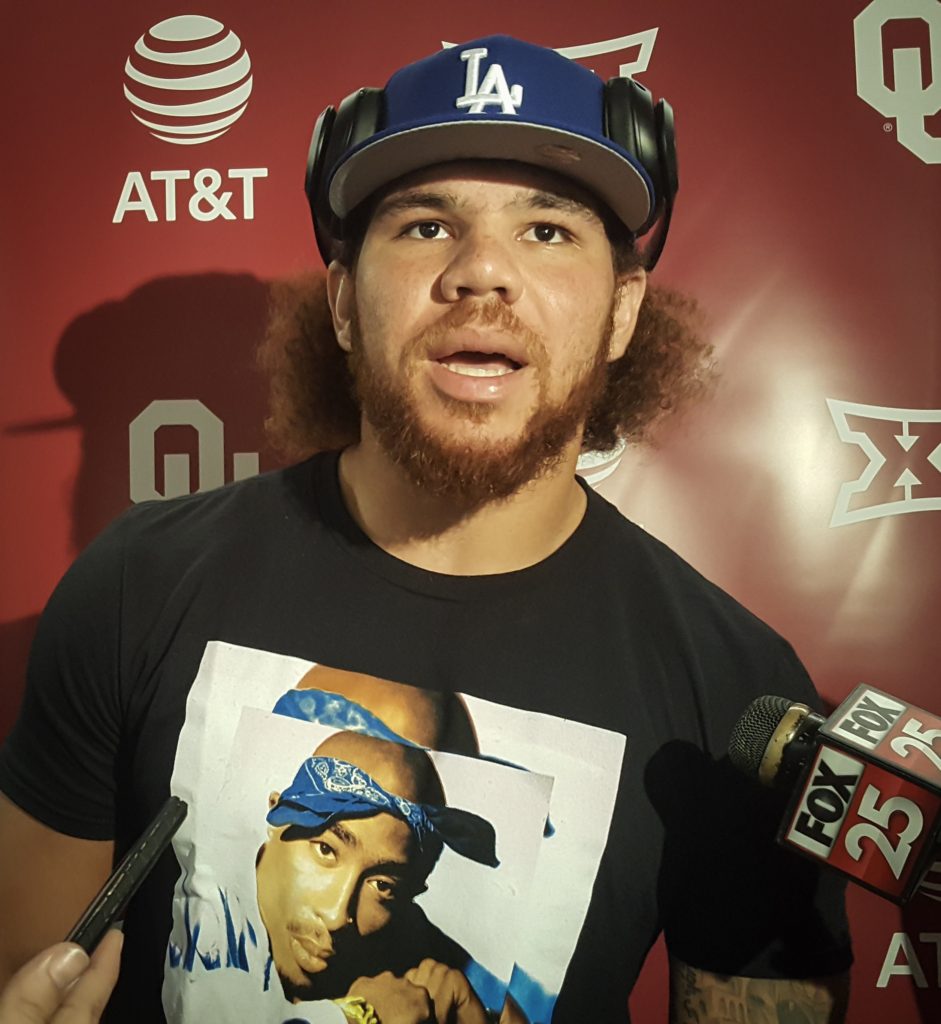 OU vs UCLA | Post Game Notebook
Posted on: September 8, 2018
For almost a decade, Oklahoma has been known for its offense. With a pair of Heisman trophy winning quarterbacks in that span, it's easy to see why.
But coming into this season, members of the Sooners' defense wanted to change that. Despite years of being the butt of jokes around the country, they believed they had a chance to elevate their status.
Two weeks into the 2018 season, they may be right. After rolling through UCLA Saturday 49-21 at Memorial Stadium, defensive back Justin Broiles says the tide is starting to turn.
"We are just trying to change the culture," Broiles said. "We are tired of being known as Oklahoma, offense. Oklahoma offense. Naw. When you think Oklahoma, you think defense. Like back when Roy Williams and Teddy Lehman, you thought defense when you thought Oklahoma."
The Sooners held the Bruins to 383 total yards. But only 133 came in the first half when the game was still slightly competitive.
"Very proud of our defense," OU coach Lincoln Riley said. "Defensively I thought we were very strong the whole day. Our first defense was really, really good. I think our overall talent level is getting better. Our depth is getting better. And our mentality. I think we've got some really good young leaders. We're still making some mistakes, but we're flying around and making a lot of plays right now."
Injury update
Oklahoma tailback Rodney Anderson had to be taken to the locker room after being injured on the final play of the first quarter. He looked to have suffered a lower leg injury.
Riley had no updates after the game.
"We're hoping for the best," Riley said. "But we will get in and see how he's doing.
According to Riley, defensive tackle Marquise Overton had to have an emergency appendectomy at 1 a.m. Saturday. Riley said he will miss a few games.
The CeeDee affect
The player of the game in most eyes has to be wideout CeeDee Lamb. The sophomore from Richmond, Texas collected seven receptions for 146 yards and a touchdown. He was one yard shy of tying his career best and it was his third career 100-yard receiving game.
However, Lamb's best catch was a one-handed snag as he tip-toed on the sideline that was rule out.
"I was proud of CeeDee," Riley said. "I think the best thing that has happened to CeeDee is AD Miller. We didn't start CeeDee, not really because of anything negative he did – we just thought A.D. Miller practiced better. CeeDee and A.D. both want it and they both played tremendously."
Lamb said the game was big for the entire team, not just him.
"I feel like it was a game of trust," Lamb said. "We had to hold each other accountable and believe that everyone is going to do their job individually."
Slow start
After its offense had an awkward start to the game, the Sooner's defense allowed a big pass play down the middle of the field. That set up a UCLA touchdown and the first time OU has trailed this year.
However, on the ensuing drive, Oklahoma got a boost from an 85-yard kick-off return by Tre Brown. Anderson scored three plays later when he rammed into the line of scrimmage and moved the pile into the end zone.
According to Marquise Brown, he knew Tre Brown's big return was going to happen soon.
"I knew it was coming," Brown said. "He's an explosive due. Fast dude. I knew he was going to get his chance and make the most of it. I wish he would have gotten in the end zone. But he will get one."
Throwing early and often
It didn't take long for the Sooners to get quarterback Kyler Murray going. He started the game off passing on almost every single down. That included a 58yard touchdown to Marquise Brown that put Oklahoma up 14-7.
Brown says the trust he and Murray have with each other led to the score.
"I knew I had man on man," Brown said. "I had a curl route. I got on his toes, Kyler threw a great ball. He told me whichever side he throwing to, that's the side I turn up on. I trusted him, he threw it to the inside and we got a touchdown."
Murray threw for 306 yards and three touchdowns on 19-of-33 passing. He also tossed the first interception of his OU career.
When Murray wasn't throwing, he was scrambling around and causing the UCLA defense fits. He ended the day with 10 carries for 69 yards and a touchdown.
"They attacked our run," Riley said. "Gave us some trouble early. We made some adjustments. Got Kyler involved a little bit. He made a couple of really nice plays there. We are a lot tougher to defend when you've got that type of athleticism back there."
UCLA coach Chip Kelly was also impressed with what he saw from Murray.
"The only guy I would say I'm disappointed in is Billy Bean (Oakland A's GM)," Kelly said. "I wish he gave the kid more money. You think there would be a big drop off when you go from a Heisman Trophy winner but that kids very special. He was very difficult for us to tackle today."
Bolton lighting the Bruins up
One week after earning Big 12 Defensive player of the week, Curtis Bolton showed he may be going for the award each game. The senior will linebacker was a disruptive force in the UCLA backfield all day.
Bolton finished the day eight tackles, 1.5 sacks and two tackles for loss.
"In my younger years I was on the line rushing the quarterback," Bolton said. "I feel like that has always been in my bag. When they let me go up and rush, I just try to make the most out of everything. So every rush I get, I'm trying to get after the quarterback."
Bolton made two big hits in the first half and was initially called for targeting in the third quarter before it was rescinded.
"Man, I saw it and was like, if they call me on this," Bolton said. "I just tried to stay through it. I felt like it was a good hit. I tried to move my head out the way. I guess they saw it somewhere else. Nowadays, when you hit a quarterback and the quarterback goes down, the flag automatically comes out. It's call it now, review later. I'm just glad it went my way. But I feel like it was a good hit."
Mark Jackson led the Sooners with 10 total tackles. Kenneth Murray added nine. As a team, they tallied six sacks.
Next man up
Without Anderson, the rushing duties fell to sophomore Tre sermon. But the big power back struggled to get past the line of scrimmage against the Bruins front seven. He was held to 16 yards in six carries I the first half.
Marcelias Sutton got the call in the second half. The elusive and quick senior was a nice change of pace for the Sooners. He scored with just over seven minutes left in the third.
"It felt good," Sutton said of his TD. "It feels good to put points up on the board every time, but I want more and more."
Sutton rushed for 34 yards on five carries. Freshman T.J. Pledger came in the fourth quarter and posted 45 yards on seven carries. As a team, they rolled up 187 yards on the ground.
With none of the Sooners knowing when or if Anderson will return, each of the tailbacks knows they all have to be ready for when their number is called.
"It was tough to see Rod go down because he is like the heart and soul. He really wants to be in our ear keeping us going. That was hard for me to see him go down. But at the end of the day when it's time to step up, it's time to step up. We have a lot of talent and we all close. We all just teach each other., We feed off each other."
Special teams step up
Oklahoma's defense forced the Bruins into another punt, which Lamb returned 66 yards. Two plays later Lamb caught a 35-yard touchdown pass as the Sooners lead grew to 28 points.
It was the second time in the game that a big special team's play set up a score.
"Probably the most dominant side of the ball was special teams," Riley said. "Two huge returns. Proud of that group. They gave us a much-needed jolt. When you make a special team play, it's a collaborative effort. It was a big momentum boost. Tre Brown's especially. I like what we're doing. He has been on our radar for it since coming out of high school. He's got some game-breaking ability. And we're blocking well."