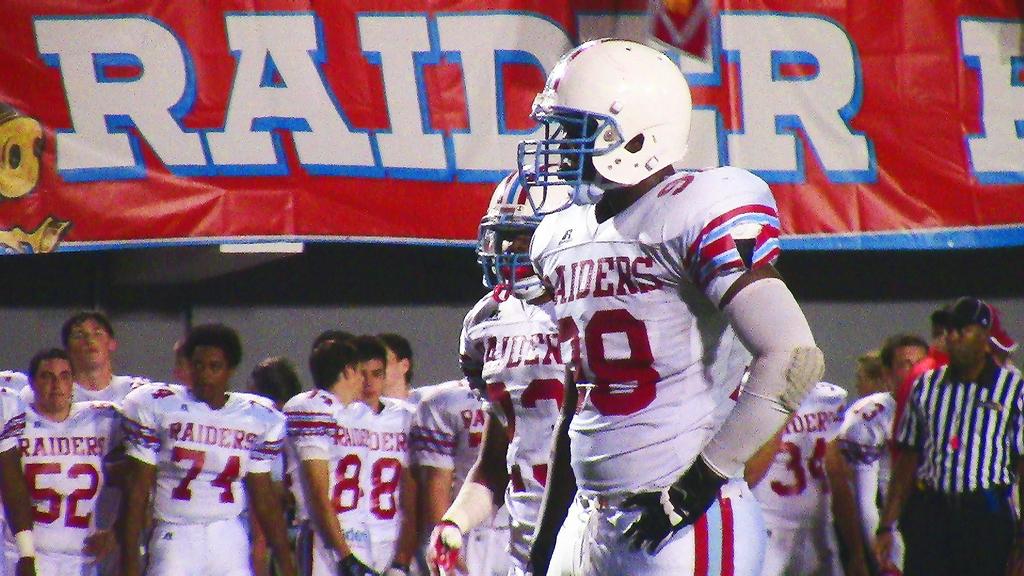 Open Post | Weekend, July 18th – 20th (UPDATE Sun., 8:52 am)
Posted on: July 18, 2014
Image of Tyrell Jacobs via highschoolsports.nola.com
– Tyrell Jacobs: Caught up with Tyrell Jacobs earlier this week. He continues to pick up offers and just yesterday received another, this time from Arkansas. Jacobs will be leaving New Orleans for Norman on Saturday night and expects to meet with the coaches on Monday. We asked Tyrell what the chances are of him committing on this trip and he said, "it's a high chance." It would be a huge pickup for the Sooners if the commitment were to come to fruition.
– Neville Gallimore: Gallimore still intends on visiting Oklahoma, but as far as we know a date has not yet been confirmed. In talking to Neville's coach, he still feels that while a top schools list has not been released, Oklahoma and Ohio State are in good shape with Neville.
– Justin Reid: We first mentioned this star safety prospect a couple months back (here). As noted yesterday, we reported (in error) that Bobby Jack Wright visited Reid back in the spring. But in talking to Reid, he clarified that it was in fact Jerry Montgomery who had visited.
When we spoke with him yesterday it was clear he is excited about the Oklahoma offer, and told us that he did plan on taking an official visit to Norman. He said Montgomery and the other OU coaches are asking him to try and make it in the weekend of the Tennessee game. As most of you have heard by now, Reid is the younger brother of former LSU safety and San Francisco 49ers DB, Eric Reid. With Justin holding a 4.7 gpa and 28 ACT score, and hist brother being in California, it made us wonder whether Stanford would be the favorite if they offered.
Stanford has been recruiting Justin and it sounds like he expects an offer to come soon. So would the Stanford offer be a game changer? According to Reid, not necessarily. Justin said that he's very enamored by the appeal of a major football program…"the atmosphere, the crowd, the hype…" He said that's something he knows exists at Oklahoma.
Now I know a lot of you are wondering what happens if LSU were to offer. Well here's the deal. In talking to our sources we've been told that LSU likes Reid, but they are full at safety right now. We definitely get the sense that Oklahoma could potentially get a big-time steal out of the state of Louisiana if things go right.
If you haven't already seen his film, do yourself a favor and click play.
– Kenneth Mann: Caught up with 2015 Texas DE and recent OU offer Kenneth Mann again yesterday, and confirmed that he will be visiting Norman next Wednesday. We asked Mann if there was any chance he'd commit on his visit, and he said, "I'm not sure yet." So it sounds like the possibility of it is at least on his mind with him not immediately ruling it out.
– OU Recruiting Note: You may have noticed that a lot of the recruiting efforts this year have focused on players up front on both the OL and DL. We were talking to a source recently and he said this is intentional. While every program has to fill needs, he said they are really focusing their recruiting efforts up front and not so much on skill positions which is, to some degree, what OU fans are more used to in recent classes. We're used to seeing a QB, a couple RBs, and few WRs already committed at this time in recent years. But this year it's going to be more about the big boys, TEs, OL, DL & LBs.
– Samaje Perine: Heard Perine did a standing back flip (at 240+ pounds) a week or two ago in practice. Was told that the coaches would have been ticked, but they were just too impressed.
– Josh Butler: Came across this 2015 Texas corner who is really impressive. Everything you want to see in a CB you can see in the first minute or so of his film.
– Ashton Preston (OK Preps): Mentioned yesterday that 2015 Edmond DB Ashton Preston will be attending the Texas invite only camp this weekend. He was at the Houston satellite camp in Kilgore yesterday, and I had a chance to speak to a friend who is a DB coach that was in attendance. He said he was really impressed with Ashton. He said Preston is a "true cover corner." Apparently he shut down all comers and thoroughly impressed the Houston staff. Talked to a source here in Houston and while they are currently full, he said the UH coaches may actually still extend an offer to Preston because of how impressed they were.
– UPDATE (Fri., 11:00 am): Just wanted to post this here for those that may not be on Twitter and/or those who are and may have missed it.
Based on Rivals database, #Sooners current offers regionally: TX (51), CA (18), LA (10), FL (8), VA (5), OK (5)…

— Jordan Esco (@Jordan_Esco) July 17, 2014
I (Jordan) think it is relevant regardless, but obviously with the Jacobs nugget above I think it helps put in perspective just how focused the coaches are on the state of Louisiana. I think it also somewhat dispels the narrative in recent years that they (the OU coaches) have backed off the state of Texas.
– UPDATE (Sat., 7:30 am): John Humphrey attended the Texas camp last night. We caught up with him after the camp and an offer was not extended. And though Texas coaches said they will catch up with him on Sunday he said, "I'm not too happy about Texas right now". We'll see if an offer is made on Sunday.
– UPDATE (9:35 am): Quick item of note on 2015 JUCO OT Jamal Danley. Probably shouldn't be surprised that after a visit Mississippi State would make up some ground. To be honest, after the eight (!!!) commits Dan Mullen and his staff got yesterday, OU is probably fortunate that Danley wasn't one of them.
Jamal Danley, the state's top JUCO O-linemen, tells me MSU and Oklahoma are "even after tonight." Sooners were leading before Big Dawg.

— Riley Blevins (@Riley_Blevins) July 19, 2014
– UPDATE (8:52 am): Just a quick update on Tyrell Jacobs who looks to be well on his way to Norman for his visit.
Omw to Oklahouma

— Tyrell Jacobs (@tyrelljacobs98) July 20, 2014