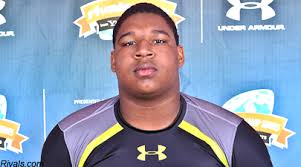 Open Post | Weekend, May 9th – 11th
Posted on: May 9, 2014
Image of Tim Settle via Yahoo Sports
– First, I wanted to address Tim Settle's Top 15 schools (in order) he put out yesterday. As most of you now know, he had Oklahoma listed dead last on the list behind schools like Oklahoma State, UCLA, Texas, WVU, and others. Settle had recently informed the Oklahoma staff that he would be taking an official visit for the OU vs. Tennessee game along with star LB Ricky Deberry. I checked with Settle and it sounds like he will no longer be taking the official visit.
I have no proof of this at the moment, but in my opinion something happened between the time of Settle's previous visit(s) and now that bumped OU all the way down his list. I'm of the opinion that Settle putting the Sooners at the bottom of his list was meant to slight Oklahoma. But that is PURELY my speculation and not based on anything he has told me. I had a brief exchange with Settle and a lengthy conversation with someone close to him, and the impression I got after the trip was that Oklahoma was probably sitting somewhere around No. 4 or 5.
While Settle was in Oklahoma, he actually visited Norman twice. And, again, he told the OU staff that he'd take an official visit. I just have a hard time believing he could have disliked the visit so much that he couldn't find a single school in his "Top 15″ that didn't warrant a spot lower than OU, despite making a return trip to Norman and expressing earnest interest in making a third trip for an official visit.
– I talked to OG Henry Mitchell and coach Bobby Jack Wright stopped by to visit him this past Tuesday. He said Wright pulled him out of class, but didn't watch Mitchell practice. To me that might be an indication that an offer could come soon, but they just wanted to get a look at his size and make sure he's as big as listed. We'll have to wait and see if a return trip happens.
– Coach Kish stopped by Memphis this past week to visit stud LB Joshua McMillon. Oklahoma has extended an offer.
– Coach Kish also recently stopped by Plant HS in Tampa and visited a talented and incredibly underrated CB named Derrick Baity. Baity hasn't yet received an Oklahoma offer and to be honest it's a head scratcher to me. He is absolute no-brainer. He's over 6'2" and flips his hips faster than any corner you'll see on film at that height. I asked a friend of mine who is also a former Big 12 DB, coaches down in Tampa, and is very familiar with all the talent in the area. He said Baity is the second best CB in Tampa behind only Ray-Ray McCloud. As all of you know, I'm high on the talent of Mbanasor and Lane; Baity is on their level.