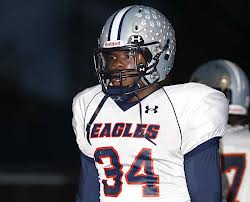 Sooners Make The Cut For Top 2015 RB Damien Harris
Posted on: March 28, 2014
Image via MaxPreps
Damien Harris (Berea, KY) is generally regarded as the No. 1 running back in the Class of 2015 and on Friday he released a Top 10 via his Twitter account.
An impressive list as one would expect given Harris' five-star status and immense talent. And while it's still pretty early in the 2015 recruiting process, I'm not entirely sure how much stock I would put into Oklahoma being included here. From what I can gather, the focus from Harris — at least to this point — has been primarily on SEC schools with some Michigan, Ohio State, and USC. Harris was once committed to the Wolverines, but has since reopened his recruitment.
Obviously, it's never a bad thing to make the Top 10 of what many consider to be the top running back in the country. However, I'm of the opinion that Oklahoma and Cale Gundy's primary focus for a 2015 back centers on Soso Jamabo (Plano, TX – VIDEO) and Ronald Jones (McKinney, TX – VIDEO).
As many of you are aware, recruiting is about as fluid a process as there exists so anything can change between even today and tomorrow. We'll see how things continue to play out between Harris, Coach Gundy, and the Sooners.