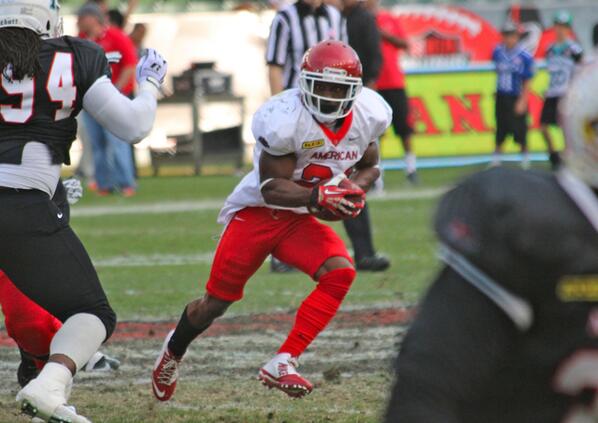 Sooners Showing Well In CFB All-Star Games (UPDATED: Colvin Injured On Day Two)
Posted on: January 20, 2014
Image via @ShotgunSpr
With a number of Sooners taking part in the various college football all-star games, I thought it might be helpful to collect some of what is being said about their performances. This will be something that we continue to update as information becomes available, so be sure to check back in here often.
Brennan Clay (East-West Shrine), Aaron Colvin (Senior Bowl), Roy Finch (NFLPA Bowl), Gabe Ikard (East-West Shrine & Senior Bowl), and Jalen Saunders (Senior Bowl) were the former Oklahoma players invited to participate. The Shrine and NFLPA games both took place this past Saturday, while the Senior Bowl will be played this coming Saturday.
Brennan Clay
"One NFC scout said during West practice that I better make sure I watch Clay because in his mind, he is a very special player. A five-star recruit by Scout.com leaving high school in California. Clay also was the first player in California history to gain 1,000 yards receiving and rushing in the same season. Clay on the field reminds me a bit of a giant slalom skier, they make it look easy. Clay looked smooth coming of the backfield." – CollegePro.com
Brennan Clay will be a decent 3rd back & special teamer for somebody. – @CBS11BillJones
Aaron Colvin
I hope OU CB Aaron Colvin keeps his head up. He's going to have a long NFL career. He was having a great week before his injury. – @MoveTheSticks
As you know by now, Colvin has indeed torn his ACL.
I am sincerely hoping this initial report of a feared torn ACL for Colvin does not prove accurate.
 Aaron Colvin was dominant at times this practice, comfortable in pedal, keeping nose over toes & proper wt distribution for clean breaks. – @OS_AlexBrown
Colvin went down with what appeared to be some sort of lower leg injury, won't speculate on what it may or may not be. When/if something concrete is known, I'll post it here.
Oklahoma CB Aaron Colvin's leg appeared to give out while running a drill. Fell grabbing his right leg around knee. Was helped off field. – @nfldraftupdate
Per NFL Network, initial evaluation on Oklahoma CB Aaron Colvin is a sprained knee. Very good news if that's the extent of it. – @nfldraftupdate
Colvin talks about the first day of practice (Audio)
"On the defensive side of the ball, Oklahoma cornerback Aaron Colvin demonstrated good speed and fluidity in coverage, as well as excellent leaping ability and timing to knock away passes." – CBS Sports
"The former Sooner was easily the best cover corner on the South squad.  His press technique footwork needs a little work, but his recovery speed is ridiculous.  He's fluid, moves smoothly and bends athletically.  He's polished and had a solid first day in Mobile." – TheSidelineView.com
We love Aaron Colvin, but he's the skinniest 186 we've ever seen. – @RosterWatch
Only drills but Aaron Colvin has the most fluid hips of any corner on south team – @NEPD_Loyko
Oklahoma CB Aaron Colvin is smooth coming in and out of breaks. – @bkissel7
Aaron Colvin shining in one on one drills. Looked good in press vs Jordan Matthews. – @NEPD_Loyko
Pretty solid showing for OU Football's CB Aaron Colvin at Senior Bowl today. Nice feet & hips. Smooth in transitions. – @BuckyBrooks
Oklahoma CB Aaron Colvin was impressive at South squad practice. Can play off-man, sink his hips & drive on the ball. Solid footwork. – @MattBowen41
Roy Finch
American Team RB Roy Finch picking up big chunks of yards. – @NFLPABowl
Roy Finch with another spectacular run. Looks like the best athlete on the field. – @JBHirschhorn
Watching this NFLPA Collegiate Bowl and Roy Finch is tearing it up. Really think he can be a Darren Sproles/Danny Woodnead/Trindon Holliday. – @lukemcconnell1
Oklahoma RB Roy Finch is showing a lot NFL scouts, he can fit that mold like Sproles or Woodhead. – @HardCountScout
Oklahoma RB Roy Finch off to a strong start. Quick and showing nice acceleration out of cuts. Size makes him tough to locate. – @KevinW_ESPN
Roy Finch dashes for another first down, then blows pass pro a play later. That appears to be his major limitation. – @JBHirschhorn
Am I the only one who thinks he would have been a STAR somewhere else? – @TravHaneyESPN
Roy Finch finished with team-high 60 rushing yards (14 carries) and 8 receiving yards (2 catches) in Saturday's NFLPA Bowl Game. – @EricBaileyTW
Longest play of NFLPA Bowl was 51-yard kickoff return by Oklahoma RB Roy Finch. – @gregauman
Gabe Ikard
"Gabe Ikard of Oklahoma showcased his quickness initially and ability to stay low, turn, and pivot to open holes consistently on the interior. He's the best offensive lineman here, and so far he's showing it." – OptimumScouting.com
Again Justin Ellis has been Gabe Ikard's kryptonite. Exposing Ikard in multiple situations. – @OptimumScouting
OC Gabe Ikard having another tough day vs head-up nose tackles. Beau Allen bull rushed him twice today so far. Getting harder to defend him. – @OptimumScouting
Oklahoma C Gabe Ikard struggled with the bullrush strength and power at the POA during practice. It was a surprise. – @Bischoff_Scott
"In a one of our chapels earlier this year, Clebe McClary told our team: "IN THIS LIFE OF GIVE AND TAKE, THERE ARE NOT ENOUGH PEOPLE WILLING TO GIVE WHAT IT TAKES."
I am honored to stand in front of a group of men that have given what it takes in the game of football up to this point. We have done what we needed to do on and off the football field in order to have a chance to play in the NFL. By the grace of God, we all have been given a platform to influence others through this wonderful game. Winning championships, making all-conference and all-American are all tremendous accomplishments, but the most significant thing we did as college football players was making a difference by helping others.
Kids look up to us; kids want to grow up to be like us. We are seen as heroes for what we did in between the lines on Saturdays. But men like Pat Tillman are the true heroes. He gave up riches and fame to defend this country and to defend our freedom. The administration and staff of Shriners Hospitals are heroes for giving children a chance to live a long and healthy life. People always call us warriors for what we do in shoulder pads and helmets. Football is physical, football takes toughness, but football is just a game. The young patients of the Shrine Hospitals fight through amputations, life threatening diseases, numerous surgeries, and painful recoveries. These children are the true warriors. I could not be happier that I was invited to this game to remind of the things I take for granted every day of my life.
I'd like to thank the East-West Shrine Game and the Shriners Hospital for this tremendous honor.
I have to thank Coach Stoops and everyone else at the University of Oklahoma for always making it clear that the most important things about college football are getting a degree and making memories.
Thank ya'll. God bless you and Boomer Sooner." – Gabe Ikard's Tillman Award acceptance speech
Gabe Ikard/Oklahoma, lining up at guard – @TonyPauline
Gabe Ikard pushing McCullers around – @MockingTheDraft
One thing I really appreciate about C Gabe Ikard is he's always talking to the coaches and asking questions. Nonstop last week and this week. – @dpbrugler
There's nothing like playing a position for the first time ever in the most important practice of your career. Loved the competition! – @GabeIkard
Jalen Saunders
"Saunders is the smallest player here. He showed a lot of wiggle in his routes and at the line. Saunders caught everything that was thrown to him with his hands. He is also a very good return guy." – Bay Sports Net
Oklahoma WR Jalen Saunders is very smooth. Electric in and out of his cuts. – @nfldraftupdate
"Oklahoma's Jalen Saunders also struggled in this area. The former Sooners' star also dropped a couple of passes." – CBS Sports
Lightest player at the Senior Bowl weigh-in, WR Jalen Saunders (Oklahoma) – 164 pounds. – @NFLDraftBlitz
Jalen Saunders easily the most natural returner of group for South squad. Plug and play weapon on punt returns. – @OS_AlexBrown
Jalen Saunders drops a pass and immediately does ten push ups. – @nfldraftscout