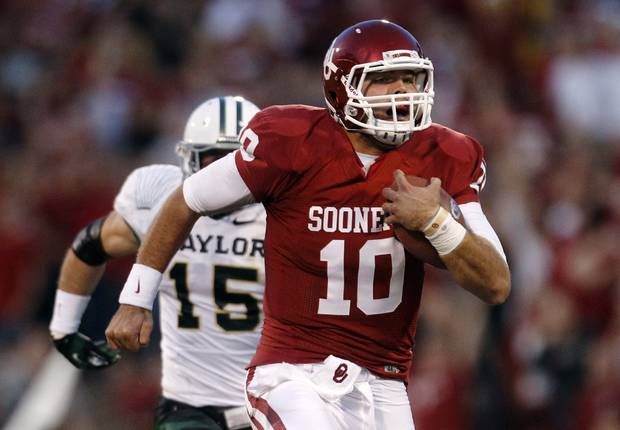 Blake Bell Likely Out For The Spring Game
Posted on: April 4, 2014
Image via Heisman Pundit
Heading into next Saturday's Red/White game, one of the most easily identifiable points of interest was the chance to see Blake Bell in action at the tight end position for the first time. With practices closed and information from said practices on total lock down, there has been very little to go on regarding Bell's transition to a new, and unfamiliar, position. Unfortunately, it appears as though we are going to have to wait a little longer.
We heard from a source Friday afternoon that Bell has suffered some type of knee injury, though at this time is not believed to be serious. Based on what we were told, he's only expected to be out 'several weeks' which, if accurate, would obviously not put his availability for this coming season in any jeopardy.
Again, just to be perfectly clear, we have been told this is not believed to be a serious knee injury. We were not told any specifics as to the injury itself, therefore we will not speculate as to what it may or may not be.
While what little information that did leak out of practices was mostly positive, this news does somewhat put a damper on things with respect to Bell missing valuable practice time as he continues to learn the tight end position. Working in his favor however is the extensive knowledge he possesses from his time in the system as a quarterback. Thus from a mental perspective, this will likely have very little effect on his development. However, it's the practice reps he is now likely to miss where this news really disappoints.
We will continue to work to confirm this through multiple sources however at this time we wanted to pass along what we have heard from an initial source.