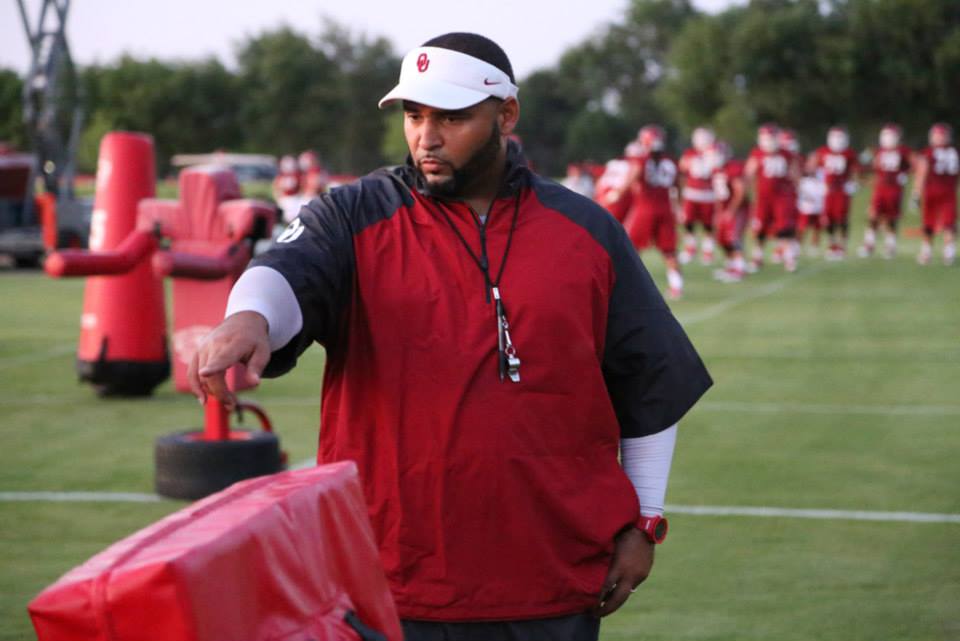 Year One Returns On OU's New Coaching Trio
Posted on: January 17, 2014
Image via soonerfans.com
While many of us who choose to pay enough attention are subjected to the ridiculous over-hyping of the "dream team" assistant coaching staff that new Texas head football coach Charlie Strong has just assembled, Oklahoma just finished reaping the rewards of their three first-year assistants.
Who knows, maybe Strong and his staff eventually live up to the considerable hype being heaped on them by the Texas media and the burnt orange nation (barf). They're certainly all qualified individuals and as so many down there are quick to remind you, they certainly won't be hurting for resources be they on or off the field.
Meanwhile after a year of tangible results on the field, Oklahoma fans are no longer hoping that Bill Bedenbaugh, Jay Boulware, and Jerry Montgomery will be able to deliver the goods. The verdict is in and based on that transpired in 2013, it's a positive one for the Sooners.
Let's start with Bedenbaugh who came in with a reputation of tough, physical offensive lines which was something many believed this Oklahoma offense was desperate after a tendency to rely too much on passing and finesse to move the ball. The offense lacked an ability to line up, blow the man in front of them off the ball, and pick up those short-yardage gains when everyone in the stadium knew you were going to run the ball.
During the 2012 season, Oklahoma ran the ball 434 times for a total of 2,103 yards. Which translates to a fairly respectable 4.85 yards per carry. Now compare that to this past season where the Sooners had 125 more attempts (559) than last year, over 800 more yards (2,911), and averaged 5.21 yards per carry.
Granted, some of that was as a result of losing Landry Jones and a transition to a more run-oriented offense. But just because you run the football more than you did in the previous year does not necessarily mean you're going to have more success doing so. Coach Bedenbaugh helped to transform this Oklahoma offensive line into a unit that was capable of helping to produce four 300+ yard rushing performance this past season. A unit that was capable of dominating a much bigger and more powerful Notre Dame defensive front with an incredibly impressive game play that showcased the athletic ability of OU's interior linemen. A unit that would withstand losing their entire left side at the end of the season and avoid becoming the liability so many feared it might against Oklahoma State and Alabama.
Going forward things are still a bit of a work in progress for Coach Bedenbaugh. While he returns a number of starters and players with experience in 2014, offensive tackle depth is an issue and this is still a line whose strength is pass-blocking and can struggle at times against bigger, more physical defensive fronts.
But all that said, there is no denying the future is a bright one for both Bedenbaugh and the future Oklahoma offensive lines.
It's hard to talk about Jay Boulware without making reference to the plethora of OU message board goers who were adamant for so many years that the Sooners needed a dedicated special teams coach rather than the collective effort approach Stoops had taken in years past. Of course Boulware also serves as Oklahoma's tight ends coach, but with that unit being such a small part of OU's offense most of the focus on the job he did this past season falls on the special teams.
And if you were to just look at the statistics, one might mistakenly assume Boulware's specials teams underperformed this past season. After all the Sooners finished 118th out of 125 teams in punt returns defended and 101st in kickoffs defended. However, can you recall any point in the season when either would have ever been considered a liability?
Yeah, me neither.
In fact, when you think back to how OU's special teams performed this past season what comes to mind? Multiple big punt returns from Jalen Saunders, the first blocked punt in god knows how long during that Kansas game, or the Bedlam fake field goal touchdown, or any other number of big plays the Sooners made on special teams. I think you get the point.
Special teams is often an aspect of a game and/or team that can easily get overlooked, but Stoops has always made it a point of emphasis and reaffirmed his belief in doing so when he brought in Coach Boulware to run things. And run them he did.
And what can you even begin to say about the job Jerry Montgomery did this past season. As many of you already know, the Brainiacs were 'all-in' with Montgomery for some time and their (along with all of Sooner Nation's) faith was rewarded with the performance of this OU defensive line.
Because if you'll recall, prior to the season just about everyone who thought they knew anything about OU football was considering the defensive line to be a potential liability. There was a question as to who would even play and that was well before the transition from the traditional 4-3 scheme, that had become a staple under Stoops, to a 3-4/3-3-5 scheme that virtually no one on staff had any experience with. Including the man, Montgomery, who was coming into his first year on the job at one of the most storied programs in the sport.
It was not a small task being asked of Coach Montgomery and his guys along the defensive line, but over the course of the season they proved more than capable and now look to be the strength of the defense heading into 2014. With multiple potential stars in both Charles Tapper and Jordan Phillips, assuming the latter can make a successful return from mid-season back surgery (with all reports being positive to date). And imagine if Geneo Grissom can build off his performance in the Sugar Bowl where he was virtually unblockable and looked like the dominant pass rusher many projected him to be coming out of high school.
Coach Montgomery has a bunch of young talent to work with going forward and considering what you hear about him as a recruiter and his ability to develop/maintain relationship with recruits there is no reason to believe Oklahoma will be lacking for talent in the foreseeable future.
OU's coaching trio came in with their own fair share of hype and much to the delight of Sooner Nation, all three lived up to it and OU fans are looking forward to that trend continuing into 2014 and beyond.
We'll find out relatively soon whether or not Texas fan will be as fortunate.