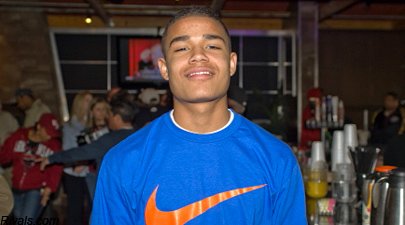 Open Post | Thursday, May 8th (UPDATE 2:26 pm)
Posted on: May 8, 2014
Image of Cassius Peat via Yahoo Sports
– On a tip from a reader in yesterday's Open Post comments section, we checked with Ohio ILB Nick Conner. It appears that Coach Kish did indeed stop by Dublin, Ohio (a suburb of Columbus) to check out Conner. He (Conner) said that an offer hasn't come yet, but that Kish will continue to evaluate him. Looking at some of the ILBs that Kish has been visiting – guys like Jordan Griffin, Jordan Jones (offer) and now Nick Conner – it would appear they are looking for your more traditional odd front ILBs, as opposed to the more undersized rangy LBs we've seen them go after in the past.
– I checked in with OLB Cassius Peat out of Tempe Arizona and it sounds like Coach Kish will be by to visit him today. This will be Peat's first in-person meeting with OU LB coach, though he is familiar with Kish since one of Peat's brothers was recruited by him in the past. Peat has a brother who plays at Stanford and a brother who plays at Nebraska, so clearly he isn't tied to one program and the family isn't opposed Cassius leaving the state.
Peat's interest in Oklahoma is very real, and I believe he, along with Bo Wallace and Louis Brown, are OU's top Jack LB targets. Cassius said he will take an unofficial visit out to Oklahoma this summer. If that goes well, he plans on using an official visit to make a second trip to Norman. Ideally, he wants to take two visits to the school of his choice. Peat holds Oklahoma and its brand/tradition in high regard. That's a good sign because I think that tradition and brand is oftentimes lost on some recruits, or just not as relevant as we might like it to be.
– Last week we introduced y'all to 2015 Millwood HS Dlineman, Joshua Little. Later today we'll have a write-up on the athletic 6'4″ 230 lb lineman, but I wanted to give a quick update on how things are going on the recruiting front. In the past week, Purdue and Coach Shipp at Arizona State have begun to show interest in Joshua. And it appears they will be out to visit him at Millwood in the next few weeks. We'd love to see another Oklahoma HS recruit pull an out-of-state BCS level offer!
– UPDATE (2:01 pm): 2015 DT & OU offer, the "in order" part of the tweet is somewhat worrisome considering where the Sooners fall in that list.
In order top 15 !!! pic.twitter.com/mHeNhjn3fe

— Tim Settle (@tim_settle) May 8, 2014
– UPDATE (2:13 pm): Tim Settle had told the OU coaches that he'd be taking an official visit along with Ricky Deberry to Oklahoma to watch OU play the Vols. Based on that list it would seem that isn't going to happen but I'll check with him.
– UPDATE (2:26 pm): Thanks to vargo for the heads up in the comments section below. Recent OU ILB offer Jordan Jones has committed to the University of Kentucky. Jones plays at Cardinal Mooney in Ohio.