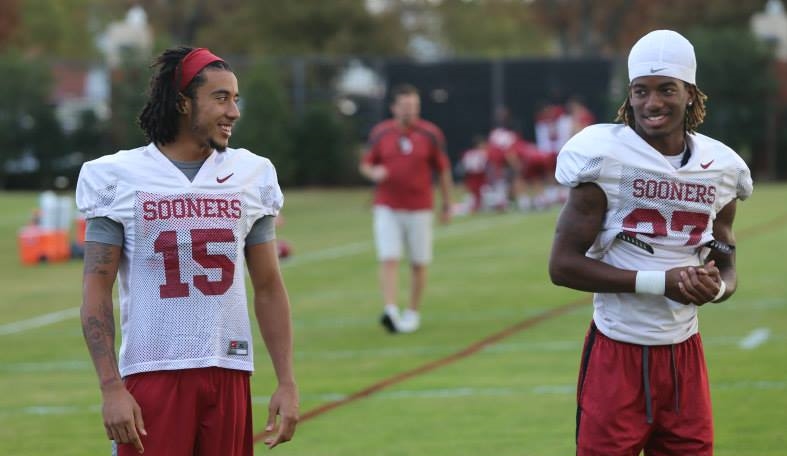 2014 Red/White Game | What To Watch For | DBs, TEs & WRs
Posted on: April 10, 2014
Image via Sooner Sports
Hey, we're cruising right along with this week, as well as the different things I think we need to look out for on Saturday. T-minus less than 48 hours away from a taste of Sooner football, and today I want to talk about the WRs, DBs and Tight End/H-Back groups.
Gotta let the big guys go first, so in this case we're talking about the tight ends. Sam Grant has moved over to offensive tackle, it appears, since he's listed as such on the SoonerSports.com roster. So for Saturday, you have Taylor McNamara, Isaac Ijalana, and Connor Knight. Isaac comes over via the JUCO route and was one of the top junior college tight ends in the country last year. Taylor seemed to come on late in the year and even made a key first down catch against Alabama. Connor is a guy who may end up cracking the lineup, like another tight end we had in Trent Ratterree a few years back.
What I want to see from all of these guys is whether or not we have anyone who can block the edge? Aaron Ripkowski played a lot at the tight end spot last year, and I wouldn't be shocked to see him there a lot again this year. By all accounts, true freshman Dimitri Flowers is a plug-and-play guy for us at the H-back spot. Whenever I hear that about a true frosh as I get older, I take it with a grain of salt.
First, you have to consider who you're plugging in for at that spot. Fat Daddy, or Trey Millard to you civilian types, is a guy who was never going to be easy to replace. Then by some stroke of grace, we happen to get a guy who some are arguing compares pretty favorable to the departing big man. I definitely want to see what he brings to the table on Saturday. If he can block on the edge, or if any of these tight ends step up to allow Rip to play a more traditional fullback, we could remain multiple offensively and hit teams in a lot of different ways.
Last year, Rip and Brannon Green were a couple of unsung heroes in short yardage that will be tough to replace. While Rip's still here, we have to find a way to be able to do some of the same things without Millard and Green. Ijalana is supposed to be a good blocker, and we'll have to find out if McNamara's ready to become the guy everyone hopes he'll be.  Also, it's just so dang hard to replace Millard.  I know I talked about it already, but if we can leave the same personnel on the field with a guy like Flowers, or if we're able to get Rip and two other guys to be multiple and flip to that diamond formation, it will be unfair to a lot of defenses.
Out wide I want to see guys like Dannon Cavil, Jordan Smallwood, Austin Bennett, Derrick Woods and Durron Neal.  We all know already what Sterling Shepard brings to the table.  Kid made the best defensive team in college football look bad in the Sugar Bowl. I want to see the five guys I listed step up, and seize the opportunity they have.  Everyone's high on the trees we have coming into town in the fall, but until then these other inexperienced guys have to seize the opportunity in front of them. Coaches are people too and once you earn their trust in the spring, that spot is there to take as your own, even for a true freshman. The coaches know you, know your work habits, how you focus, and for these five guys, if they want a job, it's there to be had.
Everything I've heard about Jordan Smallwood has been awesome. Great worker, strong, best blocking receiver on the team, all of the blue-collar stuff this staff loves. Strong after the catch and, oh by the way, he runs 4.4 too. Austin Bennett is also a guy whose speed is really underrated. He could be a guy who comes out of nowhere this year in the slot and turn some heads on the bubble routes/short stuff where a shifty guy like the Fresno flash, Jalen Saunders, stood out so much. Derrick and Durron are guys I've really liked since we first found out about them. They're both really athletic guys who were recruited by everyone. Derrick has guts to spare after going up to get that 3rd down pass in New Orleans. And Durron's a guy who can fly too. Both of them are players, and they need to step up and take some jobs this spring.  Dannon is a guy who could be a big target for the QBs this spring as well. Coach Norvell talked about him as an early enrollee last year, and with a redshirt year, he's another guy who could make some noise. There's a lot of talent in the group, it's just a little unproven outside of Shepard.
As for the DBs, the guy I really want to see is Dakota Austin. He reminds me so much of Aaron Colvin. Great feet, great instincts, and can just flat out play. He may not be the biggest guy, but he's someone who can get it done. Like Aaron, he has great feet and is a little undersized, but if he can take a guy away, then how do you not play him?
Zack Sanchez is another guy who needs to step up and lock down his side of the field. He was young this last year, but he got it done.  Can he step up and be the leader of the back end? Hatari Byrd and Ahmad Thomas are guys who are almost built like linebackers. Guys who can run and just hammer you in the alley. Both are good kids who also received great teaching in high school. Stanvon Taylor is another guy who could be that third corner this year in long yardage, or he could also be a starter.
Coach Mike is a true wizard when it comes to teaching his DBs. He knows what he wants in his players and doesn't really care what other people think about his guys. He trusts what he sees just like a great DB coach needs to.
Every one of these position groups need to step up in a big way.  Can the recievers make some tough catches for first downs?  Can the TE's make good blocks and help move the chains?  Can the defensive backs tackle in space and eliminate the big plays?  These are all questions that have to be answered this year if this team is going to be special.
The coaching staff we have in place is the best overall we've had in years, so I look for these groups to progress nicely.
Tomorrow's QBs and special teams!