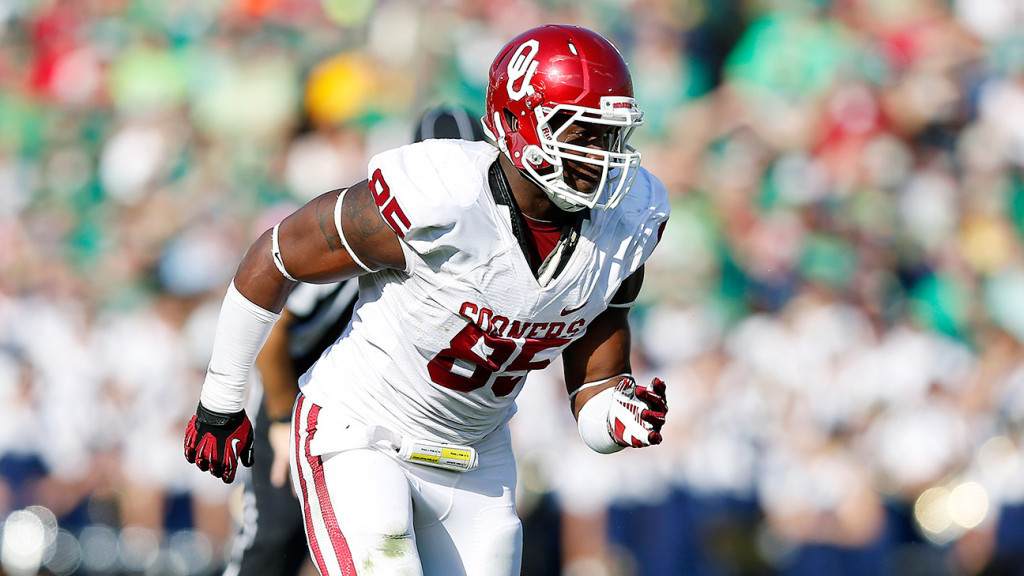 Injury Updates On Geneo Grissom & Dimitri Flowers
Posted on: April 12, 2014
Image via ESPN
If you were watching Saturday's Red/White game, there were a couple tense moments for OU fans as both DE Geneo Grissom and FB Dimitri Flowers both suffered what looked to be some sort of knee injuries.
As Bob Stoops was meeting with the media shortly after the conclusion of the game, he already had the answer to the question he knew everyone would have. And, fortunately, the news was of the good variety.
STOOPS notes Geneo Grissom has a sprained MCL and will be out six weeks.

— Oklahoma Football (@OU_Football) April 12, 2014
Grissom had his legs taken out from underneath him on a cut block from Keith Ford that the coaches certainly could not have liked in a practice type setting. While a sprained MCL and six week recovery time is certainly no picnic, it beats the heck out of an ACL tear. So thankfully Grissom will be fine for the coming season.
Stoops also confirmed what one particularly astute fellow self-diagnosed Flowers' injury as a hyperextension of his left knee. So, again, fortunatley the stand out true freshman won't miss any time and will also be ready to go once late August rolls around.
Really good news for both on what looked at the time like could have been potentially serious injuries.