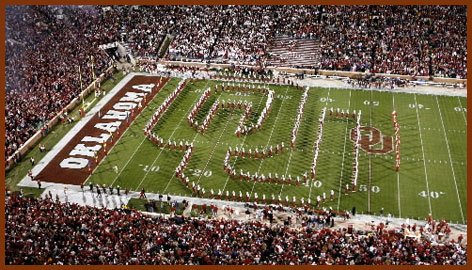 OU Football's 2014 Schedule Has Been Finalized
Posted on: February 27, 2014
Image via NewsOK
When the 2014 Big 12 football schedules were initially announced back in November, Oklahoma was listed with two 'or' dates on their schedule. OU's game at Iowa State was tentatively schedule for either Thursday, Oct. 30th OR Saturday, Nov. 1. Additionally, OU's home contest against Oklahoma State was scheduled for either Saturday, Nov. 29 OR Saturday, Dec. 6.
However, credit to Allen Kenney of Blatant Homerism who recently noticed that those two 'or' dates were no longer listed on OU's online schedule. Which led me to reach out to Oklahoma's assistant athletic director, Pete Moris, to confirm whether or not the online schedule was accurate and the 2014 schedule had indeed been finalized. He was kind enough to confirm that the schedule listed online was accurate.
@Jordan_Esco – Yes, the 2014 @OU_Football schedule online is final. #Boomer

— Pete Moris (@PeteMoris) February 27, 2014
It's important to keep in mind however that because of the Big 12 Conference's television agreements, all schedules are subject to change in the future.
So if you were holding off making any plans because of the two previously scheduled tentative dates, it should be safe for you to go ahead and make those plans.
UPDATE: Not related to the 2014 schedule necessarily, but more spring football related. OU's Kenny Mossman has also confirmed that the Red/White game will be broadcast on Fox Sports again, just as it was last year.