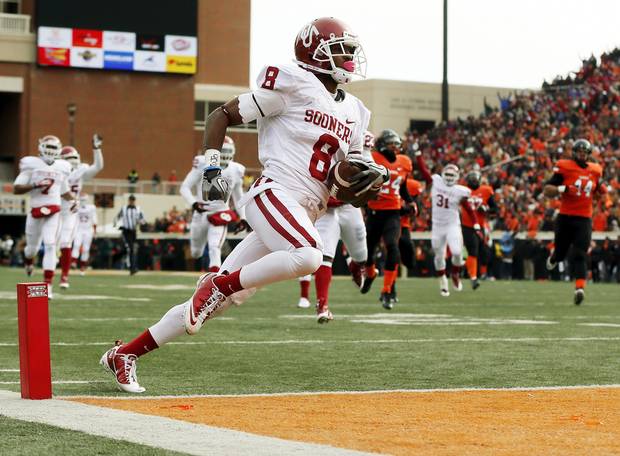 Five Sooners Invited To 2014 NFL Combine
Posted on: February 6, 2014
Image via newsok.com
Thursday afternoon the NFL released their official 2014 Scouting Combine invite list and the University of Oklahoma was well represented with five invites to now former Sooners. The combine will once again take place in Indianapolis and will be held February 22-25.
Aaron Colvin, Gabe Ikard, Trey Millard, Jalen Saunders, and Damien Williams were the five OU players who received invites. While Colvin and Millard will be unable to participate in the actual drills and/or workouts, with both recovering from knee injuries, they will take part in the interview process, which many believe can be just as important (if not more so) in terms of helping — or hurting — your draft stock.
Meanwhile, the trio of Ikard, Saunders, and Williams will of course also take part in the interview process as well as the physical workouts. All three of whom probably having something to prove to NFL scouts.
Ikard: There are no questions about his athletic ability, but there have been some concerns with respect to his overall strength and ability to hold up against the bull rush.
Saunders: Speed is certainly not an issue, although it will be interesting to see what kind of forty time he can put up, but size is something that is continually brought up in this evals. It's not changing, so will the other aspects of his game be enough to overcome those doubting he can hold up? Didn't seem to be a problem at Oklahoma.
Williams: Pretty obvious what the red flags are here after being dismissed from the program late in the 2013 season. Williams has always had NFL talent, the only question will be whether or not he can convince NFL personnel his off-the-field issues are behind him. A forty time in the low 4.4's could help erase a lot of those question marks.