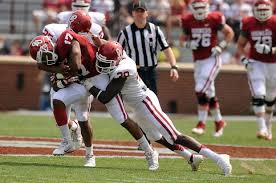 Open Post | Monday, July 7th (UPDATE 2:07 pm)
Posted on: July 7, 2014
Image of Jordan Smallwood via Dallas News
Hope everyone had a great 4th of July weekend!
A number of you requested that we add a search function to the front page and we have now done that.
– Andre James: This past weekend, OU 2015 offensive tackle target Andre James said that he will announce his commitment at The Opening this week. He had originally stated he wanted to take some official visits, including a visit to Norman this fall. However, it would appear that is no longer happening. James will choose between: Oklahoma, Ohio State, Oregon, UCLA, USC and Utah. Obviously this isn't a good thing for OU since he has yet to make a visit. Our guess is he ends up picking UCLA, but we'll know for sure later this week.
– O-Line: With James seemingly now off the board, we'll try to put together an OL target recruiting summary this week or next. With two OL already in the fold, OU only has three, or at the most four, spots left and you would figure one has to be held for Jalin Barnett – at least for now. Which leaves only two spots (max three) open. Lately, we've been hearing that OU is only looking to take five OL in this 2015 class, but we suspect if it was for the right player they would take six.
– Dorial Green-Beckham: I'm sure some of you may have had your DGB fill by now, but with such a high profile player you're going to be hearing a lot more about him. We wanted to share a couple notes we got from a few sources since things became official this past Thursday. Firstly, in talking to our original source on this who has known DGB for a while, he insists that DGB isn't a bad kid. Most folks are familiar with DGB's rough upbringing. But the impression we got from our source is that DGB was missing a stern authoritative voice in his life once he got away from home and his family. Couple that with folks around him who were telling him how fantastic he is at such a young age, it can create some negative outcomes. This is obviously a personal opinion of someone who knows him, but we figured that's better than the narrative that has no personal context.
As we mentioned a couple weeks back, DGB and OU had been communicating for a while and it sounds as though OU wanted to make sure they were in a position to pick up DGB if he decided to enroll somewhere. But we're also told that DGB and co. were really interested in the idea of coming to OU. We are also told that Oklahoma is considering giving DGB a lot of reps in practice, including potentially some reps with the 1's, which would seem to indicate they feel like they've at least got a decent case to make with the NCAA. But we're also told that while OU feels like they've got a good case to make for DGB, they understand there is no telling what the NCAA will eventually do.
– Jordan Smallwood: Later this week we hope to put together a post highlighting some of the offensive weapons OU has at it's disposal. If DGB gets the waiver, then Oklahoma will have something they haven't had in a while, namely a serious deep threat that could demand bracket coverage and really open up the field for OU's other playmakers. But OU does have another potential deep threat in Jordan Smallwood. Lately, we've been hearing more about the Jenks product. The notes we've gotten is that he's looked pretty good this summer. And that's after talk this time last year of him possibly playing as a true freshman before an injury forced a redshirt.
Obviously, all this information is based on 7-on-7 stuff so there's no telling how it's going to translate once the pads are popping. But the word we've got for now is that Smallwood is taking reps with the first team. We've been told that he, as most know, is big and strong with good (not great) speed. The primary weakness we've heard is that he can sometimes struggle with his hands. In fact one source told us that he will, on occasion, drop the easier passes but then make the most difficult, amazing catches.
– Tito Windham: Tito recently made it into town for summer workouts, and the early word on him is that he's very scrappy. He's confident and isn't hear to sit the bench. He's a raw athlete and that may be what keeps him from really competing for the CB position in 2014, but the early word is he's very impressive and may already be ahead of some of the kids who were already on campus.
– McKinley Whitfield: You already know we're not going to stop talking about McKinley. Wanted to share some notes we got from Clay Mack (well known DB trainer in the Dallas area who trained guys like Jamal Adams, Ed Paris, etc.). Mack worked with McKinley for the first time at J.J. Meaders camps in Little Rock a week ago. And Mack had a lot of good things to say about Whitfield. First, he actually believes Whitfield is twitchy enough to play corner. You read that right…that's a 6'3.5 200 lb corner!
Whether it's CB or safety, either way McKinley wants to play in the secondary and both Meaders and Mack believe he can do it. Mack said the following about McKinley, "I really like that kid. Has great instincts and is quick twitch despite his size. Needs technical work, as all of them (young players) do, but his upside is remarkable."
– UPDATE (9:12 am): Rob Cassidy of Rivals posted a Q&A with Andre James this morning where he all but eliminates the Sooners. Which is obviously in line with what we originally posted above, but just in case any of you out there were holding out hope….you can probably move on now.
– UPDATE (9:17 am): These preseason watch lists have a tendency to get pretty ridiculous, but for the sake of full disclosure a couple of Sooners were named to some this morning. Trevor Knight was included on the Maxwell Award (top CFB player) list, while Frank Shannon, Eric Striker, and Charles Tapper were included on the Bednarik Award (top defensive player) list.
– UPDATE (11:25 am): 2015 OL and OU offer, Garrett Thomas, will be announcing his commitment Wednesday around 11:00 am. Garrett had originally set a return visit for this month after the dead period. We asked him about that and he said, "I decided I saw everything I needed to last time I was there."
– UPDATE (1:46 pm): Chatted a little more with Garrett Thomas and he said that his parents have had a chance to see both Texas and Ole Miss (the two schools we believe are finalists along with OU). They have not had a chance to see Oklahoma. When he came and visited Oklahoma back in the winter his grandfather brought him. The original plan was for him to come to OU for another visit with his family but again he said that he decided he saw everything he needed to see last time.
– UPDATE (2:07 pm): Garrett just said in regards to OU and their chances (the context was OU possibly being out because his parents didn't make it up to Norman), "There's no reason to rule out the Sooners for me…and that's in 100% honesty." So we'll have to wait and see how things play out on Wednesday folks.