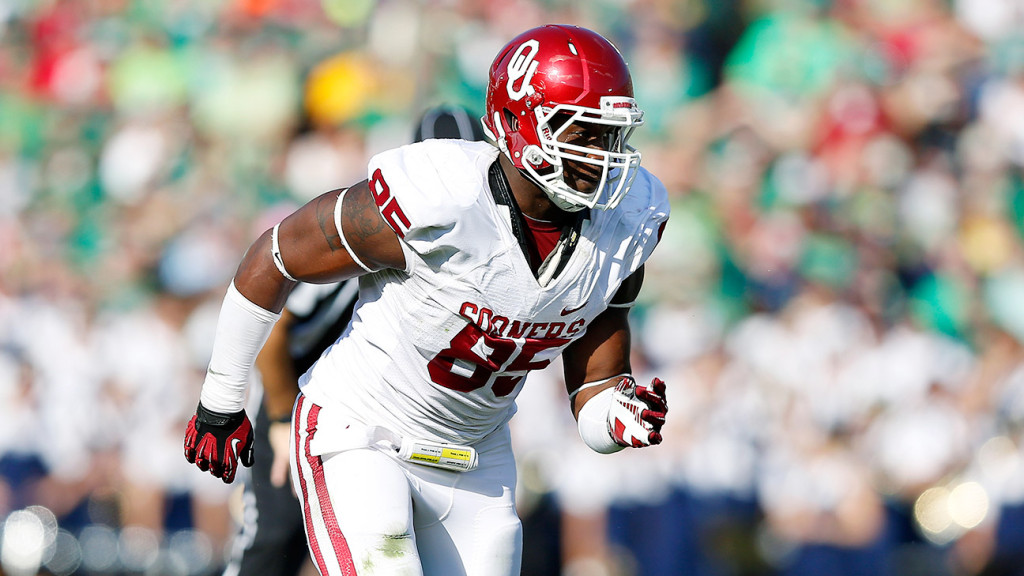 Defensive Question Marks
Posted on: May 3, 2014
Image via ESPN
There are a lot of reasons to feel confident in the Sooners for this coming season, but there have been a few questions marks I'd like to attempt to address based on some of what we've been told.
Cornerback Position
Any athlete that has pushed himself to his physical limits understands that while natural talent is necessary, it alone isn't sufficient. At a certain point, it's hard work that really distinguishes a player. I remember Broyles once telling me he actually felt there were often more explosive players in the NFL, but the players in the NFL know exactly what they are doing and they are well prepared. Zack Sanchez wasn't the favorite to win the starting CB spot last year, but he won it and never let it go. I will tell you why he won it. Hard work.
Sanchez was putting in an extraordinary amount of work, and he continues to do that. Footwork, technique, speed, etc., all these things are developed through effort and repetition. It's not natural for a person to move backwards, but through repetition you can learn to do it in a way that appears natural.
Right now, based on what we've heard, the hardest working person that plans on competing for a starting CB spot is Julian Wilson. While he's currently injured and couldn't take contact, he is still doing everything he can to refine his technique. He's been working tirelessly and it's my guess that it will pay off.
Unless Austin and Taylor begin to put in the same amount of work, that spot may end up going to Wilson. And if it does, Austin and Taylor may find themselves competing with some very hard working and talented freshman CBs next year in Mbanasor and/or Lane. And I'll tell you right now, those two will pack a lunch and a dinner, cause they'll put in work all day.
Inside Linebacker Position
In the spring game, it didn't take special eyes to note the kind of upside Jordan Evans has. He was making plays all over the field. But it also doesn't take special eyes to note the absence of veteran LB Frank Shannon. Shannon's situation is something we have declined to really address. We've obviously heard things…probably some of the same things y'all have heard. What we can say (and this isn't really news per se, but in the event anyone reading hasn't already heard) is this appears to be a university issue, not an issue (for now) for the coaches to resolve.
While I feel pretty good about our starting line up regardless of how things eventually play out, without Frank we certainly have some depth issues. This year, however, plugging in younger LBs should be a less of an issue because a) the young guys we are bringing in are just better developed football players at this point in their careers than someone like Dom Alexander was in the early part of his freshman year and b) the defensive line will make it more difficult for linemen to get to the second level this year.
I dont know anyone that is certain about whether Shannon will play for OU again, but the people I've talked to that are close to the program seem to think he will. They feel that the university is simply trying to go through whatever process they need to go through, but in the end they feel he'll be back with the team. I don't know either way of course, but I tend to remain hopeful.
Jack Backer Position
For the longest time we all kind of wondered why Geneo Grissom didn't look faster on the field. He's got NFL athleticism, but he always looked slow and unsure of himself. By the end of last year though, he was playing at a speed commensurate with his natural gifts. The difference? Technique and doing what the coaches asked him to do. Trusting that if he did, he'll be able to play faster and end up in the right place.
But now they've decided to move him, at times, to the Jack LB and there are clearly new things he is learning. Based on what we know and have seen, he's still a work in progress at the new position. And part of me wishes he didn't have to go through another transition. But I know that if he gets the right coaching and takes to it, playing Jack LB will ultimately be better for the team and his future as an NFL prospect. But this remains a question mark because he's not quite there yet at the position.
Eric Striker
Striker was obviously an extraordinary pass rusher last year and based on what we've seen in the spring game, he's only gotten better. However, on early downs/run downs he'll be playing the nickel position (OLB…whatever you want to call it). And the big question mark for everyone there is whether he can man up the slot.
In talking to people close to the program, they believe he can and have seen him do it. I also believe he can do it. However, I think going forward Oklahoma is going to really need to start recruiting guys like Adrienne Talan out of Miami, who are elite in-the-box players that are physically built and developed as cover guys. Striker may be undersized, but if you see him in person he's definitely built like a LB. Talan on the other hand is built very similar to a big, wide-shouldered CB. He weighs 192 lbs right now, but will comfortably weigh 210 lbs when he's in a college program. He has elite in-the-box skills, but again he's a true cover player.
I like the move to nickel for Striker, but I also love to have that consistent ability to play man whenever you want, against whoever you want. And while I think Striker can do it, it's not something he's going to be built to do on every down. And I suspect Oklahoma is going to see a lot more first down passing plays a result.
Bottom Line
If I had written this post last year I wouldn't have known where to begin. There were question marks all over the field. There were schematic question marks as well. But it's a really good feeling for me to have to really almost nit pick in order to find "question marks" about the defense. It's also a really good feeling to sense what Oklahoma football was built on (DEFENSE) may be back once again.