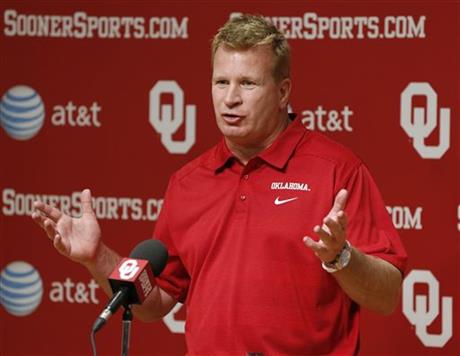 What We're Building | Part One | Defense‏
Posted on: February 21, 2014
Image via collegefootball.ap.org
Being Oklahoma fans as long as many of us have been has given us years of great memories.  However in recent years, we've seen the Sooners morph into a team that, for lack of a better term, has been perceived as soft.  As recently as just a couple of seasons ago, we'd frequently get teams to 3rd and long only to see opposing offenses convert time after time after time.
People who knew very little about defense could tell you that former Oklahoma defensive coordinator Brent Venables was going to blitz every time.  He would vacate the middle of the field and team after team would exploit that.  If it was 3rd and 8, the opposing offense would throw a five yard pass — say like a shallow crossing route — and the guy would go for ten more and an easy first down.
I have to admit that I was very happy to see Mike Stoops come back two years ago.  I don't think that Venables was or is a bad coach, but it's common knowledge that the things he was trying to do were very complicated.  It's a mistake that I see a lot of managers make in the business world, as well as coaches in football and other sports.  I tell my young managers and supervisors all the time that if your plan and/or process takes an extraordinary amount of human effort to execute, then the process itself is flawed.  After being a manager of people going on fourteen years, the thing you learn is how profound keeping it simple actually is.
When you make things simple for people, it gives them freedom. When things are too complicated, people can't think.  They become paralyzed by the process.  They're so busy going through steps and making sure that they're adhering to the process that they can't see the forest for the trees. Whereas when you keep it simple, it allows people to take a breath and see what is really going on.  That's why you see players in Mike's defenses flourish.
That's why a guy like Dominique Alexander can step in as a true freshman and have success.  That's why young players like Zack Sanchez, Frank Shannon, Charles Tapper, Eric Striker, Matt Dimon, Jordan Phillips and Jordan Wade just to name a few (well, okay, several but you get it) have success as well.  It's also why a guy like Geneo Grissom was able to have the light come back on with a performance like the one he had in the Sugar Bowl.  Even now with a teacher like Jerry Montgomery on the D-Line, it makes you wonder how players like Ronnell Lewis and R.J. Washington would have fared in this new scheme.
When Mike got here in 2012, you could see early on that he was going to gear the defense to stop the pass.  Being a former defensive back, that's his wheel house.  Also, if you're going to have any success in the pass happy Big XII you have to be able to stifle passing offenses.  However, Mike came back from Tucson thinking that he may have had more to work with then he did.
Instead what he found was a front seven that didn't have a clue about stopping the run.  While OU was able to stop the pass in 2012 with the best of them, teams figured out by about halfway through the season that they could run all over that OU defense.  Fast forward to this time last year, we see Bob Stoops do something he has never done at Oklahoma…clean house with his staff.  Gone were long-time mainstays Jackie Shipp, James Patton and to a lesser extent in terms of tenure (though close friend of Stoops), Bruce Kittle. In comes Montgomery, Jay Boulware and Bill Bedenbaugh and now both the staff and program as a whole seem to be re-energized.
I'll admit that going into the first game of the season against Louisiana-Monroe, I was concerned.  ULM had beaten Arkansas and taken Auburn to the wire a year before and basically everyone was back for them as well.  I was shocked to see Oklahoma come out and dominate them defensively and record the shutout.  The following week, OU's defense allowed one big play to West Virginia or that would have been another shutout. Then they'd go on to roll Tulsa and Notre Dame.
Season-ending injuries to Corey Nelson and Jordan Phillips were the biggest losses this team could've had outside of maybe Aaron Colvin.  To that point, without Colvin I'm convinced we do not win at K-State.  Texas was only able to do what they did to us because they could run the ball.  And in my opinion, they were only able to do it because Nelson and Phillips were watching from the sidelines.  Two pups step into the fray in Wade and Alexander and we just weren't able to get it done.  Same thing happened at Baylor. Fast forward again to January 2nd this year and you saw us give up five big plays to arguably the best team in the land. Overall though, the defense played much better against Alabama than it did against Baylor and Texas. So watching this defense grow and mature from what it was to what it is now really shows me what Mike wants it to become.
I touched on it earlier that Mike started this rebuild from the back end first.  Problem was that he couldn't stop the run with three to four guys like he used to.  So he and brother Bob go get Jerry Montgomery.  A guy who, even though didn't have a significant track record in the 3-4/3-3-5 scheme OU would soon install, has proved to be a great teacher and motivator. Even in just one year, Montgomery looks to be just what the doctor ordered and a considerable upgrade as a defensive line coach.
Montgomery did something that not a lot of managers, coaches, and/or leaders could do. He got his troops to believe. He got them to ignore what everyone in the media was saying, and he got them to buy in to what he was selling.
They tweaked the scheme in the defensive front.  While wanting to play the 3-4 where the defensive ends traditionally line up on the outside eyes of the offensive tackles in five techniques, we realized that our small, fast linebackers cannot go uncovered against guards.  So the simple tweak to it was sliding the defensive ends down to 4i's. Meaning that instead of lining up on the outside eye of the offensive tackles, the d-ends lined up on the inside eye of the tackles in the B-gap — hence the term 4i or 4 inside.
You give those DEs B-gap responsibility on both sides and give your zero nose (meaning they are lined up directly over the center) both A-gaps — the gaps between the guard and center to either side respectively.  So while your nose is a two gap player, your DEs are one gap guys.  The nose just goes to the side of the play, but since the d-end is in the B-gap it offers protection to the linebackers.  This essentially reveals what Mike ultimately wants to do.
He wants three big, quick, and relentless guys up front to control the run game. Then after (ideally) stuffing the offense on first and second down, he gets you to third and long. Then what happens? Here comes Striker and Devante Bond off the edges.  You bump your 4i's out to 5's since there's no threat of run (theoretically) and free up Grissom and Tapper to get after the QB as well.  With Phillips and Wade spelling each other in the middle, you have the potential to collapse the pocket without having to bring a blitz every time.  The middle isn't vacated so your dink-and-dunk passes get four yards instead of fifteen.
What you see is that a defensive savant is at the helm in Norman.  In this day and age of excuses defensively, especially in the Big 12 where the perception is that no one is capable of stopping anyone, we have a guy who really understands how to stop (or at least slow down) Big 12 offenses.  You have to be able to play man on the outside, you have to be able to stop the run on first and second down, and you have to be able to play with a lead.  Getting up a couple of scores on any team in the next year or two will be the kiss of death for opponents.  The pass rush we saw against Alabama will only get better and it just got a huge shot in the arm withe the addition of Devante Bond.  Curtis Bolton looks like he'll be the heir apparent to Striker and I wouldn't be shocked if Bolton gets playing time as a true freshman.  And don't forget that we've yet to even see guys like Charles Walker, Matt Romar, D.J. Ward, Ogbonnia 'Obo' Okoronkwo, Michael Onuoha and Quincy Russell either. All of whom are guys we've heard the coaches express excitement about at one point of another.
Going forward we'll have a defense that not only has a simplified yet sound scheme, but also has an answer for stopping any type of offense with fast, athletic and attacking components.  While the x's and o's have improved dramatically for us, I expect this next year will show that the Willie's and the Joe's wearing the crimson and cream have improved equally as much.
It's a great time to be a Sooner fan.  Barring catastrophe, I'm looking forward to a top five defense nationally this year.