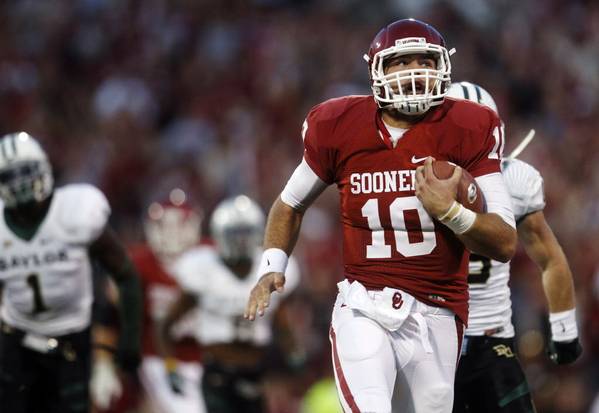 2014 Spring Prediction: The Blake Bell Move To Tight End Will Work (Kind Of)
Posted on: March 6, 2014
Image via dallasnews.com
That headline warranted, in my opinion, a qualifier like 'kind of' mainly because of what I've seen from some with respect to the expectations being placed on Blake Bell as he makes the transition to the tight end position this spring. I've seen, in multiple places, people who follow OU and whose opinion I respect list Bell at the top of their projected TE depth chart.
Now it's not fair on my part to assume these same people, by placing Bell at the top of the depth chart, believe he is going to come in and set the world on fire. The reasons to be skeptical are pretty obvious. (1) He's never played the position before. (2) Blocking at 6'6″ 260+ seems like it would be easy(ish), it won't. (3) Running routes isn't quite as simple as 'go down field eight or so yards and cut in.'
Yeah, I know he played some wide receiver in high school. But that was, what? Like six, seven years ago? And he wasn't playing WR back in the day at 260 pounds.
Don't get me wrong, the guy can and probably will make plays. I'm just saying the move isn't going to be as seamless as I feel some are insinuating it might be.
I'm not here to tell you it's impossible that he finds himself at the top of the depth chart at the end of this spring/summer. I'm just here to say I think it's unlikely.
All that said, I still believe the move can be a successful one so long as OU fans are able to manage their expectations.
If you're expecting Bell to win the starting job and/or the tight end position to become an important part of this OU offense again because — at least on some level — of his play, then you are probably going to be disappointed.
If you're expecting Bell to contribute, at times, to this offense and maybe even come up with the occasional big play or two, then you are probably going to be pleased with the move.
I don't believe Bell has to put up Jermaine Gresham type numbers for this move to TE to be considered a success. In fact, I think you can pretty much guarantee that's not going to happen. But if the coaches can pick-and-choose their spots with him, maybe even come up with a package of plays that either feature him or utilize him to get others open, then I can certainly see that type of scenario helping this OU offense.
Despite all of the Josh Heupel evidence to the contrary, I do believe the tight end will once again become a part of this offense in 2014. But the guy I expect to play the lead role in that actually happening is Taylor McNamara.
Admittedly, that's more of an hunch educated guess at this point as his one career reception doesn't lend much credence to the theory. But he was in there at some key spots during the Sugar Bowl against Alabama, and I'm taking that as a sign of things to come.
McNamara was considered one of the best tight ends in the country back in 2012 for a reason. And, yes, recruiting services miss on kids all the time, but I don't believe that's the case here. I think the kid has struggled some with both (1) injuries and (2) the transition to the college game. But now entering his third year in Norman, if he's going to make that jump this would be the time to do it.
Again, much like with Bell, don't take that to mean I'm expecting McNamara to be the next Gresham. But if I'm betting on a guy to stand out at tight end this year, I am putting my money on McNamara being that guy.
I think some combination of an effective McNamara and Bell is certainly a reasonable expectation and, more importantly, would be a valuable asset to this OU offense. An asset, mind you, they've been missing for some time and one with a reliable intermediate target (or two) that could help take both the offense and Trevor Knight to the next level.