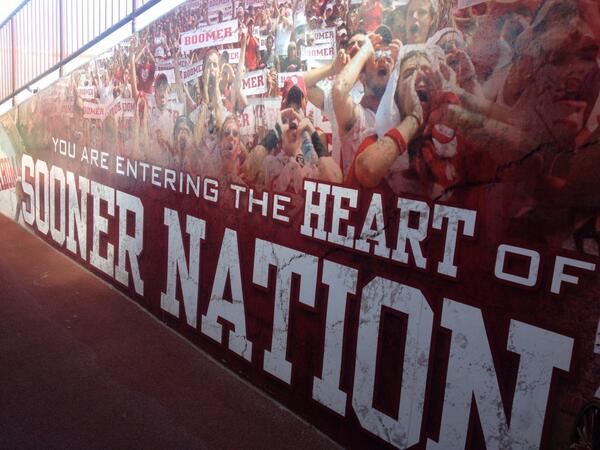 Open Post | Weekend, April 5th & 6th (UPDATE 12:47 pm, Sun.)
Posted on: April 5, 2014
Image via @OU_CoachB
– We're a week away from the big spring game! Obviously not being able to see Blake Bell in action is a bit of a disappointment and we wish him a speedy recovery, but there is still going to be a ton of a great things to watch for.
– A name we continue to hear from multiple folks is OLB, and potential pass rush extraordinaire, Devante Bond. He may still be in the process of learning the position, but the explosiveness everyone saw on his JUCO film seems to be undeniable. We've heard different things in terms of how complete he is at this point, and how he hasn't quite picked up the totality of the position just yet, but everyone agrees the dude can come off the edge like a man. Hearing he had a great week of practice.
– Have also heard Jordan Smallwood had a great week as well and is looking really good. The names we'd heard previously at WR were Shepard, Neal, Bennett and Woods, but we're hearing Smallwood's name more and more. He'll be someone we will be watching closely, because he's a guy with some size on him that can bring a different element to the offense.
– We were probably the first site to report just how good Dimitri Flowers is in our practice reports. In fact, early on we said he's a 'plug and play' guy.
– In general, the word we are getting is that the defense was dominant this past week. In fact someone was kind of enough to let us know the defense even had multiple INTs, and made it next to impossible for the offense to even pick up first downs while the team was working on 3rd down drills. Interestingly, Eric Striker even had an interception.
– In recruiting news, I chatted with Breiden Fehoko yesterday and his flight to the mainland had been delayed due to the weather. Haven't confirmed if they were able to make it out on the evening flight, but he let me know that he still wants to make it Norman. But it's not certain at this point if that will be feasible. He said he'll update us once he's confirmed either way, and when he does we'll pass that info on to y'all.
I will say that whether he's able to make it in or not will be due to factors completely unrelated to his interest in OU. His interest in Oklahoma is very real!
– Chatted a little with 2015 WR Ryan Newsome earlier this week. He was at Texas last weekend, and it sounds like he enjoyed it a lot. He says there are still other schools in play, including Oklahoma and Baylor, but something tells me Texas is standing out to him. We'll see how things eventually play out, he'd be a great player in OU's offense. And he's got a record breaking first name.
– I  (K) talked to Kahlil Haughton as well and he's trying to make it the spring game. Some Texas based OU fans out there need to start a recruit pick up for these kinds of events, because between Kahlil and PJ Mbanasor that's already two top players from Texas that want to come to the spring game but haven't confirmed a ride, haha. Relax, NCAA.
I was always unsure about where things stood with OU and Haughton, but he actually told me this week that when he visited OU a couple months back he "loved it!"
– I also talked to Ykili Ross and his father, and they said they'll be taking one of their official visits to Oklahoma! I'm telling y'all, don't be surprised if this CB class ends up being the best Oklahoma has had in a while. There are at least four top CBs that OU is in really good shape with right now and there are definitely others in the mix.
– Related to the note above, OU grad asst. Chip Viney is a name I continue to hear on the recruiting trail. As we cover recruiting, you get a real sense of who the good recruiters are out there. Coach Viney is a young guy that clearly is able to connect with recruits. But let me also add that coach Bobby Jack is also a name on the OU staff that we hear quite a bit as well. Viney and Wright are a nice combination for the Sooners.
– I talked to Torrance Gibson's coach. I asked him if Torrance plans on taking an official to OU, and he said he wasn't sure yet. The coach I spoke to is someone I've known and would shoot me straight. He's also the coach that brought Torrance on all the trips.
I know folks want to count us out based on some of the recent comments Gibson has made, but I'm not ready to do that just yet. If we don't get one of Gibson's officials though, then that will obviously be the end of it. But I want to talk to a few more people around Torrance to get a real sense of our chances of getting one of his five official visits.
I'd love for Gibson to come out to the OU vs. Tennessee game. He'll get to see the difference between the "we're about to do it" coaches and the "we've already done it and that's how you know we're about to do it again" coaches. I expect Oklahoma to light  Tennessee up, and I'd love for Gibson to have a front row seat.
– A safety y'all should keep your eye on that we will talk about more later is Kylan Johnson out of Dallas Skyline. I'm personally hoping OU extends an offer. Very physical safety that closes fast from a school we've had some success recruiting. Kylan picked up his first offer this week from UCLA, and I expect his recruiting to really pick up. I've talked to Kylan and if OU got involved, I think we'd definitely be a major contender. For you Twitter folks, here's his handle: https://twitter.com/shotime_kc
– A buddy of mine is out at a QB camp today, and told me that one of the top 2016 QBs told him that OU is his favorite school. I was somewhat distracted so I didn't ask him the name of the player while we were on the phone, but I trust his eyes and he said the kid will be one of the top QBs in the country. I believe he said the player was from New Jersey. I can get the name from him later.
– One of our readers posted a comment from RB Tyreik Gray's Twitter account yesterday and for those who missed it, Gray put out his top 5: University of Houston, Oklahoma, Baylor, Louisville, and Kansas. We'll try to get more from Gray when we get a chance to speak to him.
– UPDATE (10:39 am): Fehoko evidently did make a flight and is currently in Texas.
Just arrived in Texas!

— !PrimetimeFehoko! (@Bfehoko1) April 5, 2014
He also tweeted another little interesting note regarding his recruitment.
I think alot of people bout to be shocked about my recruitment come august…..

— !PrimetimeFehoko! (@Bfehoko1) April 5, 2014
– UPDATE (10:42 am): ESPN's Gerry Hamilton is reporting that OU offer Bo Wallace has plans to visit Norman next weekend.
2015 OLB/DE @_BoWallace (John Curtis Christian) will visit #Oklahoma next weekend. #Texas possible Sunday. #UCLA in it too.

— Gerry Hamilton (@HamiltonESPN) April 5, 2014
– UPDATE (11:01 am): It looks like 2015 WR and OU offer Alex Ofodile is in Norman for another visit and taking in today's practice/scrimmage.
OU once again http://t.co/ymNkGcKJZ3

— Alex Ofodile (@alexofodile4) April 5, 2014
– UPDATE (3:50 pm): At the NFTC today, PJ Mbanasor and Will Sunderland earned invites the The Opening! That's two of the 6 players invited who are legitimate Oklahoma targets.
– UPDATE (9:32 am, Sun.): 2014 Sooners commit, Orlando Brown, probably in Norman already (this was from about 10 hours ago) for a visit.
Oklahoma in a few hours. 

— Orlando Brown (Zeus) (@ZEUS__78) April 6, 2014
– UPDATE (10:05 am, Sun.): Got a couple notes from yesterday's practice/scrimmage, so we wanted to go ahead and share them with you. Expect to have a little more later today, but here's what we have for now.
Want to preface it by saying there just doesn't appear to be a ton going on at practices right now. It seems as though the coaches are holding back a bit. They were already missing some guys and now with Bell going down, and some other guys getting dinged up, they don't seem very anxious to risk getting any more guys hurt.
We were told the defense won the day once again. Which is not at all uncommon this time of year, but is obviously in line with all of the excitement you keep hearing about from Coach Mike and what this D could do in 2014.
Also told the offense looked a little sloppy. There were several dropped passes and they struggled to move the ball on the ground against the defensive front. Was told the front seven really stood out on Saturday, borderline dominant at times.
As we've continued to hear, both Keith Ford and Alex Ross have excelled this spring. The competition at this point seems to be a pretty even one. OU having two backs as big as they both are, but also capable of taking one to the house at any time, it could be a nightmare for opponents.
To that point above as to why the coaches are holding back a bit, we were told Durron Neal went down with an injury during the practice. Believed to be his knee and/or ankle, though the severity (or lack thereof) of the injury is not known at this time.
– UPDATE (10:10 am, Sun.): Another update from Orlando Brown.
OU Bound #BoomerSooner pic.twitter.com/SJhEq0U5Fa

— Orlando Brown (Zeus) (@ZEUS__78) April 6, 2014
– UPDATE (12:30 pm, Sun.):  Okay, heard from another source and we have some more practice notes for y'all.
There was more about how good the defense has been, but more specifically how well Eric Striker has taken to the nickel position. He's improving all the time and continuing to get better in coverage.
Much like you've heard from Bob Stoops since his arrival, more praise for true freshman Dimitri Flowers. He has done quite well as a receiver and had a couple big pass plays yesterday during Saturday's practice. He and Trevor seem to have already developed a good feel for one another.
Was told the coaches held some of the more experienced guys out of practice, or at least parts of it, which is pretty common and gives them a chance to evaluate some of the younger guys.
As we mentioned previously, there were a number of drops from the receivers but they were also the ones making plays on Saturday. Derrick Woods had a really good day, even hauling in a long TD pass from Knight. Several nice catches for both KJ Young and Jordan Smallwood, both names you continue to hear as guys that are standing out.
Zack Sanchez had a good practice with a couple INTs, including one pick-six.
Was not able to get specifics as to who the individual players were, but the defense was consistently getting pressure regardless of which QB was under center.
– UPDATE (12:47 pm, Sun.): OU offer and one of the Sooners main priorities at running back in 2015, Ronald Jones, has committed to Oklahoma State per multiple reports. Which is a huge get for the Pokes as Jones is arguably one of the most talented backs in the country.
Oklahoma should still be good at RB in 2015 with guys like Soso Jamabo and Tyreik Gray, but this is a significant loss if for no other reason that (at least at this point) Jones headed to OU's rival.