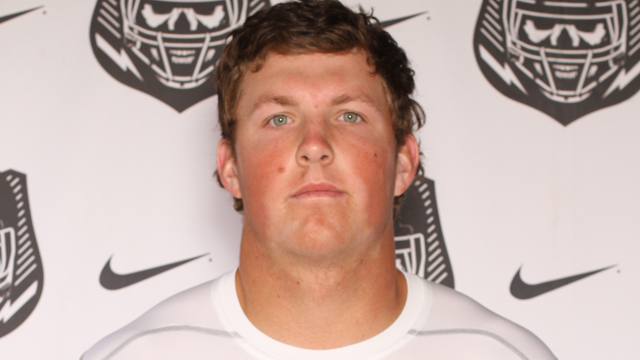 Open Post | Weekend, June 27th – 29th (Updated Sun., 5:15 pm)
Posted on: June 27, 2014
Image of Tommy Hudson via scout.com
First, we wanted to let y'all know that over the next two weeks or so things are going to be a little slow on the recruiting front because the dead period is approaching and around the country a lot of coaches are going to be taking much needed breaks.
– Earlier this week OU announced plans for some major facilities/stadium upgrades. We posted a number of quotes from recruits about the visuals that were released. Recruiting is about a number of pieces coming together and it's clear that, while facilities may not be the end all that determines the outcome, the announcement created an excitement that certainly helps. I can tell you that it's not just current uncommitted recruits that are talking about the facilities upgrades. There are some kids that are committed to other schools that were also impressed with the facility renderings and expressed that to us.
It'll be interesting to see if this makes some committed recruits that OU was or still is recruiting rethink things.
– Earlier this week John Humphrey announced on twitter that he had officially decommitted from Baylor. We were under the impression that he had already decommitted but we asked him about his previous announcement and apparently he had simply announced that he was "opening" up his recruitment but had not officially decommitted. So at this point it's just a waiting game till he gets back up to OU for a visit in July. All indications we've had from him is that OU is the team to beat.
– Last weekend Ryan Newsome announced a top 5 of Oklahoma, Oregon, Texas, Notre Dame, and UCLA. Although he hasn't announced any leaders, we caught up with a source that said he felt the leaders in that group are Oklahoma, Texas and Oregon.
– Last night KS TE Josh Moore announced his top 6 schools which consisted of: Kansas, Oklahoma, Florida State, Ohio State, Auburn and Missouri. Josh visited Oklahoma earlier this summer for the 3rd time so he has a lot of familiarity with OU. We checked in with him to see if he'd be taking another visit to Norman before the summer is out and he said he probably would not. He's going to be taking some official visits so again, it looks like it's a waiting game with Moore.
– The word we've gotten is that OU is looking to take two TEs. We really like Roland, OK TE/DE Austin Cantrell. He's similar in size to Josh Moore however, Cantrell is, in our estimation a much better athlete. Unfortunately, Cantrell received and offer from Arkansas before OU offered and has been committed to the Razorbacks for a little while now.
– Another TE that we came across and had a chance to catch up with earlier this week is Thomas (Tommy) Hudson out of San Jose, CA. Hudson is a legitimate 6'5 250 lbs but again, he's another TE prospect that we feel brings more athleticism to the table without sacrificing physicality. Hudson let us know that he's very interested in Oklahoma and Texas. He hasn't yet heard from OU but he said Coach Bruce Chambers from Texas has reached out to him and he's considering taking an unofficial out to this part of the country in July. Though Hudson already has a number of offers including offers from UCLA, Oregon, Michigan, Arizona St and others he said he's always been interested in playing in this part of the country but just hasn't heard much from schools out this way. But in talking to him it sounds like, if OU were to reach out, he'd be very keen on listening. Either way, we like what he brings to the table in terms of size, athleticism and old school TE qualities.
You can view Tommy's film here.
– Recently OU made a couple of 2016 QB offers. One of those offers went out to Arizona commit Shea Patterson out of Shreveport, Louisiana. We spoke to Patterson earlier in the week for a second time and we talked to him about his commitment to Arizona and his interest in OU. You may recall that Patterson came to the OU satellite camp in Mesquite and earned his offer. He currently has offers from all over the country including schools like Alabama, Auburn Clemson, Michigan, etc.
Arizona was his first offer and he said he committed at the time because, among other reasons, he wasn't sure what else might come. Shea has a brother who is currently a GA at Arizona so obviously there is a family connection to the school but he made it clear that while he is committed, he's still actively considering schools. He specifically mentioned Notre Dame, Michigan, Clemson, USC, Oklahoma and Oklahoma State. Last weekend he actually made a trip to Oklahoma State and on his way home he stopped by OU's campus and took a few pictures. Patterson said he's looking to take a full unofficial visit to OU later this summer.
– Former OU commit, Du'Vonta Lampkin, announced yesterday that he has confirmed he will be taking an official visit to OU for the OU vs. Tennessee game.
– We also spoke to Cody Ford earlier this week. A couple readers posted a free Soonerscoop article with a number of excellent and very promising quotes about OU from Cody Ford. We asked Ford more about the OU offer and he said that when he first received the offer he was shocked. He said he never expected that he'd have the chance to play at a powerhouse football program like OU. Ford is certainly humble off the field but he plays with a great edge and confidence on the field. Cody said that he will camp at Miss. State and LSU in July and then make his decision a few days after that. Based on what we've heard about Miss. State's needs from our Miss. State connections he'll likely get that offer. We aren't sure about the LSU offer yet but that's the one to keep an eye on.
– Related to teams news, another name we are hearing a lot of good things about is Tulsa TE Carson Meier. Meier is a physical TE and but he's really surprised a lot of people with just how athletic he is. In fact we're hearing that he's even been getting a lot time with WR core. We also heard that during athletic testing Meier broke a one or two of Jermaine Gresham's records. We aren't sure which ones but regardless that says enough about his overall athleticism. There are some talented upperclassmen TEs on the team like Blake Bell, Taylor McNamara and Isaac Ijalana so we obviously don't know if Meier is going to get an opportunity this season but it sounds like he's got a bright future either way. But coach Stoops has been clear in recent years that he likes to get players on the field early so don't be surprised if we get a chance to see Meier this season. It's amazing what a difference a year makes. OU has made a deliberate effort to add physicality without sacrificing athleticism and the TE position is looking strong and is going to be one we expect to see utilized a lot this season.
– UPDATE (9:55 pm): Oklahoma makes top 6 for Arizona LB Cassius Peat. As we've mentioned before, Peat will be visiting Oklahoma later this summer. Peat's top 6 are: Oklahoma, Arizona State, Oregon, Michigan State, Texas A&M, and UCLA. Peat has a brother that plays at Stanford and another at Nebraska.
– UPDATE (5:15 pm): Oklahoma has extended an offer to 2016 OT, Clark Yarbrough out of Woodberry Forest Virginia. Yarbrough seems interested in OU and says that he is trying to get out to Oklahoma for a visit this coming August.