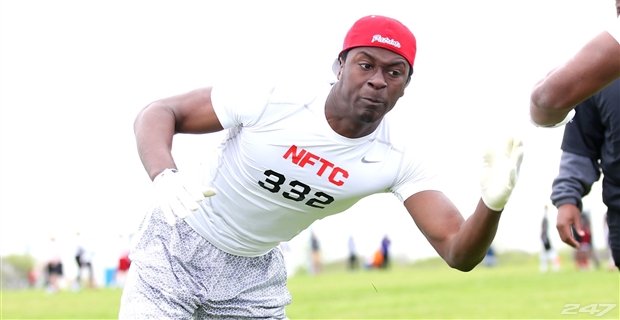 Open Post | Weekend, June 13th – 15th (Updated Sat. 7:47 pm)
Posted on: June 13, 2014
Image of Marshall 'Bo' Wallace via 247 Sports
– Congratulations again Sooner fans on another June commitment! With Dominique Hearne in the fold now, along with OT Bobby Evans, Coach Bedenbaugh has a great foundation for a very good offensive line class.
– I believe OU will be looking at taking another three or four OL, and they'll get a crack at one in a couple weeks when JUCO OL Jamal Danley comes into town. As we noted a while back, Danley and his father will be visiting Norman at the end of this month. I chatted with Danley a little last night, and he said Bedenbaugh has told him that he can play offensive tackle (though Danley said he wouldn't mind playing guard). He also said he's very excited about the visit. Apparently Bob Stoops is also involved in Danley's recruitment. Jamal said he spoke with the OU head coach a couple nights ago, and Stoops emphasized to him just how important Danley is to this OU class. And also let him (Danley) know that he's very high on Oklahoma's board.
– Another OL you might want to keep your eyes on is Tyler Moore who hails from North Shore (Galena Park, TX), the same school as the two defensive players we really like — Dorance Armstrong and Darius Mouton — and featured earlier this week. JY did a few OL write-ups in recent days on OU targets that we haven't posted just yet (but we will) and Tyler was his favorite.
I caught up with Tyler earlier this week to see where things currently stand with himself and Oklahoma. He said that he and Coach Bedenbaugh communicate every day. He also said that he will be at Alief (Houston) later today for the OU satellite camp. Moore is also being heavily recruited by Coach Wickline at Texas, and he was clear about the fact that OU and Texas are two schools he really likes. However, it's clear he has established a great relationship with Bedenbaugh. Apparently Coach B has been recruiting Tyler since his sophomore year. Additionally, Tyler said he has a lot of kin living in Oklahoma. Tyler did visit Norman for the Oklahoma spring game. He also said he has visited Austin and will be taking another trip there in July. As I said it before, really seems as though OU and Texas are his main focus and in talking to him, it also felt like whichever one were to offer first would probably be sitting in a great spot.
– Another talented Texas OL to watch is Kinkaid's (Houston, TX) Tyler Higby. I chatted with him this week as well, and he said that he also has regular communication with Coach Bedenbaugh.
– I also had a chance to catch up with 2015 OL Joshua Jones (Richmond, TX). Jones will actually be in the state of Oklahoma this weekend visiting OSU. I asked him if he's going to stop by Norman, and he said that he had planned to but with the OU camp down in Houston most of the staff won't be around. However, he said that he and Bedenbaugh speak almost daily (I hear that from so many recruits it's unreal…Coach B puts in WORK!) so we'll keep our eye on Joshua as well.
– I spoke to OU commit PJ Mbanasor earlier this week and it sounds like he's not only solid to OU, but is starting to do a little recruiting himself. He told me that he and stud safety Kahlil Haughton have really bonded, and that they chat almost daily. He said he really likes Haughton as a person and loves his ability as a player. In fact, PJ echoed our sentiment by saying he felt Haughton might be the best safety in the state of Texas. PJ told me he'd love to play with Haughton.
– Speaking of Haughton, I chatted with him once again as well and it's clear that OU is high on his list. There are other schools like Baylor, Texas Tech, etc. that he clearly likes as well, but OU is definitely right there in that mix. He'd still like to see Arkansas and was planning on making a visit there this weekend, but he has postponed that trip to the following week. In talking to Kahlil, I get the impression what's making the process a little difficult for him is that all the schools he likes, he has built genuine relationships with. He's got a great relationship with Oklahoma and loves the program itself, but he also has a good relationship with coaches like Brian Norwood (he's also friends with Norwood's son) at Baylor and Kevin Curtis at Tech. We'll have to wait and see on this one, but as I said Oklahoma definitely in it doing what they need to do to give themselves a great chance to reel in this ultra talented TX prospect.
– Oklahoma was the first school to offer elite rush end/OLB Marshall 'Bo' Wallace out of John Curtis HS in Louisiana. I had a brief exchange with Wallace yesterday, and while he's been a little quiet in the media that hasn't been with the OU coaches. He said he's being heavily recruited by Coach Montgomery and it seems the two have built a good relationship. Bo hasn't had a chance to visit Norman just yet, but when I asked if he will take an official visit to OU he said "definitely."
– A name you're going to be hearing more of in the future is LB Gehrig Scott. Scott hails from San Angelo and I've heard about him from a couple of places – one from a reader and the other from Jaylon Lane who used to play in San Angelo. Scott just finished his freshman year but he's already a stud. Apparently Scott was in attendance at yesterday OU satellite camp in Dallas.
– UPDATE (7:45 pm): Wanted to let y'all know that OK Preps stud WR Dahu Green is on his way to Louisville. He's making trips to Louisville and Tennessee this weekend for an unofficial visit. Ashton Preston is also at Louisville preparing for camp there tomorrow.
– UPDATE (7:47 pm): I spoke to WR and Baylor commit John Humphrey a little bit ago. He spoke REALLY highly of OU. I'll try to write more about our conversation later but wanted to give y'all a quote from our conversation, "I'm really feeling OU right now. They are making a push to be my number one school."