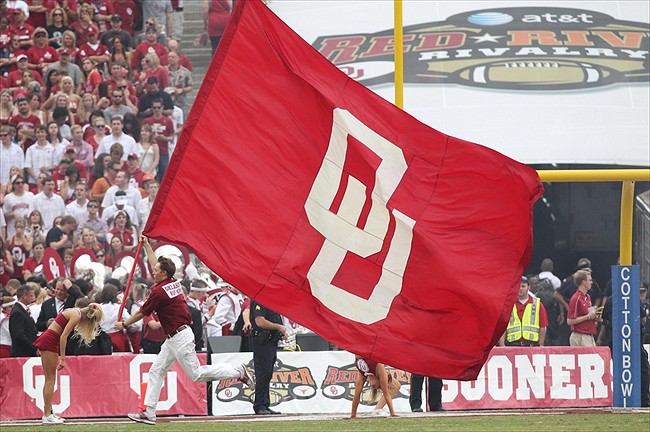 Open Post | Wednesday, May 2nd
Posted on: May 2, 2018
– I spoke extensively with Marcus Hicks and his father Kelvin at the "The Opening Dallas". With that in mind, Kelvin and Marcus have never hidden their affinity for OU, but will there be more visits to Norman soon? Hicks' father seems to think so, "We have no plans until July (for the BBQ), but we almost stopped by on the way home yesterday."
That's not the only time he sees them visiting OU, "I'm guessing when school is out, we'll make some visits just to hang out. Spend a day in Norman, getting familiar with the town."
Hicks' is originally from Michigan, so Notre Dame vs Michigan has always been a big game for them. They will get a chance to attend that game in South Bend later this year. That's something the elder Hicks is looking forward to, "I have no doubt that I will remember that game for eternity."
With the UCLA game, on September 8th, being the big early season game in Norman, and OU setting up big time visits for that weekend, one would think that they would have an official visit set for that weekend. But according to Kelvin that is not the case at this point, "Texas is trying to get us on campus later this summer, but OU hasn't pushed us hard for an official visit date just yet."
That could be a questionable decision, but with two more unofficial visits later this summer to Norman, I'm sure OU staff feels they have seen them so much that pressuring for an official would not be the smart move. – (Brandon)
---
– As the spring evaluation period picks up steam, we will be throwing up some quick hitters from time to time as the information comes in.
With that in mind, I caught wind that Coach Cooks was down in Mississippi the other day. He stopped in to see 2019 Defensive Back commit Jarrian Jones. I was able to touch base with Jarrian and he told me that he enjoyed seeing Coach Cooks and noted that "He's my guy, we talk about everything."
While it is not unusual for a Coach to visit his commit, what was unusual is how I came about finding out about the visit with Jarrian.
I went on Twitter to tweet out the piece on the Defensive Back recruiting that I put out earlier today when I noticed this retweet from Coach Cooks:
Won MVP at @TheOpening ??

— BLACK? (@diwunblack) April 29, 2018
The tweet is from Diwun Black. He's a 6'4″ defensive back from Forest, Mississippi. I didn't think much of it but I checked out his film and was very impressed. I also noticed he recently committed to Ole Miss and at one point was committed to Mississippi State, but I hit him up anyway, and he got back to me pretty quickly.
I told him that I noticed Coach Cooks showing his Twitter account some attention and asked him if there was something to talk about there and he said "Yes sir, I'm getting looked at by OU and one of the coaches (Cooks) came out to my practice today."
We chopped it up a bit more and I asked him if he knew Jarrian at all and he replied "oh yeah, that's my boy." While no offer has been extended at this point by the Sooners, Diwun did tell me that he was already in the early stages of  planning on taking a visit to Norman.
It was at that point that I reached out to Jarrian to see if Cooks had stopped by to see him today and the brief discussion which I wrote about above took place. I also asked Jarrian about Diwun and he said, "That's my brother, us together is scary."
So whether anything ever comes of it between Diwun Black and Oklahoma is yet to be known, but it was a rather circuitous route I took to find out where Coach Cooks was. – (Charlie)
---
– Just wanted to put up a quick note on 2020 Mater Dei HS (Santa Ana, CA) QB Bryce Young.
I have been told that the elite 2020 QB will be visiting Norman this weekend, at least one day. There are reports that Young might be visiting Texas, as well. I have reached out to Young, but nothing so far.
With that said, multiple sources have told me that Young will be in Norman this weekend. Oklahoma would like to close out the 2020 QB recruitment and Young is "their guy" according to one source.
Again, we are still working to confirm with Young himself, but don't be surprised if word starts to leak of the 2020 QB visiting OU this weekend.
We we will keep you updated on any other news we hear on this situation and if we are able to confirm with Young himself. – (Brandon)
---
A couple real quick notes updating you on where some of the OU coaches were yesterday:
– 2020 Athlete and Sooners offer at running back, Michael Henderson Jr. let me know that Coach Cale Gundy stopped by to see him today out at Ranchview High School, Carrollton (TX).
– Coach Kerry Cooks was down in Marietta Georgia today where OU put a couple new offers on the table for 2020. Defensive end BJ Ojulari and Athlete Arik Gilbert were the recipients of those offers and we will have more on them soon.
– Coach Ruffin McNeil made his way to South Oak Cliff (TX) as well as Carter (TX)
– Coach Bedenbaugh and Simmons were at Waller (TX) in part to see 2020 DT Gabriel Hall.
– Coach Mike Stoops was at Mansfield Legacy (TX) – (Charlie)
---
2019 Defensive Back Recruiting:
– In the Big 12 conference, the "Nickel" and "Dime" defense has become the base defense for many teams. In a league where wide-open offenses lead the charge, the once rarely used sub-packages have become the norm. The spread offense just keeps spreading out the defenses and, to be honest, with the Run-Pass-Option, we probably have not seen it run to its full efficiency yet from an opposing team. The Sooners, under Baker Mayfield, continued to accelerate the diversification of the offenses; when/if they trot Kyler Murray out behind center next season, we will surely see even more wrinkles which will baffle the opposing defenses to yet another degree.
With that being said, defenses cannot truly account for each and every offensive skill player. Basic math says that it is not possible. So how do you best defend the spread offense? You have to out-athlete them to a large degree.
I'm sure I do not need to remind you of the Baylor game in Norman in 2014. It was painful for any and all Sooner fans. OU went up 14-0 and then wound up losing 48-14. Sometimes the Baylor offense stuck quickly, but for large chunks of that game the Baylor offense took what the defense gave them and diced up the Sooners with what seemed like thousands of paper cuts. Corey Coleman alone had 15 catches for 224 yards. I believe Julian Wilson still has to occasionally wipe some of Mike Stoops spittle off of his face to this day.
So how do you "out-athlete" the spread? You have to recruit a lot of quality Defensive Backs as a start.
While the Sooners 2016 class brought Jordan Parker, Parnell Motley and Chanse Sylvie to Norman, since 2017, the Sooners have truly stepped up their defensive back recruiting. Sooner Squad 17 delivered three highly sought-after recruits to Norman in Tre Brown, Justin Broiles, and Robert Barnes. 2017 also brought in a less heralded Tre Norwood, who did nothing but go out and win a starting CB spot this past season. 2018 brought in another high quality class with Miguel Edwards, Patrick Fields, Delarrin Turner-Yell, Starrland Baldwin, and of course Bookie.
Where does that leave us with the 2019 class? Let's have a look:
Sources have indicated that the Sooners would like to take four DB's this class, five if it's the right guys. Currently they have two verbal commitments in safeties Jamal Morris and Jarrian Jones.
The Focus: Based on what we have been led to believe, the players listed below represent the preferred class
Jamal Morris: 6'2″ 185 lb true safety who provides good coverage and excellent run support [OU commit]
Jarrian Jones: A true athlete who could play any of the positions in the defensive backfield. Excellent ball skills. [OU commit]
Chris Steele: Perhaps the best true CB in the class, but also versatile enough to play multiple positions. Elite ball skills and coverage skills as well as run support on the edge.
Jaden Davis: A twitchy corner, more along the lines of a Tre Norwood, but further along in his development at this point in his career.
Dax Hill: Size, speed, intelligence. The young man is the complete package at safety. Perhaps one of the best #OkPreps prospects of all-time at this point in his career.
In Play: Players that OU really likes and feel that they would fit well in their system
Eric Young: Elite big bodied corner who could easily play any position in the defensive backfield.
Jeffery Carter: One-time Sooner commit is all about that speed. He is a tremndous athlete and could be an asset in the return game as well.
Isaiah Rutherford: West coast star who is another "Big" corner  (6'2″) who could play a variety of positions in the secondary.
The one thing you notice with the majority of those recruits listed above is that they can play multiple positions in the secondary. It is obvious that Coach Cooks is looking for the type of athlete who will provide him with as many options as possible to get the absolute best players on the field at the same time. We see that with how he has already used Bookie to this point in the spring alone. One perfect example of the effectiveness of this strategy is Coach Bedenbaugh; he keeps bringing athletic, strong, versatile players and using them all over the line.
As things stand right now, we feel pretty good about where the Sooners stand with their current commits (Jones and Morris) as well as where they stand with Chris Steele, Jaden Davis, and Dax Hill. We also feel OU is well within striking distance with Carter, Young and Rutherford. All of the names mentioned above are truly considered elite defensive backs.
This is how you begin to out-athlete spread offenses. With the move to more Nickel and Dime packages being the base defenses, stacking great defensive back classes together over several years is a necessity. – (Charlie)