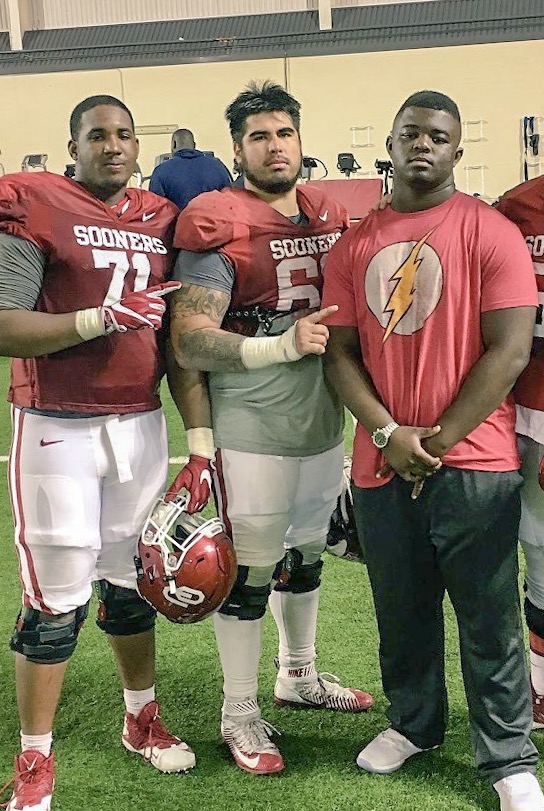 Open Post | Wednesday, April 25th
Posted on: April 25, 2018
– Yesterday, Alex posted this over on the Donor Board:
I am told that the unclaimed pair of googly eyes from last week will be claimed, this week. The particular recruit who silently committed to coach Riley, last week, plans on announcing, via twitter, his commitment, early tomorrow morning.
And you're going to love this one…
Earlier this morning, as you all know, 2019 Offensive Guard EJ Ndoma-Ogar, out of Allen High School (TX), became the 11th member of #NewWave19, the consensus number one 2019 class in the nation.
?⭕️BOOMER SOONER ?⭕️ #COMMITTED ‼️NEWWAVE19‼️ pic.twitter.com/d5wBCh7IR4

— EJ Ndoma-Ogar (@IHOP_75) April 25, 2018
Alex was able to go in depth with EJ about his decision:
As you know by now, this morning 2019 Allen, TX OG EJ Ndoma-Ogar announced that he has committed to the Sooners. This isn't only just a big win for Oklahoma, but also continues the Allen HS pipeline that has produced some big time prospects that have, or will don the Crimson and Cream in the future.
We have talked about EJ's connections to the program that lead us to believe the Sooners would be the team to beat to which EJ talked, about along with many other reasons why he chose OU.
"There are several reasons," EJ began. "The tradition, the success of the program, an amazing coaching staff, the diversity of the players and their backgrounds, and the support and resources to the student-athletes are just a few. The deciding factor for me was my overall level of comfort with the University and the guys in the locker room. OU is a place that I feel that I would still want to go to school even if football was not an option."
"My grandfather received his PhD from there and my older brother is currently a junior there. Both have shared the good and the bad so I feel that I am better prepared for the experience. With all of those pieces in place, it allowed me to truly learn about all of the things the University offer."
For a while now it seemed like OU was the ultimate choice for EJ  and it was just a matter of when. However, it turns out his latest visit helped push Oklahoma over the top along with an in depth, cut the crap conversation he had with a coach along the way.
"Over the last two visits this Spring, it began to REALLY feel like home. I have visited almost 50 different schools in this process, so at this point I began to see things more clearly. One of the best pieces of advice I received from a Coach in this process was to understand the recruiting visit is a controlled environment. Schools spend time emphasizing the things they want you to see and tucking away the things that might scare you off," EJ said.
"He encouraged me to see beyond the photo shoots, the fancy stadiums, all the pats on the back. He said no matter where I go, it needed to be a place that promoted the values I was taught at home by my parents, truly expected it's athletes to graduate, and treated you like family even 30 yrs after you graduated and maybe never started a game while you were there."
"Several schools achieved that bar but OU did so just a bit more and a bit more consistently."
Now with his commitment behind him, EJ has his eyes set on who he is looking to recruit to join him in the #NewWave19 class.
"I have gotten close to a lot of the top OL guys in the 2019 Class. In this process, you start to develop relationships with guys that you know would push you to be better and could build an amazing unit up front. I am excited to join the 2018 guys like Bray and Darrell; but I also think we can get five 2019 guys that match the success Georgia had on the OL in 2018 recruiting class."
"I have a 6'8 buddy of mine from IMG (Evan Neal) and 6'5 OL baller from Arkansas (Stacey Wilkins) that can expect to get several harassing phone calls and DMs from me real soon."
After the class Bedenbaugh reeled in last year, starting the 2019 OL class off with a player of the caliber of EJ Ndoma-Ogar shows BB isn't playing games. He's cashing checks and snappin necks. Now, who is next? – (Alex)
---
– The Sooners continued to focus on recruiting the DMV area by offering 2020 Offensive Tackle Anton Harrison out of Archbishop Carroll High School, Washington D.C.
— Anton Harrison (@Ayee_Tonn) April 24, 2018
I was able to catch up with the  6'5″ 315 lb. sophomore who holds offers from Penn State, Virgina, Kentucky and Maryland among others.
As Brandon has mentioned before, the increased focus on the DMV region can, in part, be attributed to Special Teams Coach, Shane Beamer. Beamer has deep ties to the area and he was the one who delivered the offer to Harrison, "Coach Beamer came down to my school and talked to my coach and I, and that's when they offered". Anton has also talked with Coach Bedenbaugh on several occasions and is looing forward to developing that relationship over time.
Being a young man living on the east coast, I asked Anton what his view of The University of Oklahoma Football Program was from a distance, and he said "Oklahoma is a winning program. They have some great coaches and they put linemen in the league."
As for his recruitment, Harrison currently has no visits set up at this time, however he did say "I don't really have any visits set up at the moment, but I will most definitely be down in Norman this summer."
Before I let him go, I told him that I noticed his Twitter header was a picture of former Oklahoma Sooner standout and current Washington Redskins All-Pro Offensive Tackle, Trent Williams. I asked him if he had ever had the opportunity to meet Trent down in Washington and he replied "I'm a big Trent Fan, he's my favorite NFL player. I haven't had the chance to meet him, but I would love too."
Hey, who knows, maybe Anton will get to meet Trent one day down the road, in Norman. – (Charlie)
---
In The Trenches | Anton Harrison Film:
Anton Harrison is a 6'5" 305 lb 2020 kid, and you have to keep that in mind when you watch his tape. Physically he's a man right now. He looks like he's three or four years older than he is.
As you watch his tape, at first he appears to be a kid not too much removed from his freshman year of high school. What's exciting though is as the tape rolls throughout the year, his performance gets better and better and BETTER. He develops a little bit of a nasty streak and realizes he can hit people on offense too.
You can really tell he likes to hit people and loves playing defense. Young players don't realize that they can hit people on offense too. You just have to go create the contact whereas defensively the contact comes to you.
His backdrop on his twitter profile is a picture of Trent Williams. Being from DC you can understand why. He shows good power, nice feet and good hip flexibility. He'll be a player to watch grow and develop for sure. If he progresses as much as he did in season over the next couple of years it'll be tough to find a better prospect out there. – (JY)