Open Post | Monday, August 18th (UPDATE 3:51 pm)
Posted on: August 18, 2014
Image via Scout.com
– Dalton Rodriguez: This past weekend Oklahoma got a new defensive line transfer. Former OU commit and Tulsa player Dalton Rodriguez officially enrolled at OU and will begin classes today. He will be classified as a walk-on and will have to earn a scholarship.
– Aaron Curry: Carey Murdock of www.soonerscoop.com reported that Nebraska defensive lineman, Aaron Curry is transferring to Oklahoma as well. As a sophomore last year Curry was listed on the Nebraska depth chart and started most of the second half of the season. However, The Omaha World-Herald reported that Curry was running with the second and sometimes the third team during this past off-season.
We've been told that the transfer to OU is not a done deal yet. We were told by a source with knowledge of the situation that Oklahoma may not have a scholarship spot open for Curry. Additionally, we were told that OU has not yet decided if Curry would offer the requisite depth from a talent perspective in order to justify the scholarship. The staff will be reviewing Curry's film later today.
Curry actually has ties to OU. His father Aaron Curry Sr. played basketball at OU.
– Joe Mixon: We've added an update to yesterday's Joe Mixon note. If you haven't seen it, you can find it here.
– DeAndre McNeal: OU H-back/ATH target, DeAndre McNeal, has said that he will announce his commitment on December 20th, the day after Malik Jefferson. McNeal is pretty tight lipped with his recruiting information but he has told us that Oklahoma is one of the primary schools that he is considering. He's also told us that he does plan on making it up for a game.
– Practice and Post-Practice: With school starting the team will begin normal practice schedule today. There will be media availability this evening with the offense so we'll have post practice note and quotes for you.
– UPDATE (10:52 am): The latest from former OU commit, Josh Wariboko.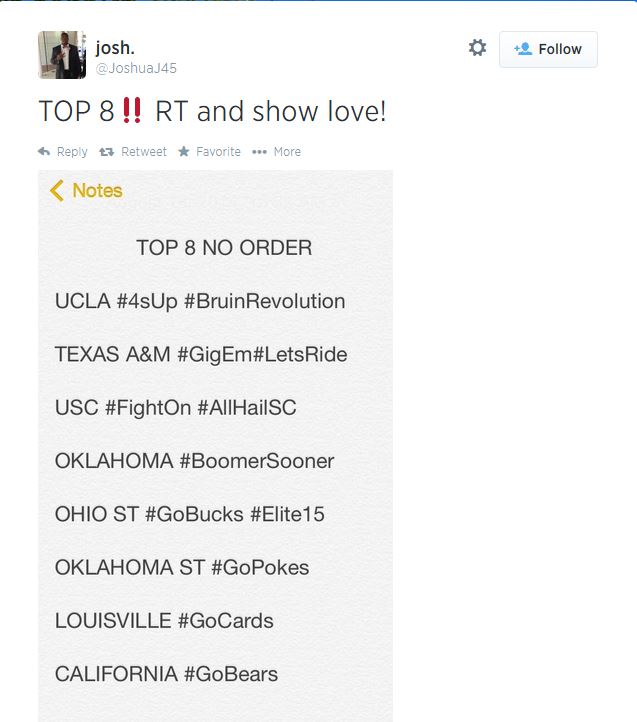 – UPDATE (12:05 pm): Scout.com's Bob Przybylo is confirming what TFB told you this morning, that this Aaron Curry transfer wasn't a done deal. There doesn't appear to be a scholarship available for him (as stated above) and according to Curry's father they do not have a desire to walk-on with the OU program.
– UPDATE (1:45 pm): Joe Mixon's arraignment was held today and he has just been released on his own recognizance. He did NOT enter an official plea, however he will be officially booked at some point today.
If you were expecting some type of resolution today, then prepare to be disappointed. His next court appearance was scheduled for September 23rd. The judge also issued an order preventing the surveillance video to be shared and/or viewed by anyone other than those directly involved in the proceeding.
– UPDATE (3:51 pm): A quick update regarding some apparent confusion regarding whether or not Mixon did in fact enter a plea today.
Update: Formal reading of charges waived during arraignment. But court doc does show Mixon entered not guilty plea today. Sorry to confuse.

— Guerin Emig (@GuerinEmig) August 18, 2014