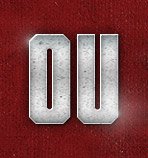 Open Post | Wednesday, March 8th
Posted on: March 8, 2017
– Jeff Badet: The Sooners have had a lot of success with grad transfer and JUCO WRs. Kentucky's leading WR and grad transfer, Jeff Badet has taken notice and took a visit to Norman this past weekend.
Badet is considering a transfer to Oklahoma, Virginia Tech, Oregon, WVU and Troy and will make his final decision sometime in April following the completion of his visits.
At this point in his career Badet said he's looking for, "who will get me the most exposure and who is going to win games". That's something the Sooners can certainly offer. Badet continued, "Coach Riley made this sheet for me, which are schools I am considering and this really stuck with me."
The sheet Badet was referring to is the following stat comparison between Oklahoma and the other schools Badet is considering. I should note, in his words, "South Florida is on there because that staff is at Oregon right now."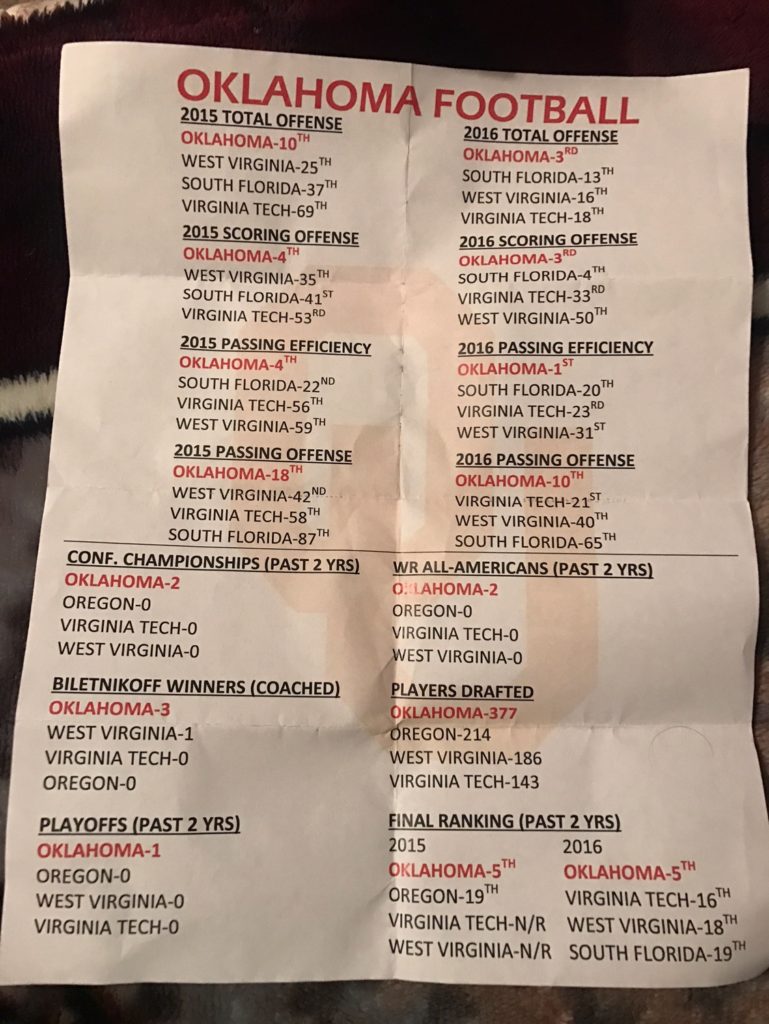 The Sooners do an excellent job of developing and getting those 5'10-6'0 WRs drafted and Badet said coach Gundy and the staff talked to him about those guys from Ryan to Shepard to Westbrook, etc. Badet also said that he was able to watch film with the coaches, "the film session I had with them went really well".
So did the obvious advantage OU has over it's competitors in this recruitment make Badet consider committing? "No, not really. I'm old enough to know that coaches will tell you want to hear and stuff. So I was really just taking it all in". In other words, Badet will take the remainder of his visits.
But overall the Sooners did what they had to do to put themselves firmly in this race, "It (the trip) very much exceeded my expectations. The city itself was really nice to see. Wasn't what I expected, which was a good thing". Badet said he was expecting Norman to be a "small country town" so OU's production coupled with the fact that Norman far exceeded his expectations as a college town did the Sooners a favor.
Again, given the fact that this really is a business decision for Badet, the Sooners offensive production, draft picks…all the things coach Riley summarized in the handout above, give you the sense that OU will be tough to beat here. If there is anything that could hold Oklahoma back, I suspect it would just be the shear amount of talent coming in from the 2017 class. But OU has proven with previous grad transfers that if you pick OU, you're getting on the field. – (Super K)
– Team Note | Justin Broiles: I checked with a source to see how freshman DB, Justin Broiles has been doing and was old that Broiles has been inactive lately due to a Achilles strain. The good news is, as of now, it sounds like he should be good to go for spring but we will monitor the situation.
Source also said that Broiles is expected to start spring at the cornerback position and will remain there or move to an inside DB position depending on how he takes to the outside corner spot. – (Super K)