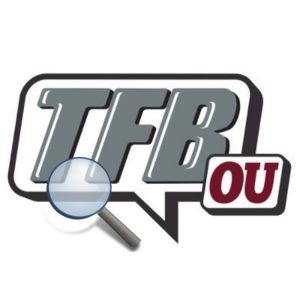 Oklahoma vs. West Virginia Preview
Posted on: November 23, 2018
Overview
What seemed likely to be a preview of the Big 12 Championship a week ago has now become a battle just to get there. Oklahoma and West Virginia will play Friday evening, with the winner playing (presumably) Texas in the Conference title game. The tale of this game will the two offenses, highlighted by two Heisman-candidate quarterbacks. This is a series that OU leads 8-2, having won all six games that WVU has been in the Big 12.
🗓 Friday, Nov. 23
🕖 7 p.m. CT
🆚 West Virginia

🔗 https://t.co/HxtuqQRjl2 pic.twitter.com/nINaUXPisl

— Oklahoma Football (@OU_Football) November 19, 2018
The Opponent
The Team: West Virginia was in Playoff contention and riding a top-ten ranking before a puzzling defeat at the hands of Oklahoma State. While the Playoffs are now out of the question, a Big 12 Championship berth and a New Year's Six Bowl are still very much in play for this talented team.
The Offense: Make no mistake: this is the best offense OU has faced this year. WVU ranks 10th in yards per game, 5th in passing yards per game, and 9th in points per game. While Oklahoma State gains more yards per game and Texas Tech gains more passing yards per game, both of those offenses have had the pleasure of feasting on the Oklahoma defense to pad those stats. It all starts with Will Grier (who seems like he's playing football for a decade). Grier has thrown for almost as many yards and touchdowns as Murray this season, despite playing in only one fewer game. Out wide, receivers like David Sills (6'4″) create matchup problems for opposing defenses. One area that WVU doesn't focus on as often is the run game, ranking 75th in the nation in rushing yards per game. All told, however, this is an elite offense.
The Defense: Much like OU, defense has not been a strong suit for this program in 2018. While still ranking above the Sooners, the defense gives up big chunks of yards, particularly in the passing game. In big games this season, the completion percent for opposing quarterbacks has received a large boost.
Brock Purdy at Iowa State:
Season average: 64.6%
WVU game: 72.0%
Result: WVU loss
Sam Ehlinger at Texas:
Season average: 65.0%
WVU game: 69.4%
Result: very close WVU win
Taylor Cornelius at Oklahoma State:
Season average: 61.0%
WVU game: 65.2%
Result: WVU loss
That's an average jump of 5.3%. If the WVU defense allows Kyler Murray to throw for that much over his season average, he'll complete 75.6% of his passes. On the other hand, West Virginia's run defense has held up fairly well this season, ranking 35th in the nation and 2nd in the Big 12.
Oklahoma
The Offense: Every time you think OU has perfected the art of offense, they add another layer. The running game for Oklahoma has become a true menace this year. Sermon and Brooks are rolling behind the talented offensive line, with Murray adding yet another component.
Sermon and Brooks are both on pace to easily eclipse 1,000 yds in 3 more games.

If Murray can average 87 rushing ypg for 3 games (less than his pace over the past 3 games), OU would be the 2nd school EVER with 3 1,000 yard rushers in the same season.

(2009 Nevada was 1st)

— Ryan Lewis (@RyanLewis_TFB) November 19, 2018
Speaking of Murray, he has tightened up the Heisman race considerably in recent weeks. While his arm has been tearing apart defenses all season, his legs have been separating him in the past few games.
#Sooners Kyler Murray is on pace for 4,212 yards passing and 941 yards rushing through 14 games.

If he can bump up the rushing just a little, he'll be only the 2nd QB EVER to pass for over 4,000 yards and rush for over 1,000 yards in the same season. (Watson 2015 was the 1st)

— Ryan Lewis (@RyanLewis_TFB) November 19, 2018
The Defense: I personally only know of three games in which fans have loudly booed the Sooners since the turn of the century. The third quarter of that Baylor game (you know which one) was the first, and it wasn't pleasant. The other two have both come this season – the Bedlam game and the Kansas game. Both times, the booing started due to an indefensible defensive play on the heels of many other indefensible plays. The defense has sunk as low as ever the past few games. While nobody expects the OU defense to fully contain the WVU offense, the defense will need to make some stops. Can OU make the Mountaineers one-dimensional by shutting down the run game?
Prediction
This will be a tough game for the Sooners, as West Virginia's offense is going to score a lot of points. One thing to focus on for Oklahoma will be turnovers; OU can't give up quick turnovers to WVU like they did Texas Tech. Slowing down the game so as to keep the Will Grier-led offense off the field may be another strategy for OU.
This one will be a shootout; it opened at the highest over/under of the season around 80 and has only grown from there. The Oklahoma offense is maybe the best in the country, which will give the Sooners the edge. Look for OU to sneak out a close win in Morgantown with a score of 54-49.