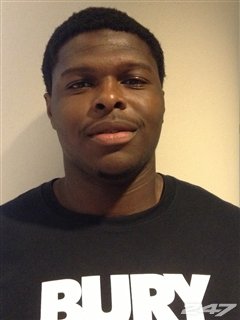 Offensive Line Targets – Jamal Danley
Posted on: June 23, 2014
Image via 247sports.com
Last week we talked about Oklahoma's OL situation and K mentioned that he'd try to summarize where our recruiting stands with a number of our targets. Needless to say with two talented OL already committed a number of very interested targets Oklahoma is sitting in a pretty good spot. And at the OL position that is critical.
I wanted to talk a little bit about one the JUCO OL that Oklahoma is targeting right now.
Jamal Danley is a JUCO offensive tackle that has been talked about a lot. Jamal plays at Eastnern Mississippi Community college which is LaColton Bester's old school. In watching his film he looks to me like he's a right tackle or a guard. He's athletic enough to play tackle, but he's not necessarily the kind of prototypical athlete you'd expect to see on the left side. Make no mistake, the guy is plenty athletic, but just projects to the right side in my opinion.
Jamal goes 6'4″ 305, and is very thick in his lower body. He's a December grad, so he'd have the opportunity to come in at semester and go through a spring. With Tyrus and Daryl graduating, along with Frison, Paul and Brown(if he makes it in) being freshmen, the guys you have on campus who wouldn't be considered a developmental prospect are few and far between. Farniok would be the only guy who will have played any considerable time, so the need to get guys in the fold who are ready to go for 2015, is of the utmost importance. You never know, a guy like Sam Grant or Christian Daimler could be at the weight they need to be by next spring, so the offensive tackle position is going to be one of the more intriguing story lines entering spring 2015. But clearly Oklahoma feels their safest bet is to bring a JUCO tackle in that can man the position right away.
With Trevor Knight entering his Junior year by then, and perhaps established as a star in the league and maybe the nation, the emphasis on protecting him and opening holes for that stable of studs that Coach Gundy keeps churning through the backfield couldn't be at a higher level.
Recruiting Notes:
– We've had a chance to talk to Danley and he said that coach Bedenbaugh is indeed recruiting him as a tackle but he is personally open to playing either position.
– As noted last week, Danley has changed his visit date to Oklahoma to July 14th.
– He has publicly stated that his top two schools are currently Oklahoma and Mississippi State
– Jamal also told us that he expects to make a decision shortly after his trip to Oklahoma.
– He did recently take a trip to Mississippi State and when we asked him about it, he didn't have anything to say nor did he having anything glowingly positive. That might mean something but it also might simply be that as a JUCO player, this decision for Danley isn't so much about glitz and glamour but more a business decision. In other words, where is the best opportunity, the best coaching and the best opportunity to make it to the next level.
– Related to the previous note, in talking to Danley it's clear that Oklahoma has impressed upon him their track record as coaches in developing NFL caliber offensive linemen. And of course, as mentioned above there will be two open tackle spots that Danley will have the opportunity to come in and win.