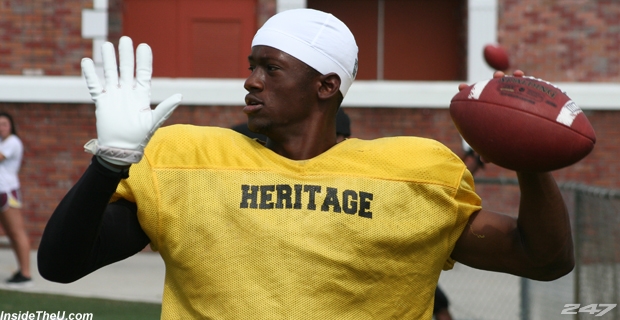 Notes from Miami – Torrance Gibson
Posted on: February 25, 2014
Image from 247sports.com
Last week I was in Florida, while there I took a brief visit over to Miami to see my friend, Stanford Samuels. I've mentioned Stanford on here before. He is the former FSU cornerback that actually played his freshman year against Oklahoma in the 2000 national championship. He was kind enough to give us his thoughts on Juwan Dowels when the Sooners were recruiting him a couple months back.
Stanford coaches the Florida Fire which is one of the most talented 7-on-7 teams in the state. I stopped by to watch some of his players. I also stopped by to see the South Florida Express 7-on-7 team which is also very talent rich. I know one of the coaches there as well, so I had a chance to talk to both him and a few of the players. Among the players I saw at the South Florida Express practice was dual-threat QB and OU offer, Torrance Gibson.
I have a few notes that I want to make from my brief trip to Miami, but I'll type those up in another post. I wanted this post to really serve as an introduction and a focus on Gibson.
Admittedly, I'm not a quarterbacks expert by any stretch of the imagination. When it comes to defensive player positions, I'd put my eyes against just about anyone and I don't mean that to be arrogant (but why type about stuff you don't actually think you know anything about?). But quarterback mechanics are not my area of expertise. That isn't to say I can't tell the difference between a guy who can play the position and one who can't, but I know QB gurus and their knowledge of the details and nuances of that position far exceeds mine. Having said that, it is not hard to see that Torrance Gibson is the real freakin' deal!
There are a few guys I trust in the Miami area to tell me about players down there, including Stanford Samuels. They are all very knowledgeable guys who will tell you the absolute truth as they see it and everyone of them believes in Gibson. It may seem strange that Gibson actually plays wide receiver for South Florida Express, but that isn't a knock on his ability to throw the ball. Instead, it's an attempt by the coaches to get the most athletes on the field and Gibson is truly a world class athlete. And if he wanted, he could be a devastating receiver. However, his ceiling at QB is off the charts.
Torrance is a long and lean athlete. I'd say he's every bit of 6'3″ flat-footed, if not taller. He is built high cut and he's thin right now, but he has broad shoulders and can clearly carry weight. He's not a trained receiver because he is in fact a QB, but due to his size and athleticism alone he appeared unstoppable. I'm telling you, his speed in the open field is something to witness. It's like watching a gazelle. He runs beautifully with very little wasted movement, on his fore and at a pace beyond just about everyone else. And you have to keep in mind he is not only doing this in one of the most athletically-rich areas of the country, but he is also doing it against some of the most talented and well-trained players in that area.
There is no question to me that Gibson is a QB. In fact if Gibson couldn't run, he'd still be a great looking QB. He throws the deep ball about as well as any high school QB I've seen. The talk of Gibson being an "athlete" is non-nonsensical to me.
Is he an elite athlete? Yes. But does that change the fact that he also has the tools to be an elite throwing QB? No.
He has the gifts to do it all. And there are people in South Florida that believe he has every tool necessary to eventually play on Sunday's. To me, what really separates Torrance is the pressure he can potentially put on a defense with his elite combination of talents. He's faster and more agile than the "running QBs", but he throws as well or better than your throwing "QBs." How do you contend with that?
Now the question everyone wants to know is whether Oklahoma has a chance at landing him. My answer to that question is….it depends. Oklahoma has everything and more to offer Gibson, but the coaches have to believe that they are legitimately in the race. They aren't generally in the habit of spending time chasing a kid who they don't feel they have a legit chance with.
Oklahoma already has top notch facilities, with the best on-campus living quarters in the country, and a huge expansion forthcoming that we've heard will include a brand new weight training facility. Oklahoma, arguably, has the greatest football tradition in the country (came across this historical statistical summary yesterday that makes the case very well). Alabama may argue differently, but even in their prime they can't seem to beat the Sooners. Additionally, with the athleticism of guys like current Oklahoma QB, Trevor Knight, the coaches have installed some of the read-option principles that perhaps could best showcase the totality of Gibson's abilities.
Maybe the most important thing that Oklahoma has to offer is that they know how to produce THROWING quarterbacks, and it's my sense that Gibson truly wants to be a throwing QB. Under coach Bob Stoops Oklahoma has two Heisman trophy winning quarterbacks and neither of them were even remotely as athletic as Gibson. If you take Oklahoma's ability to develop throwing QBs, add Gibson's natural mental and physical abilities, put him in Oklahoma's scheme, and play him in a wide open offensive league like the Big 12 you are looking at a future Heisman Trophy winner. And someone who may break record after record.
My point is that Oklahoma has everything to sell Gibson. They just have to commit to doing it and believe that they can win his services. And based on conversations I've had with Gibson and people around him, I believe Gibson is very open to Oklahoma. I think Torrance is open to a number of schools because as of yet, he hasn't seen many schools. It's assumed that Ohio State leads in Gibson's recruiting and I can't speak for him, but I will say that if they do lead it's probably because Urban Meyer wants Torrance and is willing to do whatever he can to get him. In short, I believe Ohio State is recruiting him harder than anyone else. I don't believe Ohio State necessarily has more to sell than Oklahoma, and if you go strictly by throwing QB development results, Ohio State and Meyer may have less to sell. But they are aggressively pursuing Gibson and at this point that is making a difference, in my opinion.
The good news for Oklahoma is that Gibson wants to visit Norman and if a visit does indeed happen, then the Sooners may be able to firmly plant themselves within Gibson's list of top schools. Gibson has said that he would like to take his time with recruiting and perhaps not commit until near signing day. This is another area where Oklahoma can make a great case for themselves because with their current QB talent, they have the luxury of going all in on Gibson even with the risk of missing out on him.
Truth be told, I've never been particularly interested in offense in general. And as such I rarely pay too much attention to Oklahoma's QB recruitment. It's always a given that Coach Heupel is going to find a great quarterback. But Gibson's ability has caught even my attention.
In the end how a player develops and whether he reaches his potential is due to a combination of several things. The best an evaluator can do is project based on the now. And based on "the now", Gibson is the QB you don't hesitate on. You go all in and make your best case. Finding a great thrower is rare. Finding a great runner is rare. Finding a great leader is rare. Finding all three in one high school quarterback is…Torrance Gibson.