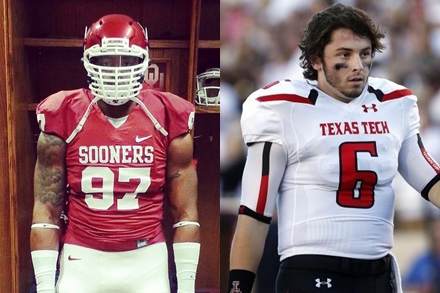 Notes from Inside the Program
Posted on: February 6, 2014
Charles Walker image from Scout.com & Baker Mayfield image from Amarillo.com
Many of you have heard some high praise about defensive lineman, Charles Walker. In fact yesterday he was mentioned a couple times as someone who Oklahoma expects to really contribute this coming year.
We've got some interesting notes and very high praise from a current NFL scout who recently saw him working out, doing drills, one-on-ones, etc. The scout was at Oklahoma to look at other players, but it was hard for him not to notice Charles Walker. This is the gist of what the NFL scout said:
– The scout flat out said that Charles Walker is the best looking prospect on Oklahoma's campus.
– He also said that if there is a first round type player at Oklahoma right now…it's Charles Walker
– He was really impressed with his combination of size and explosiveness. His quickness at that size is extremely rare, but he also added that, unlike a lot of big quick guys, Charles actually has a lot of flexibility as well.
– He said his athleticism is "off the charts." The scout said that Charles Walker has the versatility that the NFL looks for. He's literally a guy that can play comfortable in an even or odd front. He's as big as most 3 techniques in an even front would be, but he's going to be playing a little further from the ball at the 4i (which is where Ace saw him play in fall camp).
– The scout kept reiterating how unbelievably explosive Walker is. He said his only weakness is that because of his ability to get off the ball and penetrate gaps, he'll have to be careful about getting too far up-field and overrunning the play (something we saw Torrea Peterson do quite a bit). But this scout said as Walker gains experience and grows in his technique there is really no telling how good he can be. He could be unstoppable.
– We'll just add that this coincides with much of what Ace said when he saw him a number of times in fall camp. And it certainly coincides with what we've heard from OU players and coaches. However, it's still all the more interesting to hear it form an NFL scout that wasn't even there to see him. In the end, the field will be the true test of what he can be but he's certainly getting high praise from just about every direction right now.
– Many of you heard that Oklahoma announced Texas Tech transfer QB Baker Mayfield will walk on at Oklahoma. Well, Baker has actually already been playing 7-on-7 with the Oklahoma players. The school/coaches cannot be involved in that so it's completely player initiated. But Mayfield has been taking part in these scrimmages.
– What's really interesting is how much the Oklahoma players…and more specifically the defensive players…really like Baker. They feel like Baker is not only talented, but he's also got that swag or that moxie that you look for in a quarterback or a leader. Now no one is saying he's going to dethrone King Knight (trademarked it just now!), but the players feel like he will be an excellent back up.
– An interesting little thing that happened that really helped earn the respect of the players was in one particular scrimmage there was a lot of trash being talked between the offense and the defense. Baker refused to back down. Even though he's the new guy, he stood his ground. Well after a while things starting getting pretty chippy between some of the offensive and defensive players and the heat started getting a little too hot, which isn't uncommon for great competitors. Guess who stepped in and cooled things down? Baker Mayfield. It seems that also went a long way with a lot of the players.
Baker and Charles are just two of the many players we can't wait to get a look at in the spring.