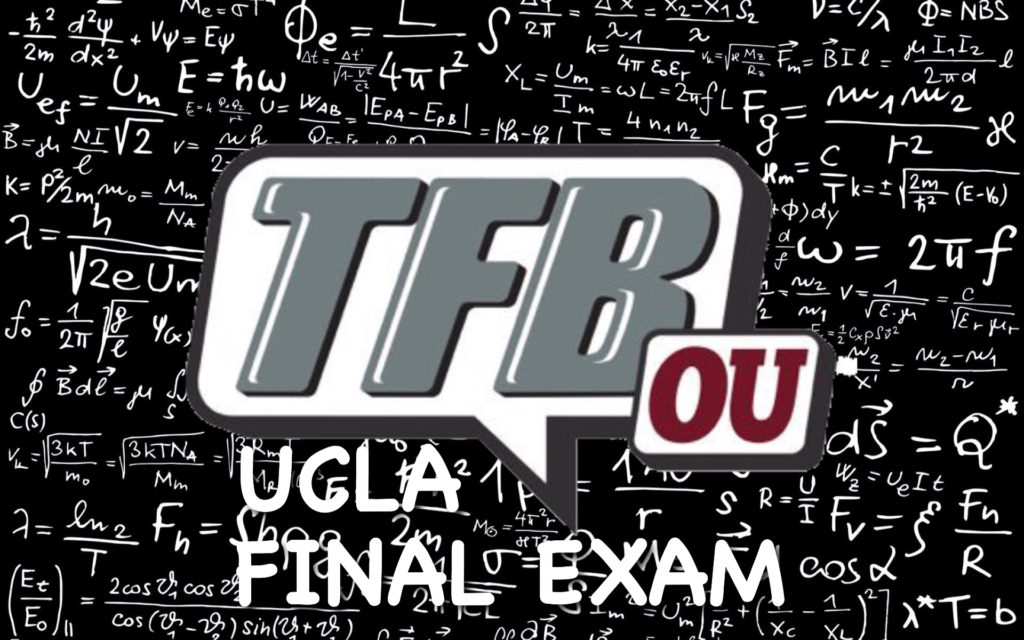 Final Exam | UCLA
Posted on: September 12, 2018
Oklahoma is 2-0 and looked good again on Saturday. Chip Kelly looks like he'll need a year or two to get the UCLA offense up and running.
Here are some stats from Saturday and this season so far that jump out at me. And no Chip, we don't have another Aikman to give you.
OFFENSE
I'll start with the obvious. Rodney Anderson has yet again been on the unfortunate side of circumstance. The Sooners will definitely miss the production that Anderson would have given, but what's important is that he gets back to 100%. He's got a lot in front of him, a tough road and hopefully future success. I wish him the best.
Kyler Murray was good again. He accounted for five TDs on Saturday and has a 194.9 Passing Efficiency so far on the season.
Murray had a couple of accuracy problems on Saturday. I think this may just be something Oklahoma fans will have to get used to. Baker Mayfield was an exceptionally precise thrower. Oklahoma still has the athletes and the brilliant play-calling to get people wide open, but Murray may not hit them every time like everyone was used to with Mayfield. It isn't that Murray is not accurate, he is and he will continue to improve. It's just that he isn't Baker.
That's ok because It turns out Murray can throw the ball anywhere he wants and it doesn't matter to CeeDee Lamb. Lamb had 149 yards on seven catches and it seemed like every one of them was a jaw-dropper. Even the one that didn't count…
The Oklahoma offense has almost quietly gained 567 yards per game and 56 points per game to start 2018. And if you remove the garbage time of the fourth quarter, Oklahoma looks even more overwhelming. So far in 2018, the Sooners have outscored their opponents 91-14 in the first three quarters.
The reason I say the Sooners quietly have another killer offense is because the only thing anyone is talking about is the production on the other side of the ball…
DEFENSE
The Sooners looked great again on defense against UCLA. The play style seems more aggressive and the numbers show it. Oklahoma had 12 tackles for loss and six sacks in a game for the first time since West Virginia in 2015. The big plays are coming at good times as well. On Saturday, three of the Sooners' six sacks came on 3rd downs. The defensive front was likely more aggressive than they would typically be due to the lack of a running threat in the backfield and a freshman QB running the show.
Curtis Bolton and Kenneth Murray were very good. The two combined for 17 tackles, 4.5 tackles for loss and 2.5 sacks. It seemed like every time the whistle blew, one or both of them were getting up off the pile.
The aggressiveness seems to come at a bit of a price though. The Sooners are allowing 9.45 yards per pass and have allowed four plays of more than 15 yards on 3rd downs. The relationship between tackles for loss and giving up chunk plays will be an interesting thing to watch as the season goes on.
SPECIAL TEAMS
The Special Teams looked good again with Tre Brown and CeeDee Lamb combining for 184 return yards with each nearly taking one back for a TD. I don't know what it is about having a Beamer on staff, but it's working out well.
Next week is revenge week as Big 12 play starts for the Sooners against Iowa St. It should be a better test than the two teams Oklahoma has faced so far, and I'm excited to see how both sides of the ball react.