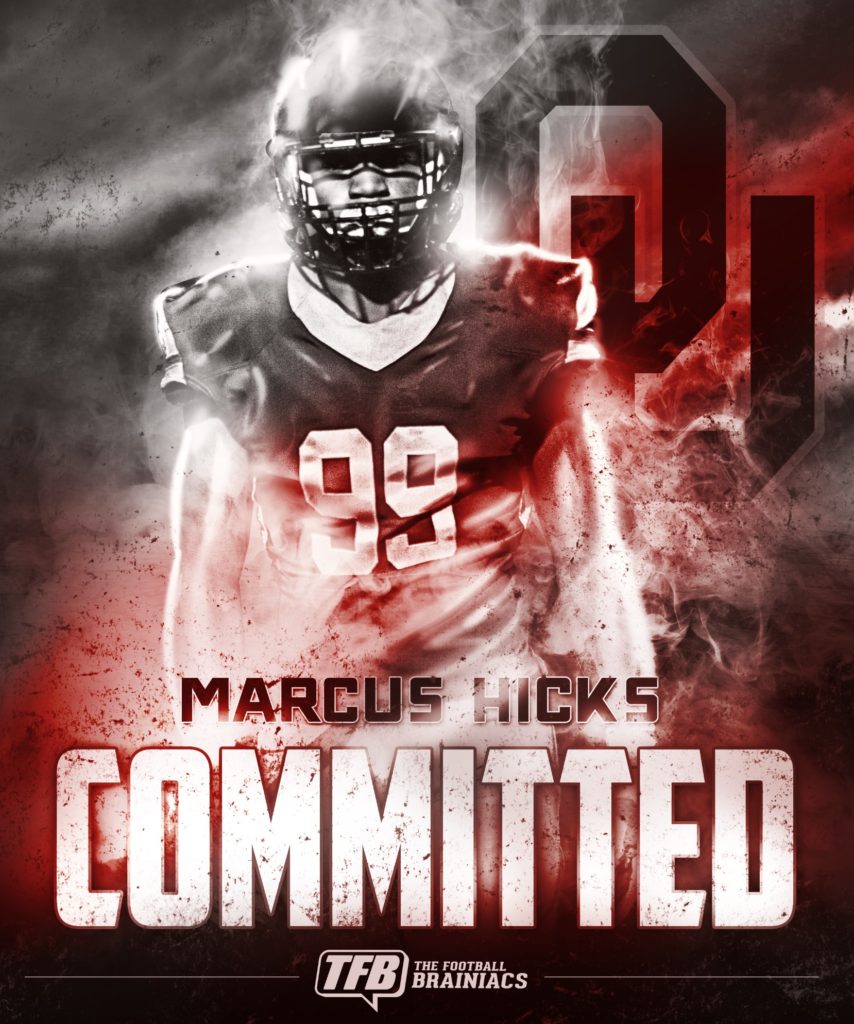 BOOM NEWS!!! Marcus Hicks Tells You Why He Picked The Sooners In His Own Words
Posted on: June 8, 2018
– Today 2019 Wichita (KS) Northwest HS defensive lineman, Marcus Hicks, announced his commitment to the Sooners. The road to the commitment was a long winding one that had stops in Austin, Norman, Fayetteville (AR), Stillwater, South Bend (IN), Columbus (OH) and Ann Arbor (MI). Lots of visits to a ton of college footballs top programs.
— Marcus Hicks (@harcus_micks) June 8, 2018
Hick's father, Kelvin, is a retired Army veteran and has seen a lot of the world. He wanted to make sure Marcus went through his due diligence and see what potential schools had to offer. One school…. Oklahoma…stood out to Marcus. On Memorial Day Weekend Marcus, informed Oklahoma that he was going to be a Sooner and sign with Oklahoma.
TFB caught up with Marcus and his father, Kelvin, Saturday after Riley put out his famous googly eye tweet and they gave us an exclusive look into why they chose OU. This is Hicks explanation about his decision to choose OU in his words:
Oklahoma has a family atmosphere and that is something I have looked for in a program and something I really liked. It's not just the football program that makes it like a family atmosphere either. The community of Norman is special. Everyone that you come into contact there makes it feel like home. 
You add the family atmosphere with the chance to play with some of the top players in college football and be another piece to such a good class like we have in 2019, and I feel like it was the right decision for me. Oklahoma also gives me an opportunity to get a great degree in whatever I choose to major in. 
The staff that Coach Riley has around him is great. I have a great relationship with all of them and him, coach Thibodeaux and coach Ruffin McNeill will develop me into a great player and mentor me into a great person and leader off the field. I have visited a bunch of schools and all of the coaches are great. I just felt like Oklahoma was the best spot for me as I continue to transition to another chapter of my life.
As far as my recruitment goes? I am done. I will not be taking anymore visits. I am fully committed to Oklahoma and look forward to my next visit to Norman for the ChampU BBQ in July. We will work to get more of the top guys to join our NewWave19 crew. 
To the Sooners fans, I'd like to say Boomer Sooner!!!
Hicks chose Oklahoma over Michigan, Texas, Notre Dame, Nebraska, Ohio State, Oklahoma State and Arkansas to name a few. He is rated as a consensus four star in both 247 and Rivals ranking and top 250 in latest Rivals rankings.
Hicks joins Joseph Weté, Derek Green and Kori Roberson to make the 2019 defensive line class one of the most talented that Oklahoma has landed in the last decade.