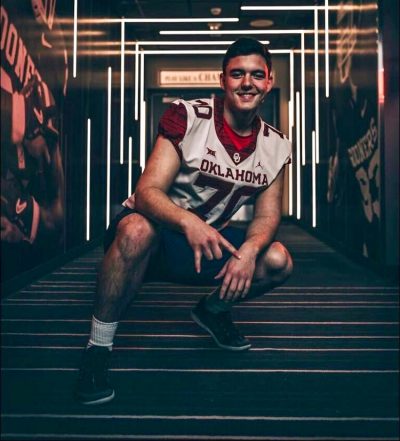 BOOM News! | 2020 OL Noah Nelson Commits To Sooners
Posted on: May 13, 2019
The Sooners picked up a big commitment tonight as 2020 Offensive Tackle Noah Nelson made his pledge to Oklahoma.
The 6'8″ Nelson picked OU over a final group of Michigan, Washington, and UCLA
Nelson is a pure left tackle who wears his weight well and moves very well.
Those guys are not easy to find and this is a great pick up for Bill Bedenbaugh as he joins Nate Anderson to form a nice pair of bookends in the 2020 cycle.
Nelson visited Norman earlier this month and this is part of his conversation with Super K:
Noah liked the "player life" he observed at Oklahoma but also like the balance of family atmosphere that coach Riley cultivates, "coach Riley does a good job of keeping all the families together at Oklahoma. So, I got a really good family feel. Like, I went over to his house and they had all the coaches there, all the recruits there and all their families and little kids and stuff like that. I felt a really strong family atmosphere there that at other places I didn't feel too much".
Noah also talked about how genuine coach Riley and coach Bedenbaugh are, "I don't think coach B has changed at all since I first talked to him to when I was there".
In terms of how the OU campus is laid out, it seems that also won Oklahoma some points with Nelson, "I really liked Oklahoma's whole set up how Headington is right next to the facilities and the facilities are attached to the academic center so you're always in the same circle that you need to be in. I thought that was super cool. Whereas Michigan it was kind of spread out. Their facility was separate from the Big House."