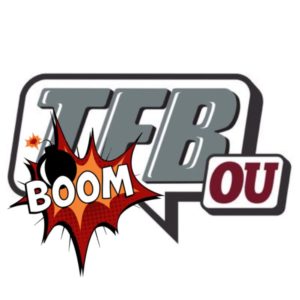 Boom News! | 2020 DE Noah Arinze Commits to Oklahoma!
Posted on: September 6, 2019
Chalk another one up for Coach Grinch and Coach Riley; 2020 DE Noah Arinze has committed to the Sooners.
Respect my decision @OU_Football @LincolnRiley @CoachThibbs @CoachGrinch @eliteamsports #sbg #Critcal #BoomerSooner #oudna pic.twitter.com/gN6ZIHBBdW

— NoahArinze (@ArinzeNoah) September 6, 2019
A St. Louis, Missouri native, Arinze has visited Norman four times; his most recent visit was for last week's season opener. Coach Riley hinted at his commitment with a set of eyes this past weekend.
👀👀👀

— Lincoln Riley (@LincolnRiley) September 3, 2019
One of his visits was for the ChampUBBQ this summer.
Had a good time at OU with the family. pic.twitter.com/OhsQa5Wzp4

— NoahArinze (@ArinzeNoah) July 29, 2019
After that visit, he spoke with TFB's Super K:
Talking about the visit and Oklahoma in general, he said, "Generally, the atmosphere of the program and being to come and play and change the culture of the defensive is a draw for me. This weekend, I got to see the coaches outside of coaching. I was able to see how the coaches are on a personal level away from football".
In terms of what's going to push him towards one school or another, he continued to use the word comfort. "It's really more about comfort and where I fit. I do want a place where I can prosper as an individual, as a student athlete, and develop as a football player".
He spent a lot of time with fellow St. Louis native Ronnie Perkins on that visit and grew more comfortable with Norman.
Arinze has great size for a defensive end. At 6.5 and 240 with a 4.8 40, this is someone with all the tools to be an athletic animal in an Alex Grinch SpeedD.
The Sooners got themselves a good one.