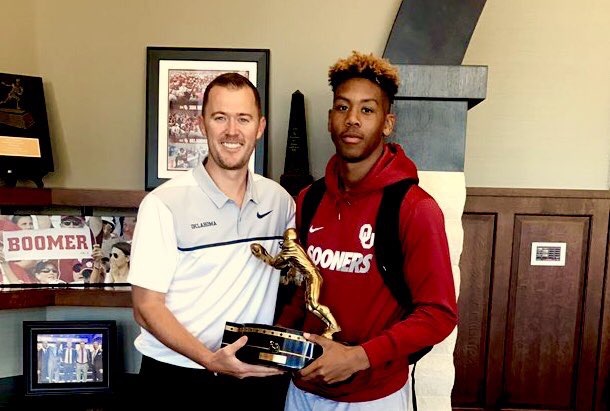 Boom News | 2019 WR Theo Wease Commits To OU
Posted on: April 13, 2018
Elite 2019 Allen (TX) Wide Receiver Theo Wease has verbally committed to Lincoln Riley and the Oklahoma Sooners.
Always finish what you started… #Committed pic.twitter.com/eefNvem9t8

— Theo Wease Jr (@_TheoWeaseJr) April 13, 2018
As most of you know, Wease first committed to the Sooners in February of 2017. His pledge today seemingly completes the full circle of his college recruitment as it comes almost exactly one year after he backed out of his initial pledge to OU on April 25th, 2017.
Since that time, neither the Sooners nor Wease seemed to stray too far from each other, and it almost seemed inevitable that they would reunite at some point. That point was today.
A lot of credit has to go to Dennis Simmons, Lincoln Riley and Wease himself for allowing the relationship to continue to grow even with the decommitment. Wease's recruitment and subsequent "re-commitment" is strikingly similar to that of Cedarian Lamb from the '17 class.
In speaking with Theo, I asked him why he chose OU. His reply was quick and right to the point, he said "OU is home. It's perfect for me."
I then asked him how long he has known that he wanted to call Norman home. He replied "I have known since the first time I visited that this is where I was gonna go!"
Before I let him go to celebrate his choice, I inquired that with him being in town for the next 2 days with a lot of 2019 talent, who was he going to target specifically?
His response will surely put a smile on your face: "I'm going after Chris Steele, Jarrian Jones, and Jaylen Phillips."
Just think…the weekend has only just begun!