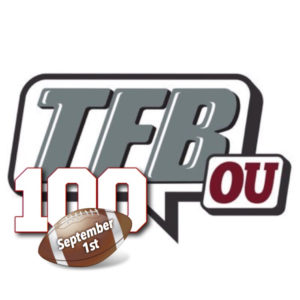 100 Days to Football Time in Oklahoma: #17 Ty DeArman
Posted on: August 15, 2019
The Path to Norman
Ty DeArman, a Texas high school product, went from unknown to Sooner fans to a signed player within a matter of hours. He committed to Arizona State in the summer of 2018 and appeared to be heading there. However, OU officially offered DeArman on the December signing day; he quickly decided that OU was the way to go.
it's official … ‼️‼️ #BoomerSooner #NewWave19 #OUDNA pic.twitter.com/wBpEgJH4wj

— Ty DeArman (@dearman_ty) December 19, 2018
Current Profile
Position: Safety
Height: 5'11"
Weight: 191
Year: Freshman
Highlights
2019 Season
The coaches seemed to really like DeArman; his physicality is evident. TFB has reported that he is open to play anywhere on the field, and might even find a spot as a punt returner. Special teams seems like the quickest path to playing time; otherwise, a redshirt season is probably in store. It will be interesting to see what spots Ty ends up playing during his time in Norman.