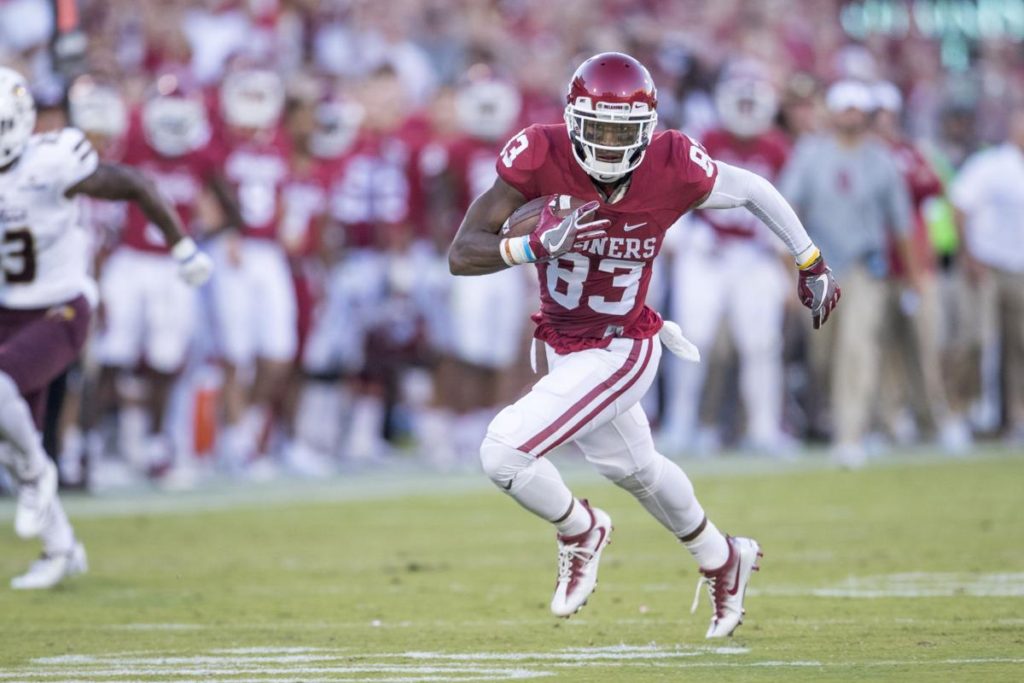 100 Days to Football Time in Oklahoma: #83 Nick Basquine
Posted on: June 10, 2018
Image via OU Daily
Stats via SoonerSports.com
The Path to Norman
Nick Basquine, a Norman North product, had offers out of high school to attend schools like New Mexico and Wyoming. Instead, the receiver chose to walk on at Oklahoma.
Career So Far
Basquine is quite the interesting story. He walked on to the team prior to the 2014 season and immediately redshirted in his first year with the Sooners. During that year, he was named OU's Scout Team Offensive Player of the Year. Shortly before the 2015 football year kicked off, he suffered a hand injury that ended any chance of him seeing the field for the year. As he came back for 2016, Baker Mayfield sang his praises during practice, mentioning that he would be playing a lot. It was hard to know if that was just friendly talk or a real prediction. Then, Sooner fans got to see him in action. His first catch of his career came against ULM on a 62-yard touchdown reception. He went on to have 20 receptions for 265 yards and 2 touchdowns during the 2016 season. After an excellent performance against Iowa State, he was awarded a scholarship.
Earned every bit of it – congrats @NB5ive! pic.twitter.com/V5tYlbLI0E

— Bob Stoops (@OU_CoachStoops) November 12, 2016
Unfortunately, the 2016 season is his only one played so far. Basquine sat out the 2017 season with a torn Achilles tendon. Then, he injured the other Achilles tendon this February, which caused him to sit out for spring camp. Fortunately, Coach Riley expects him to return for fall camp.
Current Profile
Position: Wide Receiver
Height: 5'11"
Weight: 198
Year: Redshirt Senior
Stats

Highlights
Walk-on Nick Basquine gets into the act. #Sooners pic.twitter.com/r05aXhgOlJ

— Sooner Gridiron (@soonergridiron) September 11, 2016
Medical Hardship Waiver Note
Basquine has now had two seasons derailed completely due to injury, touching the field in neither 2015 nor 2017. He would most certainly fulfill the requirements of the "medical hardship waiver," which dictates that a player must compete in less than 30% of the season's game and must have had a season-ending injury. This waiver is not usually applied until later in an athlete's career, so after the 2018 season Basquine would be eligible to apply for the waiver if he so chooses. However, staying healthy will be his priority. Also, he may not choose to do so; as this will be his fifth year in Norman, he may choose to move on to whatever is next for him.
2018 Season
2017 looked like a year that Basquine would be a starter for the Sooners at slot receiver; 2018 could be that year instead. Basquine has more receiving yards than almost everyone returning for OU; only Marquise Brown, CeeDee Lamb, and Mykel Jones have more. Look for Nick to start this year, fly by his yards and catches from 2016, and become one of the most frequent targets for the Sooners this fall.