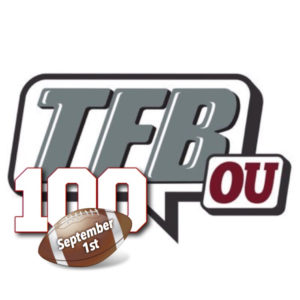 100 Days to Football Time in Oklahoma: #81 Brayden Willis
Posted on: June 12, 2019
The Path to Norman
Brayden Willis had few offers until late in the recruiting process: that didn't stop the Sooners. With an offer coming mere weeks before signing day, Willis wasted no time in committing to Oklahoma.
Committed ❗️#Boomer pic.twitter.com/TusnQiRRyd

— Brayden Willis (@Bwillis_11) January 29, 2018
TFB mentioned at the time that Oklahoma felt Willis was an absolute steal at the position, giving the Sooners a surprise late in the cycle.
Career So Far
With OU losing a Mackey Award winner in Mark Andrews, there was an opening at the tight end spot to accompany Grant Calcaterra. Willis filled that spot well, playing in 13 of the 14 games in 2018. Not many players can claim to have played that many games in year one on campus. Although he had only one reception on the season, Willis has a wide skill set that was used all over the field.
Current Profile
Position: Tight End/ H Back
Height: 6'3"
Weight: 221
Year: Sophomore
Stats

Highlights
2019 Season
Jeremiah Hall and Willis make up two very talented options at H back for the Sooners this season. Both players will look to replace the production from guys like Dimitri Flowers that have defined the position in Norman in recent years. Willis will make his mark on the Sooner season this fall.