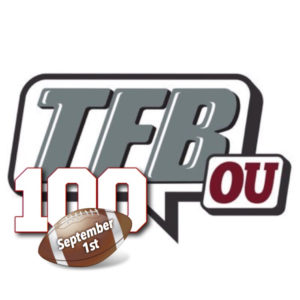 100 Days to Football Time in Oklahoma: #79 Darrell Simpson
Posted on: June 14, 2019
The Path to Norman
Darrell Simpson has long had Sooners ties. As a young man, he played on former OU LB/ DE Reggie Barnes' little "Sooners" select football team. OU competed for his commitment with schools including Florida, LSU, Michigan, and Ohio State. However, Coach Bedenbaugh was not to be denied.
#OUDNA pic.twitter.com/yIntPzJz2l

— Darrell Simpson™️ (@king_simpson34) August 12, 2017
Career So Far
Simpson took a redshirt season in 2018, getting to learn from a veteran OU offensive line group.
Current Profile
Position: Offensive Lineman
Height: 6'7"
Weight: 340
Year: Redshirt Freshman
Highlights
2019 Season
The Sooners have only one returning starter at offensive line in 2019. There are lots of linemen competing for a starting role with four spots open. Simpson fits into that versatile mold that Coach B seems to like so well, giving him extra opportunities to see the field. Darrell has worked at both the guard and tackle spots this spring; interestingly, the latest TFB heard was that he was slotted at the guard spot, while he played tackle in high school.
According to James Hale, OU ended the spring with sophomores Creed Humphrey at center, Marquise Hayes and Tyrese Robinson at guard, and junior Erik Swenson and sophomore Adrian Ealy at tackle. Brey Walker and Simpson seem slotted at the backup guard spots. However, it's certainly possible Sooner fans see Simpson starting at some point in 2019; he will at least figure to contribute regularly, which will be a welcome sight to OU fans excited to see the big man on the field.