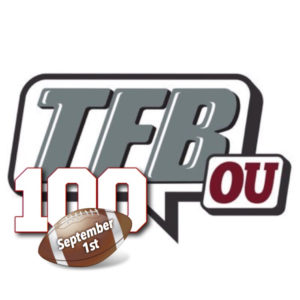 100 Days to Football Time in Oklahoma: #59 Adrian Ealy
Posted on: July 4, 2019
The Path to Norman
Ealy was high on OU well before his commitment. Despite being the focus of mostly SEC schools, Adrian was someone the Sooners liked and pursued. LSU, his in-state school, having several OL commits before Ealy's decision potentially helped steer him away from them. He tried to make a trip to Norman several times, but never could make it work. Finally, Ealy made the visit for the OU vs. Ohio State game back in 2016. Despite a horrid outcome of the game for Sooner fans, Adrian greatly enjoyed the visit and let the staff know that "it's just a matter of time." Although it ended up taking longer than hoped, Ealy committed to the Sooners about a month before signing day 2017.
It only goes up from here I'm officially committed to the university of…..pic.twitter.com/ICcga6DYBC

— Adrian Ealy (@adrian_ealy) January 5, 2017
JY gave his thoughts on the talented lineman at the time: TFB: Adrian Ealy Boom Post.
Career so Far
Adrian took a redshirt season in 2017. 2018 had Ealy appear in five games at tackle in a backup role.
Current Profile
Position: OL
Height: 6'6"
Weight: 326
Year: Redshirt Sophomore
2019 Season
This is the season for Ealy to assert himself on the line and start for the Sooners. TFB has frequently reported that Adrian the starter at right tackle throughout the spring and looks to be locked into that spot due to very consistent play. The offensive line will be almost entirely full of new starters in 2019; Ealy is one of the guys who can help keep it at the OU standard fans have come to know.