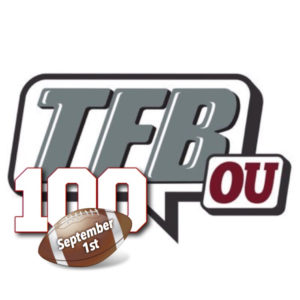 100 Days to Football Time in Oklahoma: #55 Kenneth Mann
Posted on: July 8, 2019
The Path to Norman
Kenneth Mann, a Texas product, had offers from programs including Oklahoma State, Houston, Kansas State, and others. The Oklahoma offer came in July, 2014; he chose the Sooners the same month. Then DL Coach Jerry Montgomery was a big reason for the commitment
Career so Far
Mann took a redshirt season in 2015. 2016 saw Kenneth on the field in eight games, primarily on special teams. Going into 2017, TFB heard that it may the year for Mann to really progress in his game. He ended up playing in 13 of the Sooners' 14 games, coming on strong in the second half of the season, becoming a valuable interior pass rusher. 
2018 had Mann take another step up. He started in 13 of the Sooners' 14 games, only missing one due to injury. Kenneth was a team captain, an Honorable All-Big 12 selection, and almost doubled his stats from the previous season. Despite playing on a conservatively-schemed line, he led the team with seven quarterback hurries. 
Current Profile
Position: Defensive Line
Height: 6'3"
Weight: 269
Year: Redshirt Senior
Stats

Highlights
2019 Season
Of the roughly dozen seniors and redshirt-seniors on this team, six of them are long-time contributors/ starters at defensive line and linebacker. During a year with a defensive staffing change, those players can step up and lead through the transition. Mann has proven himself a determined force on the line and can definitely apply a lot of pressure. 
This spring, Mann had shoulder surgery and is expected to be out for the first few games this fall, reappearing around the Texas game. When he returns, look for Ronnie Perkins and Mann to potentially headline the defensive end position and for Mann to turn in an All-Big 12 type season.