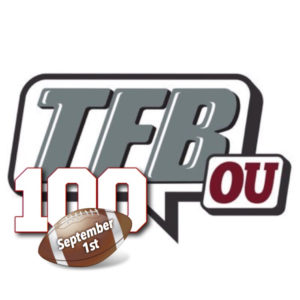 100 Days to Football Time in Oklahoma: #29 Jonathan Perkins
Posted on: August 3, 2019
The Path to Norman
Jonathan Perkins committed to UCLA, his first offer, in the summer of 2017. About a month after the Oklahoma offer, he announced his decommitment from UCLA. Still, OU had to battle a host of top schools for the talented linebacker: Auburn, LSU, Nebraska, and Texas A&M were among the schools that offered Jonathan. In the end, however, the Sooners won his commitment.
Perkins has plenty of Sooner state ties. With family from Tulsa, Jonathan visited Oklahoma on many occasions growing up. In fact, his brother lives in OKC. Additionally, he was already friends with Sooner players TJ Pledger and Bookie.
TFB's super K broke down his ability during his recruitment:
"Perkins knows he is the perfect Big 12 linebacker… He began his high school football career as a safety but moved to linebacker last year. It's obvious. If you watch Perkins open up and drop, he eats up space fast. He can open up one direction and effortlessly flip his hips and already gain depth in the opposite direction. His downhill speed is fast and he closes violently.
Watching Perkins read the play coupled with his tenacity, he actually moves like a guy who could even be comfortable wading through the trash inside. His ability to check receivers and mirror them on the inside is great."
Current Profile
Position: Linebacker
Height: 6'0"
Weight: 213
Year: Freshman
Highlights
2019 Season
Perkins had the opportunity to enroll early and get to Norman for the spring. With a deep linebacker group this season, 2019 will probably be a redshirt season as the California native continues to acclimate to the college game.