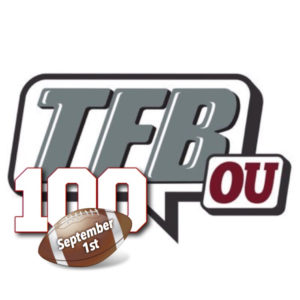 100 Days to Football Time in Oklahoma: #28 Chanse Sylvie
Posted on: August 4, 2019
The Path to Norman
The coaching staff was a big factor in Sylvie's decision to join the Sooners. Offered along with some of his Louisiana high school teammates, Chanse made several trips to Norman. His relationship with Coach Cooks and Coach Viney, recently returned to the OU staff, ultimately won him over to OU.
Sylvie ended up being a big force in the recruiting game for the Sooners, letting others know that they ought to join him in Norman. His ability to create relationships with players and staff is still showing today.
Mayne it's UP !!!!!!! The real is back !!!! Best coach ever https://t.co/cXyd74ZTnA

— Chanse Sylvie (@ChanseSylvie) July 27, 2018
Career so Far
Chanse's freshman season was one spent playing mainly on special teams; however, his playing time came in most of the Sooners' games. Last season, he played in every game of the year, providing valuable playing time when called upon.
Unfortunately, Sylvie sat out the 2018 season while recovering from an achilles injury. It was certainly a shame for him, as he had appeared to be on a path toward starting. He saw action in the Playoff game against Alabama.
Current Profile
Position: Safety
Height: 6'0"
Weight: 192
Year: Redshirt Junior
Stats

2019 Season
TFB has heard that Sylvie is healthy and ready to show the new staff what he can do. He is in a battle to earn playing time in the secondary; after a good spring, it would not be surprising to see him become a big factor at safety or even nickelback. Sylvie is yet another talented option for the Sooners and is ready to earn his playing time this season.