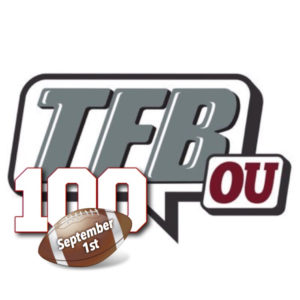 100 Days to Football Time in Oklahoma: #25 Rhamondre Stevenson
Posted on: August 7, 2019
The Path to Norman
Rhamondre Stevenson started in Las Vegas, Nevada, playing at Centennial High School. After a stop at Cerritos College, Stevenson was a very highly-ranked JUCO prospect. Despite initially planning to wait until the late signing day, a visit to Norman sealed the deal.
Blessed to announce my commitment… 💰💰 pic.twitter.com/p4MlPIYbI7

— mondre (@dreeday32) December 17, 2018
Current Profile
Position: Running Back
Height: 6'0"
Weight: 232
Year: Junior
Highlights
2019 Season
TFB has heard nothing but good things about Stevenson this summer; James Hale mentioned how well he moves in space and how impressive he has been. He also said that his power in the weight room is already drawing eyes.
The running back stable is absolutely loaded right now and playing time will be hard to earn. Although Stevenson still has a redshirt year available, JUCO players don't come to OU to redshirt. With that in mind, four different running backs saw action in at least six games last season; Lincoln Riley loves using all the weapons at his disposal. Sooner fans should expect to see the big running back on the field this season at some point, showing up as a strong presence on the field for OU.